With a myriad of mobile apps for everything in this world, what holds us back to having a mobile app for the weather as well? Weather apps render you all the requisite info right from the daily weather forecast to a monthly forecast. This can help you plan your tasks beforehand as you know if the weather will be bad in the coming days.
Weather apps can give you details to know earlier if you need to carry an umbrella or jacket if it's pretty windy outside. This saves you from the trouble of taking these things on days when the weather will be okay. These apps can warn you of the current weather and unpleasant weather you will most likely face shortly.
However, several weather apps to choose from might confuse you to pick the best ones. There is a certain level of risk involved when installing a 3rd-party smartphone app, which is not already installed on your device, as they track your location and ask for specific permissions. But, there are certain reliable apps by app development companies too that you can choose from, which we are going to share with you in this blog.
6 Top Weather Forecast Apps For Your Smartphone in 2023
1. The Weather Channel: World's Most Accurate Forecasting App
The Weather Channel app is one of the best weather apps for Android & iOS platforms. The app is owned by IBM, offers live rain alerts with radar, and can track seasonal allergies, flu, and Covid-19 cases. This powerful weather app helps you make instant to weekly plans by informing you of the weather's current status to weekly changes in the climate. You can count on these apps with your travel plans to any location in the country. This weather app is free to install and access premium features; you only need to pay $10/year.
Key Features:
Real-time rain alerts and detecting seasonal allergies.
Detecting covid-19 cases in your proximity.
The app allows you to have TV weather on your device.
A quick overview of current and future weather conditions with short video forecasts.
Access the flashcards of crucial information like sunrise/sunset time and rainfall alerts.
2. Dark Sky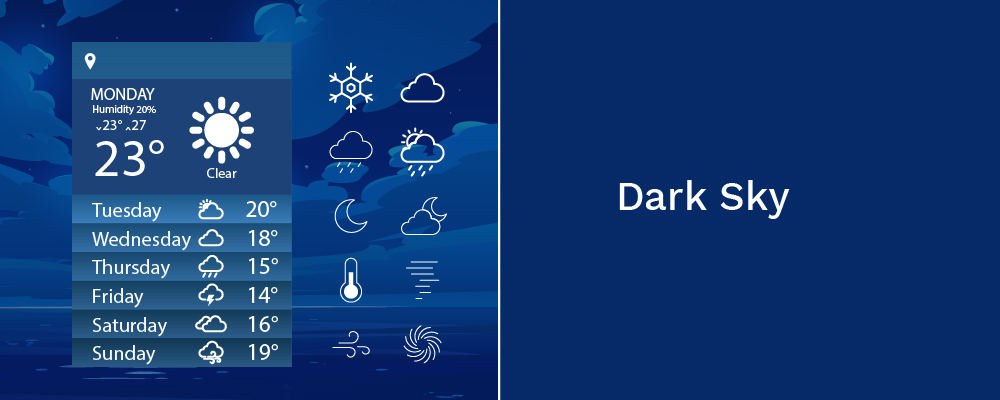 Dark Sky app has a straightforward interface. This app distinguishes itself with an immersive world map that allows you to Zoom in & out of several cities, states, and countries to detect radar, rainfall, and forecasts.
Dark Sky is an incredible app as it forecasts weather & provides precise readings by using existing data and smart algorithms. This app is free to use on Android, while it costs $4 on iOS. You can also upgrade to a $3 premium/year to receive minute weather alerts, forecasts, and other custom notifications.
Key Features:
iOS-focused and extremely responsive UI.
Forecasts local as well as foreign weather.
It can be reliable for long-term & short-term predictions.
Fast alerts of upcoming stores & unpleasant weather.
A clear view of radar maps covering massive geographical areas.
3. AccuWeather: Live Local Forecast & Radar
AccuWeather app is one of the top apps due to forecast accuracy. The app is monitored by a global weather monitoring company, and the app is more than just its accuracy. It also displays the rainfall and allergens in the air, such as trees, grass, and ragweed pollen. You can also check hourly and daily temperatures with a radar map. You can upgrade the app with a one-time charge of $4 to remove ads and receive an extra ten-day forecast.
Key Features:
Tracks and shows allergens in the air.
It shows the wind speed and UV index.
Displays accurate temperature & weather information.
The app allows you to disable the location-based setting on your phone while securing your privacy.
Displays exact temperature & weather info.
4. RadarScope
RadarScope app is one of the top paid weather apps in the Play Store. This app is meant for more severe weather fanatics and meteorologists. This is a powerful app giving you a high-resolution peek into weather predictions and serious weather warnings. This app can guide you from the instant to the weekly forecast.
Key Features:
Access to NEXRAD Level 3 & high-resolution radar data, with severe thunderstorms, flash floods, tornados, and marine warnings.
With Pro-tier 1 subscription, get access to live radar loops and inspector tools.
Pro-tier 2 upgrade gives you access to archived radar data from the previous 30 days, tools that help you forecast where there could be hail size, storms, and tornadoes.
5. Weather Underground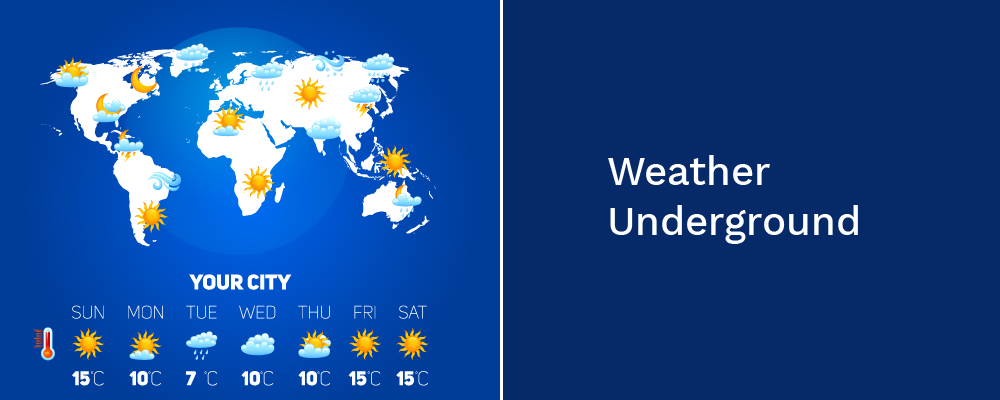 Weather Underground app has an exciting UI and quick access to location-based weather forecasts as per your needs. This app offers hyperlocal predictions in your locality, along with satellite maps, interactive radar, and weather warnings. IBM owns this app, and it is free to use but demands $20 per year for an upgrade.
Key Features:
Predicts the wind speeds.
Displays UV & air quality index.
Show the level of precipitation in the air.
This app gives you serious weather alerts, sunrise and sunset times, and ski resort reports.
6. Carrot Weather: Crazy-Powerful Weather App
Carrot Weather app approaches the weather report in a fun way. The homepage has got some beautiful artwork and a friendly welcome message. This app allows you to access precise weather information, and its UI will captivate you for sure. This app is free to install, and by paying $4/year, you can get an upgrade, remove ads, and add widgets to your screen.
Key Features:
Provides a personalized experience.
Reliable for accurate temperature and wind speeds.
The app renders daily to weekly weather predictions.
The Endnote
Poor weather can be a blunder in your travel or weekend plans. These accurate weather apps are rare gems when you are planning an outing with your family and friends. Everyone has a weather app on their smartphone, which they think might be the best for their needs. However, if you want more accurate results and unique features in your app, the weather apps mentioned in this blog can be of great help. Contact us for your own app development project.