Smart devices have made us self-sufficient these days to do everything at our fingertips. We don't require any gadgets as long as there are mobile apps to answer every question. In today's hustle, people don't have time for reading newspapers, so most of them are using news apps.
This is an excellent time to welcome mobile news apps as users are most often investing their time in smartphones and tablets. Users are not interested in reading info and news in newspapers as they want to get updates 24/7, and they prefer mobile news apps so they can get their daily dose of news and info.
Pew Research Center performed a recent survey and discovered that only 2% of people polled for print media are widely used news sources. In other nations, websites, apps, social media get higher ratings.
Therefore, it has been proved that the users are very keen on newspaper apps, but still, they don't know how to leverage them.
Types Of News Apps
News apps are segmented into 2 groups:
Mobile App For News Resources
You must consider building a mobile or web version of your resources if you have informational news sources such as newspapers or web resources. This will make you instantly popular and successful.
These are the reasons to develop news resources:
Better user engagement.
Readers can instantly read the news on their devices after publishing, keeping readers well aware of important events.
Boost the user interactivity with the app so the user can categorize himself as per their interest.
News app development will create massive reach and thus increase your audience.
News Aggregators
This app is covering different types of news occurring globally. With the perfect monetization plan and smart approach, it even serves its users with essential news, and this service will prove super helpful to the owners and events worldwide. Content types related to these app types:
The crucial events globally are quickly grabbing the user's attention, like the news related to elections in other nations.
Small or big news occurs in the region or city, such as weather reports, cultural fairs, etc.
News regarding upcoming events in the town like exhibitions, concerts, musical events, & many more.
Considerations While Building A News App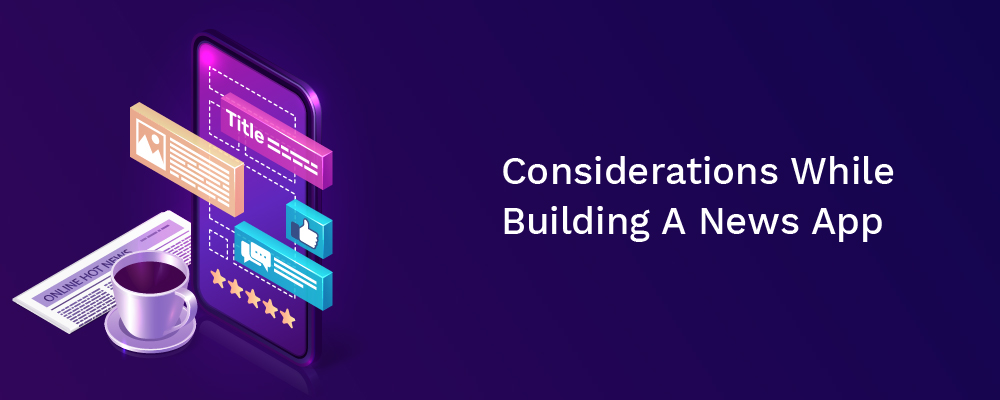 Identify the user needs: Making a news app by top app developers 2021 is not just for releasing news, but it even depends on being more interesting to respond to their questions.
Format: This app is not simply releasing events & regional, but even telecasting the latest updates from the lifestyle, fashion, relationship psychology, sports areas.
Supervising content: The business owner of news apps makes sure that whatever content they are posting in their app is continually supervising the publications' authenticity.
Must-have Features Of News App
Registrations:
The users can sign in to the app once registered. A user can sign up with their mail, mobile number, google account, or social media sites.
User profile: Once registered, the registration page will straight away load for personal information, so users must fill in some essential details.
Smart filter: This feature offers the options for filtering your news by rubrics like entertainment, economic, etc., including the news related to famous news, live news, and breaking news.
Insert media options: To build the app to attract the user's attention and get higher ratings, you can offer the option of radio channels & online broadcasting.
Notifications: This app helps the user for improving user engagement. It will continuously send alerts to the user regarding services and notify for essential news.
Search: This option allows users to search for news as per their choice and interest.
Add news updates: To always supervise & update the news content into apps, these features are only available for admin.
Favorites: Enable this feature to your user to save the news articles they would want to re-read.
Offline accesses: Ensure that your app can operate even without the internet so users can access it anytime. This option is convenient for enticing users who don't prefer 24/7 online or face connectivity issues.
Infographics: Infographics is an excellent way for making your content eye catchy to the users and a convenient way of broadcasting the information.
Customization: Enhancing user experience by allowing the user to tailor the mobile app set as per the comfort like by changing the font size and colors.
Audio format: Nowadays, people don't have time to read each and everything, so most prefer audio format to hear anytime, like driving a car, cooking food, etc.
Additional Features:
Customization: As per the user choice, it helps the owner to serve the content.
Powerful CMS system: This feature is handled by the back-end developer of the news app's content posting.
Live Streaming: This helps for seeing live news on the app.
Poll conduct: This is conducting social and political polls from the audience's viewpoint.
Advertise management: Its features help for marketing the app and promotion.
Newspaper Mobile App Process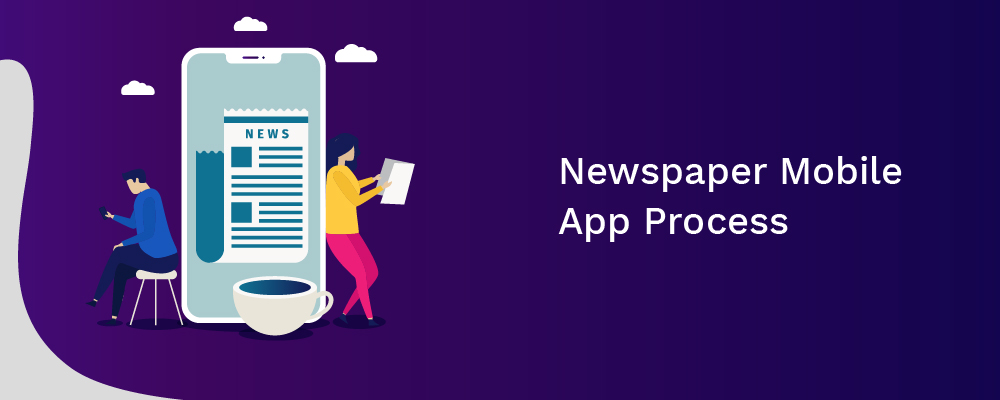 Define Requirement: First, you must clearly define your needs from the app to the app developer. Ensure that everything should be more transparent.
Wireframes: The app developer creates the mock-up of each app screen.
UI/UX design: It is a quantitative app design of clear, simple, and user-friendly navigation systems.
Developments: This comes into the back-end for clear and understandable coding for seamless app operations.
Testing phase: It is the stage where QA experts take a chance and check functions and coding for meeting the client's demands and expectations.
Support: This is the last phase of the development process, which means your app is ready to publish into app stores.
How Much Does The App Development Cost?
To build a simple mobile app for one platform, including design and categorization, appealing UX will cost around $10k-$20k. To include advanced features and technology, it can go around $30k.
The Endnote
This guide includes everything from news app types, features to cost. Hopefully, this blog was helpful to develop your news app and to know more; you can connect with us and discuss further. Our efficient team will help you create a flawless news app with the latest technology.