With mobile apps racing at lightning speed, you can find all you need under one roof: Smartphone. In fact, a smartphone isn't even a smartphone without any mobile apps; imagine what you would even do! However, that's not the point; the point is that finding your way around the corner has gotten more accessible than ever with this tiny device. It is pretty known to use GPS navigation apps such as Google Maps, Apple Maps, etc., for navigating while you are outside in the lovely sunshine, but imagine getting lost indoors! Often no!
Have you gotten lost in a gigantic mall? Imagine finding Zara only to find your way to all other brands but Zara. Isn't it frustrating! You'd spend half of your day finding stores instead of actually shopping and enjoying. Or, you might have to ask random people to guide you through since you have lost track of where you are. Ultimately, you start thinking if the store is actually a ghost that does not exist. Haha! As terrible as all this sounds, we have a fantastic solution for you- Indoor Navigation App.
Are you wondering what this is and how this works? GPS navigation apps work with GPS satellite signals that generally might get lost in congested places or inside gigantic buildings. But, don't worry, there is an AR-enabled app exclusively created for smaller areas that display location by accessing the inbuilt GPS maps. It offers the shortest routes to your destination. The concept behind indoor navigation apps is simple- they work very well inside the big buildings where GPS trackers cannot navigate the destination.
Topics To Cover
- Introduction to Indoor Navigation App
- Benefits of IPS apps for Businesses
- Benefits of IPS apps for Users
- Key Features of Indoor Navigation Mobile App
- The Cost to Build an IPS App
- Final Words
Introduction To Indoor Navigation App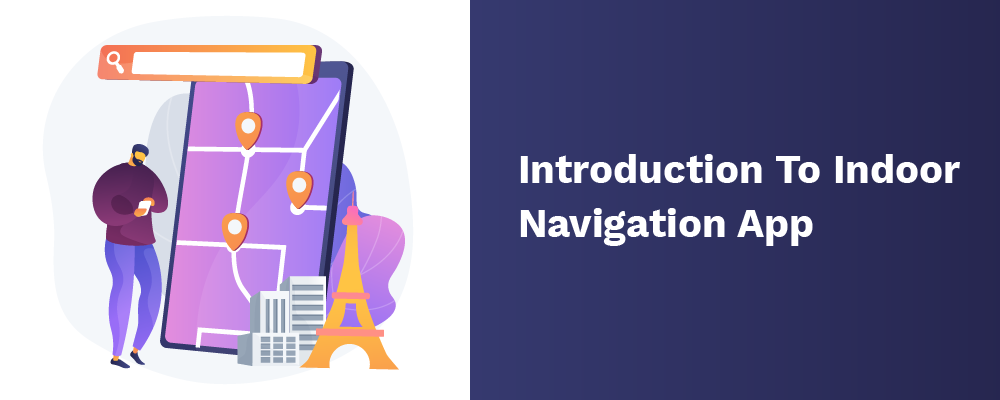 Also known as IPS (Indoor Positioning System), it is a setting that works indoors. This is helpful to navigate people or objects inside a building via a smart device. Meanwhile, this tech is the latest & more advanced than GPS, as services using IPS app development are burgeoning at places like airports, malls, hospitals, etc.
Benefits Of IPS Apps For Businesses
These apps are significantly helpful for businesses as they can use them to help visitors find their way out in massive buildings like railways, malls, airports. It becomes challenging for visitors or students to find their destination in a railway, airport, university campus, warehouses, etc., due to its large area. But this issue can be resolved with IPS apps.
Moreover, from a business viewpoint, they can use it to gather data on users as they frequently visit places and time to grow the business. Secondly, they can also produce automated alerts to the users about their wish-listed items or deals on explored stores by linking apps to their relevant things.
Benefits Of IPS Apps For Users
This allows them to get to their destination quickly and offers a lot of advantages such as:
Easy destination search
Displays the shortest route
It shows a live map of the building
Voice directions can make the process easier
Share their live location with someone else
Key Features Of Indoor Navigation Mobile App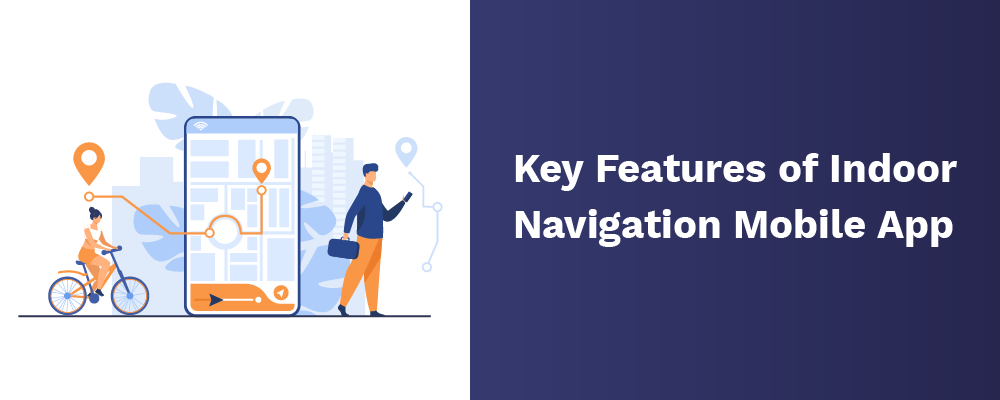 Basic Features
Positioning: It determines the user's live location by reaping the benefit of multiple navigation systems and algorithms.
Mapping: It displays the building's map with all the possible routes and shows the no. of people at the location in real-time.
Navigation: It shows the quickest & shortest route to the user.
Admin Capabilities: It is the best feature as it assists the managers in maintaining beacons in setting up promotional campaigns for their business.
Analytics: It examines and shows the no. of people at a specific location during a particular time, the most searched and visited store if it's a mall, and much more.
Advanced Features:
Voice Assistance: App users can navigate the location precisely in huge buildings with the help of voice assistance. It adds convenience & comfort while using this app.
Tailor Design: IPS apps are tailored as per the building's inner structure. But for the app's exact positioning & functionality, you can outsource the best app development company to tailor the app's design as per your building's interior.
Social Media Integration: This makes the login process way easier with the help of social media accounts (Facebook or Google) or email addresses.
Map Visualization Feature With 3D: It is essential to use AR tech to have the 3D visualization feature in your app.
The Cost to Build an IPS App
It's quite not easy nor practical to tell you the accurate cost of your Indoor Navigation app since it's a must for the team to know your requirements to reveal the cost. Otherwise, it will be pretty vague.
Below are the several factors that can affect the cost of your app:
Number Of Platforms: The choice will differ with the platform chosen, i.e., iOS or Android. The cost of developing your app on Android will be higher since it has to be tested and integrated into several devices, unlike iOS.
App Design: The complexity or simplicity of your app's UI/UX affects the cost as well.
App Features: The number of features you choose to incorporate in your app will determine the app development cost.
Location: This is one of the significant factors that will determine the cost. The cost differs widely as per the location; North America, for instance, charges around $100-150/hour, while India levies around $30-50/hour. The difference is huge, isn't it! But the quality is the same. India develops top-notch apps just at the same rate.
The cost to develop an indoor navigation app with basic features can start from USD 10,000 to 50,000, and if you choose advanced features as well, it might go around $25,000 to 55,000.
Final Words
After looking at the incredible features it offers for businesses as well as users, it can be said that this app has high scopes. People, including senior citizens (who cannot walk more than a few km) or Gen-Z (who don't like to waste their time looking for a store), would definitely use this app.
If you are planning to build such an app, it's an excellent idea. Our team at Hyperlink Infosystem can help you develop a fabulously advanced and efficient app at a cost-effective cost. Get in touch with our team today!