Blockchain development is steadily making inroads across diverse industries, ushering in fresh possibilities for businesses. Its integration has facilitated rapid client identity verification and accelerated global transaction exchanges for banks and financial institutions, bolstering data security in the process. For logistics companies, blockchain enhances supply chain transparency, while governments tap into its potential to enhance public sector data exchange. Even the energy sector is leveraging distributed ledgers to enhance service delivery.
Real estate has emerged as another beneficiary of blockchain's transformative potential. This article delves into the myriad ways blockchain is positively impacting the real estate sector, elucidating its role in streamlining transactions and optimizing the realm of real estate.
The Impact of Blockchain and Smart Contracts on Real Estate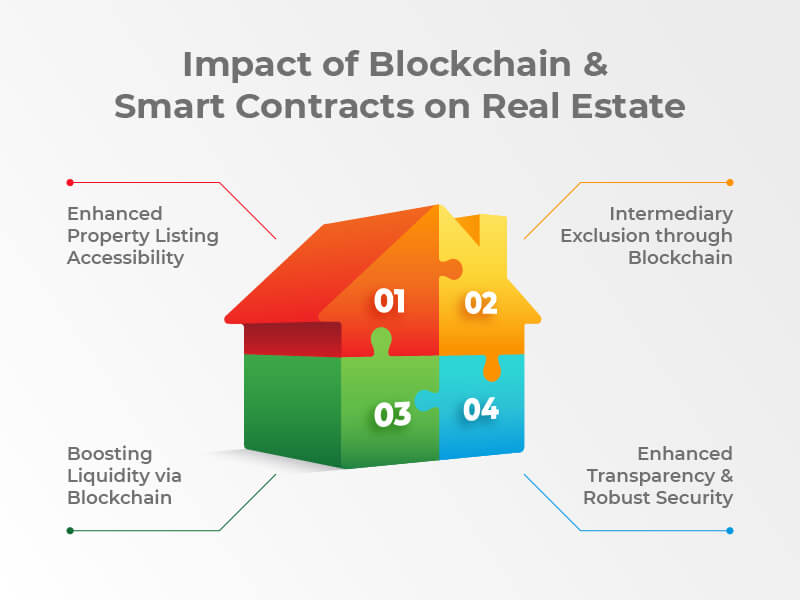 Enhanced Property Listing Accessibility
Blockchain technology introduces greater accessibility to the real estate market for both buyers and sellers. Conventional real estate transactions have typically revolved around privately managed listings that bridge the gap between buyers and sellers. In contrast, blockchain offers a paradigm shift, enabling property trading via online platforms and marketplaces. This facilitates real-time transactions and extends property data dissemination to a broader audience.
Empowered by
blockchain developers
, sellers tokenize their property assets, transforming them into tradable stocks accessible online. This revolutionary process involves converting the property into blockchain-backed tokens, enabling seamless trading of the property as a whole entity or fractional parts. This innovative approach aligns with the potential of blockchain to transform the dynamics of real estate transactions.
Intermediary Exclusion through Blockchain
The property market thrives on a multifaceted ecosystem comprising brokers, legal entities, financial entities, and more. The involvement of intermediaries is pivotal for facilitating property transactions, albeit at the expense of prolonging processes and escalating costs.
In a recent study titled "Blockchain in Commercial Real Estate," Deloitte highlights the transformative potential of blockchain and Smart Contracts in supplanting intermediary functions. This paradigm shift encompasses pivotal services such as listing facilitation, payment processing, and legal document management. Consequently, buyers and sellers can bypass commissions and fees typically attributed to third-party intermediaries. Instead, they can experience streamlined and rapid services through a unified blockchain-based application or platform, exemplifying the prowess of a blockchain development company's transformative solutions.
Boosting Liquidity via Blockchain
Historically, real estate has been characterized as a relatively illiquid asset, marked by prolonged sales timelines. However, blockchain technology introduces a transformative avenue to amplify the liquidity of real estate properties.
Through property tokens, liquidity can be swiftly unlocked. These tokens hold the capacity for rapid conversion into fiat currencies or can be fragmented for trading. This dynamic enables sellers to transcend the traditional constraints tied to waiting for a buyer capable of affording an entire property. Now, properties can be divided into tokens, allowing multiple buyers to invest in a single building and partake in shared ownership with fellow investors. This innovative approach expedites asset sale and purchase processes, while also affording investors the flexibility to acquire fractions of tokens, thus crafting intricate investment strategies tailored to their objectives.
Enhanced Transparency and Robust Security
Blockchain technology
ushers in a realm of transparency and security, establishing an accessible network open to all stakeholders. This newfound transparency is realized through a distributed ledger system, wherein each participant maintains an immutable transaction record. This ledger ensures a traceable trail for every transaction, retracing its origins to its inception. Consequently, this ledger houses a comprehensive repository of property data, granting buyers perpetual access. Additionally, the real-time traceability of data empowers sellers and buyers to ascertain the current stage of the transaction, expediting data verification and preempting fraudulent activities or errors. This amalgamation of transparency and security exemplifies the transformative potential of blockchain in the real estate sector.
How Can Blockchain Help with Asset Management?
Within the real estate realm, a pivotal challenge resides in unequivocally identifying property ownership during transactions. Blockchain revolutionizes this scenario by harnessing programmable Smart Contracts and
non-fungible tokens (NFTs)
to confer digital rights. This innovative fusion of technology possesses the intrinsic capability to reshape the landscape of the real estate market.
Beyond delineating property ownership, blockchain possesses the potential to revolutionize the entirety of the asset management value chain. This transformation spans from client interactions to asset tracking and comprehensive reporting. The implementation possibilities for asset management encompass:
Efficient Client Onboarding: The process of client onboarding, notably customer identification or KYC (Know Your Customer), often consumes substantial time. Blockchain emerges as a transformative solution by instilling transparency and traceability into each transaction, visible to all network participants. As a consequence, the onboarding procedure gains newfound agility and seamlessness, expediting operations.
Trade Settlement Enhancement: By harnessing the capabilities of Smart Contracts, sellers and buyers can establish an impartial execution of contractual terms. This autonomy is achieved through the self-governance of Smart Contracts, where neither party can disrupt the execution process once the predefined rules are established and mutually consented upon.
Ensuring Regulatory Adherence: Blockchain technology ensures that Smart Contracts align with the regulatory norms applicable to specific industries, geographic regions, and global statutes. It establishes a singular source of credibility for participants in the blockchain network, consistently updating its foundation to accommodate recent developments within the sphere. Beyond legal compliance, the distributed ledger expedites the processing of news and data that might impact trades and traders' choices. This real-time assimilation of information equips traders with the latest insights into underlying transactions.
Conclusion
In the dynamic landscape of real estate, the infusion of blockchain technology offers a transformative trajectory. As explored through this comprehensive overview of use cases and benefits, blockchain has emerged as a powerful catalyst for transparency, security, efficiency, and innovation. The diverse applications showcased, from accessible property listing services to streamlined trade settlements and regulatory compliance, underscore the multi-faceted potential of blockchain in revolutionizing the real estate sector.
For organizations seeking to harness the full spectrum of blockchain's potential, the synergy of visionary concepts and expert execution becomes paramount. Hiring blockchain developers, leveraging blockchain development, and collaborating with pioneering
blockchain development companies
will undoubtedly propel the real estate industry toward a future marked by enhanced efficiency, authenticity, and effectiveness.