Advanced technologies have evolved the way several industries perform. Moreover, it has also transformed people's lifestyle, suppose Banking. Banking is one of the most advanced sectors of the economy. This sector is where the most advanced functionalities are required, including chatbots.
Businesses such as banking can thrive in the economy if they interact with their customers. And communication is a vital tool for growing the customer base in this sector. Artificial intelligence and machine learning technologies are enhancing every business sector, including chatbots for banking. Chatbots will prove to be a robust tool to converse with the users.
This AI tool will facilitate banks to deliver their services to their clients without investing additional time, resources, and workforce. This blog will focus on how you can build a chatbot for banking and the requisite features to be included to benefit you and your clients.
Topics To Be Covered
3 Types of Chatbots for the Banking Sector
Benefits of Chatbots for the Users
Benefits of Chatbots for the Banks
How To Boost Your Banking Chatbot
The Estimated Cost to Develop Banking Chatbot
The Bottom Line
3 Types Of Chatbots For The Banking Sector
Financial Advisor
This chatbot can be a great add-on to the banking sector, similar to any consultation app. This chatbot is meant to consult the clients based on their data before they make any investments. Moreover, they also recommend and offer tips for planning budgets.
Conversational Chatbot
Having a conversational banking chatbot has made the human need redundant to an extent; there will always be a need for human touch. But these chatbots can solve the basic queries of clients. They are developed on technologies that understand languages.
Tax Tracking
These chatbots can offer services by recommending to users how to supervise their expenditures and save taxes. These chatbots are efficient as they are created with NLP (natural language processing) and machine learning subjects. They help clients to track their expenses and reduce the taxes on time to avoid penalties.
Benefits Of Chatbots For The Users
Core Banking Activities
Chatbots can also handle core banking activities like loans, payments, etc., within the chat window. Users can perform several actions such as paying invoices, fund transfer, applying for a mortgage, etc., while communicating within the chatbot for banking.
Onboarding Users
Banking chatbots play an essential role in this sector as they can easily interact with the users while they can perform any task. They can visit the landing pages, file any application, etc.
Enhance User Experience
They can personalize user experience, enable push notifications for every user, gather and perform analysis of the feedback, and much more.
Understand Customer Sentiment
Advanced chatbots are designed to understand better the users' sentiments, including double negative sentences. Some chatbots even understand sarcasm. Understanding the user's tone and feelings will enable banks to serve them better. These chatbots even connect to the banking rep in some urgent cases that require instant attention.
Benefits Of Chatbots For The Banks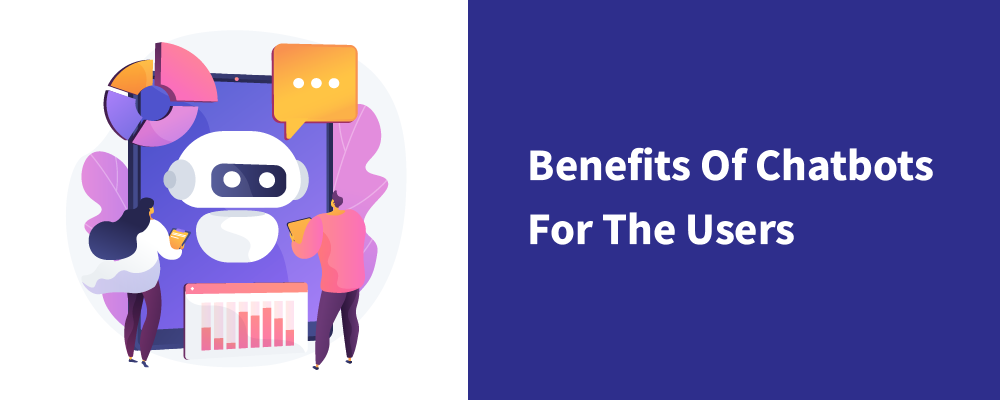 Marketing
These chatbots are used as an asset to enhance brand loyalty and enhance user experience.
Reduce The Wait Time
Chatbots help banks reduce the lineups at the bank and wait time over the calls. A virtual assistant can solve these issues.
Enhanced Customer Experience
Chatbots are quick, polite, and efficient while interacting with the users. The banking chatbots should be supportive & attainable towards the goals.
Personalization
63% of customers expect personalized services, as per Retail Customer Experience. Banking chatbots can render them personalized services after evaluating the information provided by them.
Cost Reduction
Banking chatbots are likely to prevent the cost of delivery by around USD 8 billion annually by 2022, as per Juniper's Research.
Data Gathering
Banking chatbots can gather information about the users to deliver needed services efficiently.
Improvising The Job
A Salesforce study recommended that chatbots support 64% of agents. This helps them solve complex issues rather than being occupied by answering small queries.
How To Boost Your Banking Chatbot?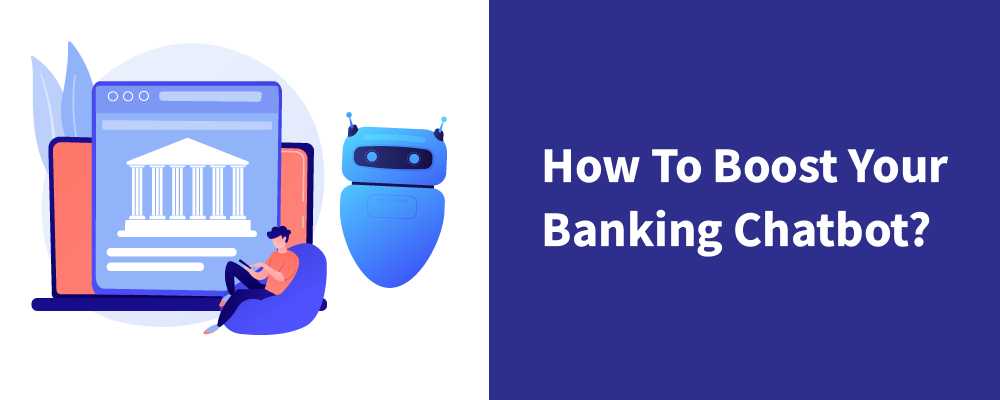 1) Chatbot Analytics
The chatbot for banking will involve several analytical functions like chat intelligence, conversion tracking & reporting, etc. This will even help in optimizing the tasks & collecting insights on user behavior.
2) Tailored Branding And Design
The chatbots can be custom-designed for any business as per the needs of their brand. The chatbots should be built with efficient & straightforward features to captivate attention and entice users.
3) Technical Support
The banking chatbot is developed with the latest technologies such as AI and NLP. These help the chatbots understand multiple conversations, learn new questions from the clients, and deliver the best response.
4) Incorporating CRM
The banking chatbots will support numerous collaborating channels and support the CRM integration with the chatbot to work on some inquiry updates.
5) Chatbot Templates
Several templates for chatbots are ready to be used at any time. They are regarding assistance, banking, finance, etc., and they provide an enhanced user experience.
6) Fraud Detection
These chatbots help the banks examine to check if there are any suspicious activities. If found, the users and admins will be promptly informed.
The Estimated Cost To Develop Banking Chatbot
The cost to build a chatbot for the banking sector depends on several factors and needs such as features, tech stack used, platform integration, etc. The top AI development company can provide you the best-estimated cost for the banking sector based on your needs. The approximate development cost can range from USD 6,000 to 20,000.
The Bottom Line
Chatbots are one of the successful AI ventures to advance in the banking & financial sectors. Predictive analysis can help in decoding the gigantic amounts of data that banks gather. Trading can be forecasted more accurately when computers evaluate data intelligently. Banking chatbots can enhance with significant advancements in AI and ML. If you are already into the banking business or finance app business, building a chatbot is an excellent idea for your businesses' success. You can share your vision with our talented pool, and they will help you turn your ideas into reality.