Mobile apps are highly demanding these days, and the competition is fierce. There are billions of apps being downloaded, but only some are used actively. People worldwide install several apps; it's time to assess how people are using mobile apps. The average mobile user invests 3 hours 10 mins per day using their smart device; of this, 2 hours 51 mins is spent on mobile apps.
The study indicates that more than 80 apps are downloaded on the average smartphone. However, users aren't using all the apps. The average user uses 9 apps/day and 30/month. If the average mobile user has 80 apps on their smartphone, this means over 62% of those apps don't get used each month. Therefore, this means that people are installing apps but not using them. The fact is that 25% of apps are used only once after being installed and then never reused.
Mobile App Retention & Churn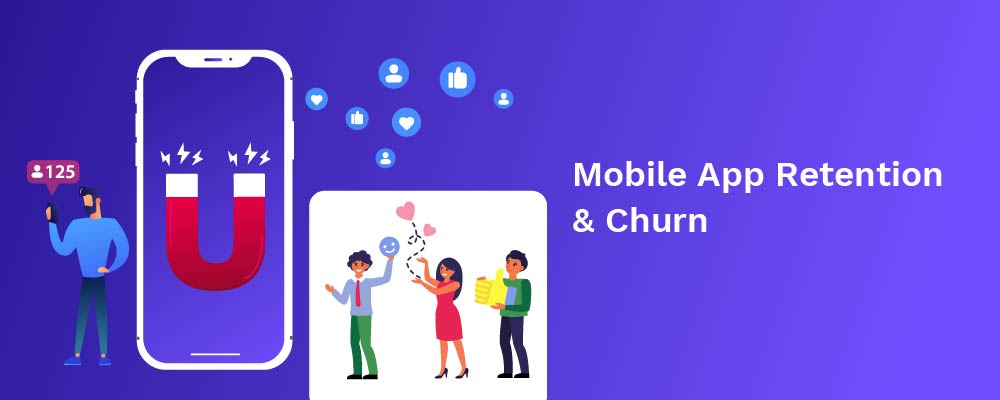 You just learned that app usage is not ensured after an install. You might have an initial rise in terms of no. of installs, but you're struggling to earn because people just aren't using the app. An excellent way to measure this is with app retention & churn.
71% of app users stop using the app within the first 3 months of installing it. Therefore, you need to track these metrics. Give app users a reason to open your app again and use it. You will never have 100% retention, so you must keep coming up with new ways to get new installs. However, that does not mean that you should avoid current users.
If your app does not perform well and has errors, bugs, or UX flaws, users will be inclined to churn. No mobile app is perfect. Even the best apps have bugs every now & then. However, it's your responsibility to recognize these glitches and mobile app development updates & upgrades to enhance performance & user experience.
Most Essential Apps
The data of Q3 2020 shows a list of apps that Americans can't sustain without.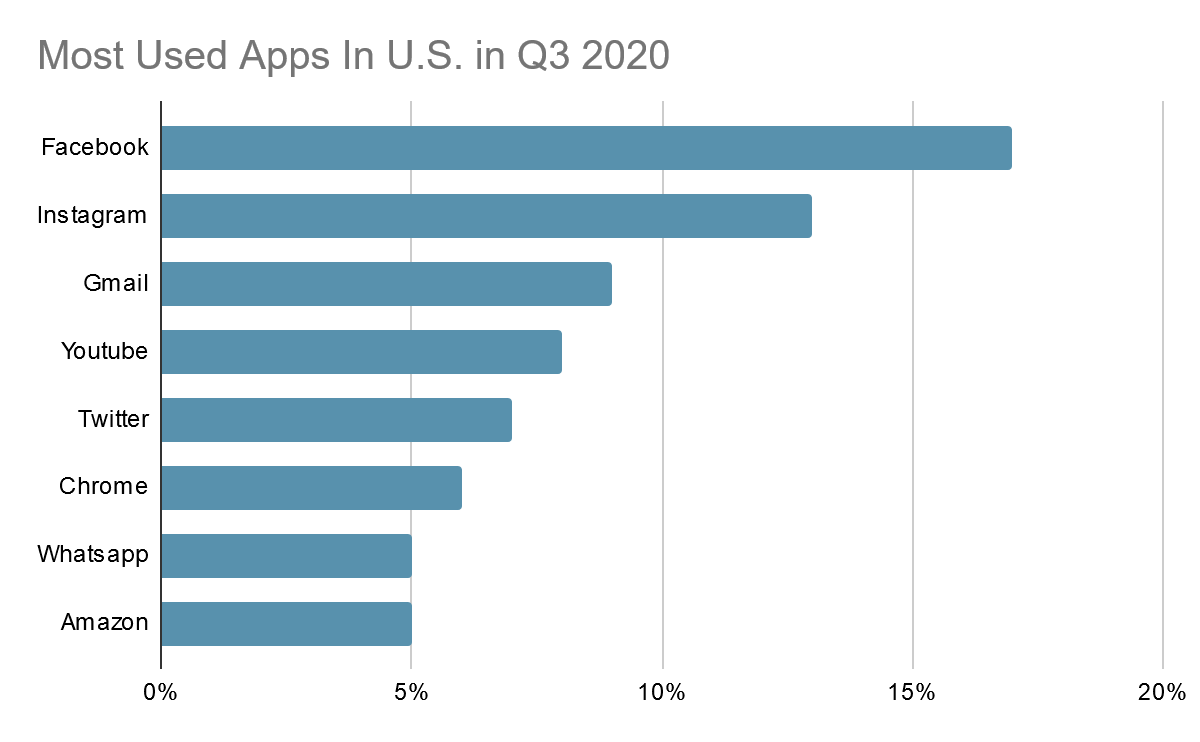 These figures do make sense. All these top apps by top app development companies are used for different reasons & can be used regularly.
However, those building a new app should be confused; even if they want to develop a mobile commerce app for business, it can have plenty of success too. It will indeed be a tough battle if you're going to compete with Amazon.
Mobile App Usage (By Age)
Technology usage differs by generation. Mobile app usage is no different.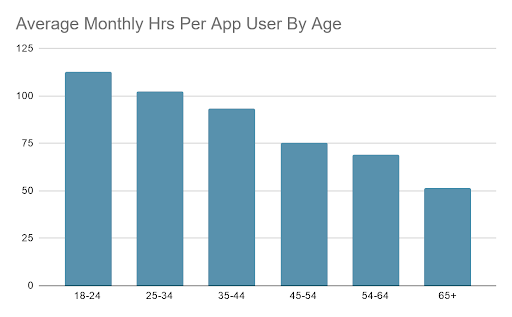 It is a bit obvious that younger people invest more time in mobile apps than older people. However, that doesn't mean you cannot target those other than the young age group. Even mobile users beyond the age of 65 spend close to an hour using apps every day.
Mobile App Usage (By Device)
Mobile usage is not created equally. Besides the differences between operating systems, the user will also differ from the mobile app type that people use.
Smartphone App Usage
Digital content can be available from several devices. People have smartphones, computers, desktops, tablets, and laptops. You can access content & apps from watches, smart TVs, smart vehicles, and smart home devices.
Certain categories are ruled with smartphone app usage. Below are some top categories that people turn to their smartphones for.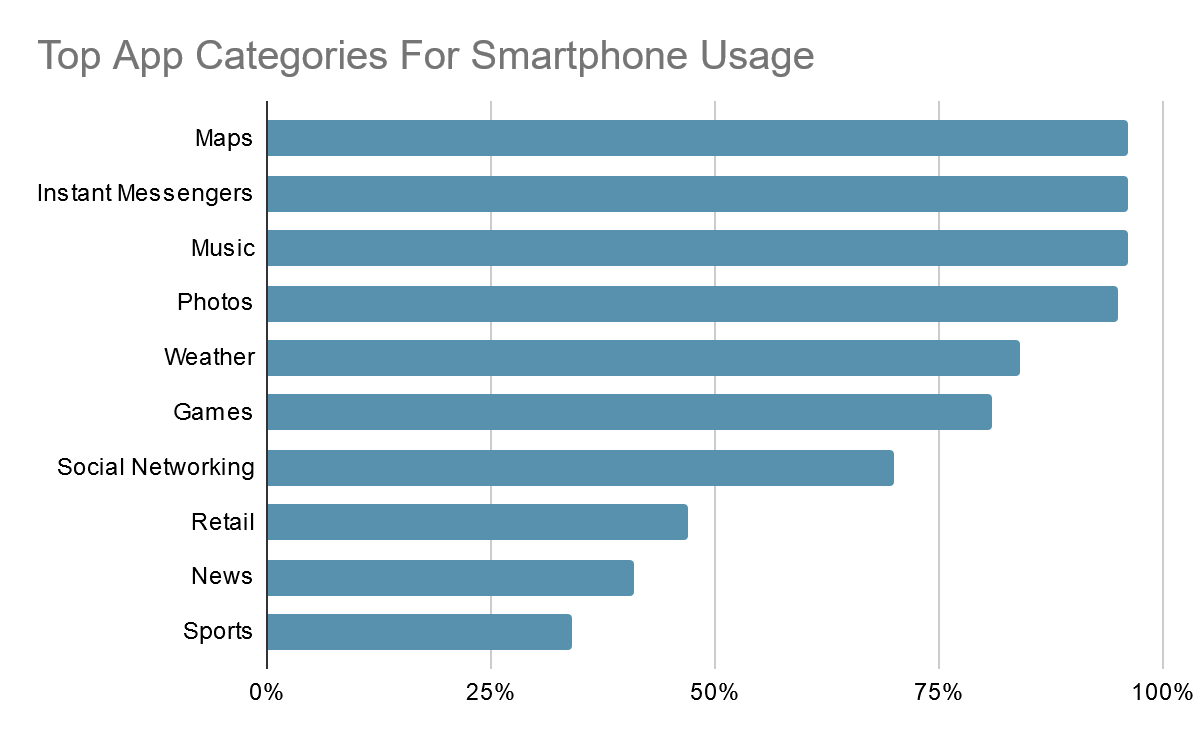 Smartphones are obviously the best choice for using navigation services like GPS, as they need to travel places.
Smartphone Vs. Table
Smartphones & tablets have some differences too. There are double the no. of smartphones globally than tablets, but tablet usage is starting to match smartphones.
People install more apps on their smartphones & use more mobile phone apps every month. The fact that mobiles are always within an arm's reach makes sense to use them more often.
Tablet Usage
Tablets aren't as popular as smartphones, but they are used for particular reasons.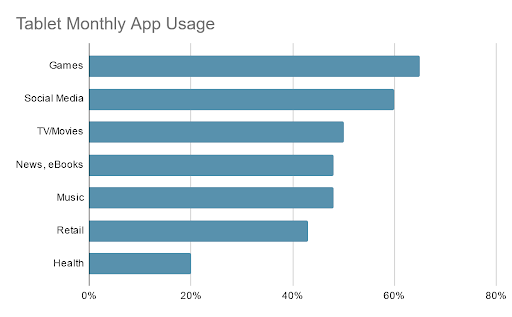 Again, gaming tops the usage list. Due to the larger tablet screen, the gameplay and user experience will be better. That's possibly why tablet users are ready to pay more for installs & subscriptions.
Mobile App Usage (By Country)
Like everything, behavior changes by location. This can be applied to app usage as well. Over the past 4 years, the app installs have grown by 80% in China. Other upcoming markets like Brazil, Indonesia, and India are seeing high growth rates too. India's app installs growth rate has been a whopping 190%. This compares to only 5% in the US. As tech advances & becomes more accessible in upcoming markets globally, the likelihood of targeting foreign consumers with an app can be attractive for some businesses.
Monthly App Usage (In Hours)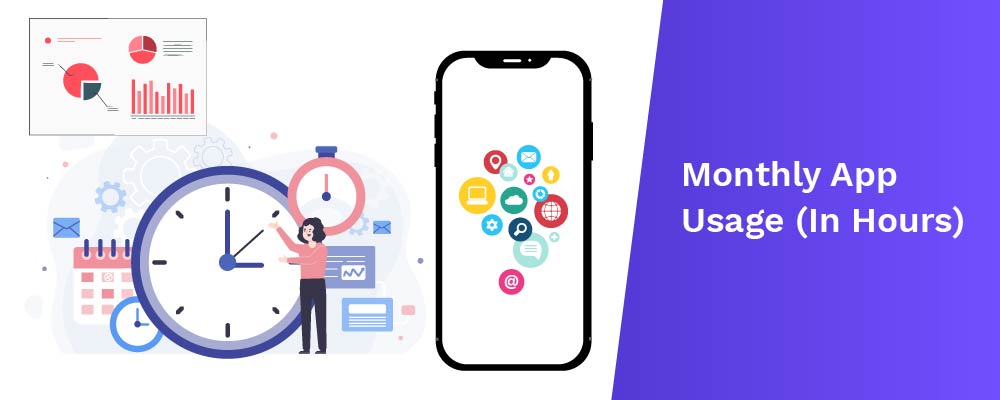 As the no. of installs rises in India, it is evident that users would invest more time using apps. One more thing remains consistent across the board for each of these countries. The time invested in mobile apps is rising each year. A country like Italy has a fraction of the population compared to India, but both these markets have seen a 30% rise in the average time spent using apps from 2019-20.
The Bottom Line
Mobile apps are a vital part of our lives and will continue to be for years to come. Although mobile app installs and usage are already high, research shows that this trend will still rise in the future. This seems encouraging for top app developers and businesses looking forward to developing one. However, you must stay up-to-date on all the facts and the latest trends to create & manage a successful app. This blog will help you with your app development journey, and if you need more assistance, feel free to connect to Hyperlink Infosystem. Our skilled team of developers is anytime ready to help you out.