In the rapidly evolving digital landscape, online pharmacy apps have emerged as a revolutionary solution, bridging the gap between healthcare accessibility and modern technology. These apps are transforming the way we access medications, bringing convenience and efficiency to our fingertips.
Mobile applications like PharmEasy have fundamentally transformed the way people obtain prescription medicines and healthcare products. Thanks to the power of the internet and mobile technology, these apps offer a seamless and user-friendly platform that connects patients with pharmacies, doctors, and healthcare providers.
Gone are the days of enduring long queues at physical pharmacies or waiting for critical medications. With just a few taps on their smartphones, patients can access a wide variety of medicines and healthcare products, and even consult certified healthcare professionals through virtual platforms. The ease and accessibility of these applications make them indispensable tools for those seeking optimal healthcare solutions.
The benefits of these apps extend beyond convenience. They empower patients to make informed decisions by providing detailed information about medicines, dosage instructions, and potential side effects.
Additionally, online pharmacy apps streamline the process of uploading prescriptions and verifying them, ensuring the utmost accuracy and safety in medication dispensing.
Key Features of Online Pharmacy Apps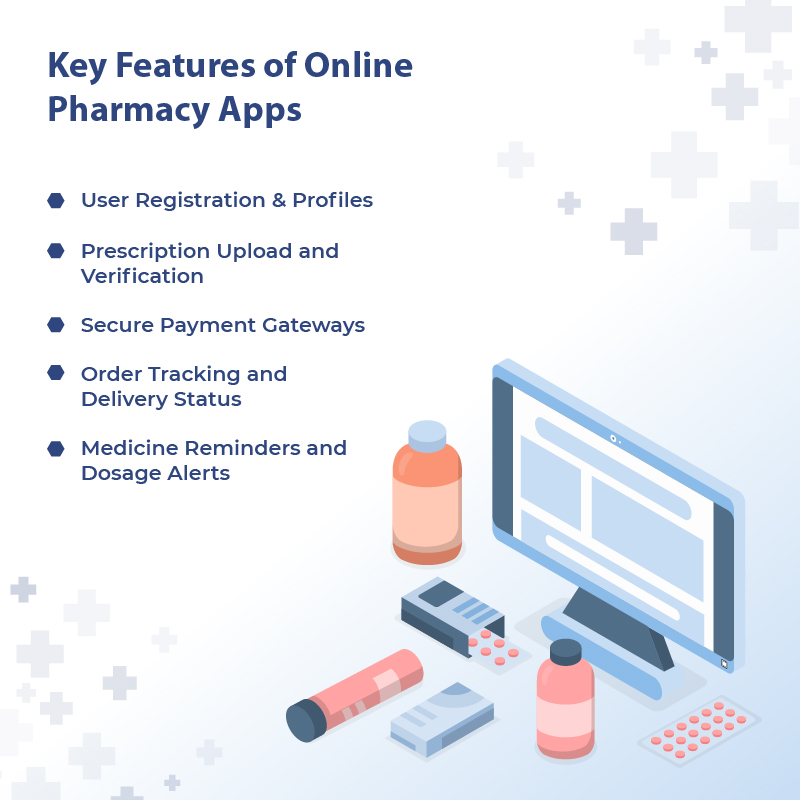 1. User Registration and Profiles
By having a user profile, the app can provide personalized medication suggestions based on the user's medical history and dispatch timely reminders for prescription refills or doctor appointments. This streamlined approach ensures that users receive prompt and individualized assistance, making the medication management process easier, safer, and more effective.
2. Prescription Upload and Verification
To ensure the safe and responsible dispensing of prescription medications, online pharmacy apps typically require users to upload a valid prescription. The app's verification process cross-checks the prescription with registered healthcare professionals to authenticate its validity. Once verified, users can place orders for prescription medications confidently, knowing that their health is in good hands.
3. Secure Payment Gateways
Security is paramount when it comes to online transactions, especially in the healthcare domain. Online pharmacy apps integrate secure and reliable payment gateways, safeguarding sensitive financial information. Users can choose from various payment options, such as credit/debit cards, digital wallets, or net banking, ensuring a seamless and secure checkout process.
4. Order Tracking and Delivery Status
The convenience of tracking orders in real-time enhances the user experience significantly. Online pharmacy apps provide a tracking mechanism that allows users to monitor the status of their orders from the moment they are dispatched until they reach their doorstep. This transparency fosters trust and confidence in the app's service.
5. Medicine Reminders and Dosage Alerts
To promote medication adherence and patient well-being, online pharmacy apps often offer medicine reminders and dosage alert features. These personalized reminders help users stay on track with their medication schedule, ensuring timely and correct dosages. Such proactive measures contribute to better health outcomes and improved patient care.
Incorporating these key features, online pharmacy apps have revolutionized the way we access and manage our healthcare needs. Their user-centric approach, coupled with advanced technologies, has propelled the growth and widespread adoption of these apps, making them indispensable in modern healthcare. As we delve deeper into the world of
online pharmacy app development
, we will explore the underlying technology stack, cost considerations, and future potential of these transformative digital platforms.
Technology Stack for Online Pharmacy Apps
The technology stack forms the backbone of any online pharmacy app, enabling its smooth functioning and seamless user experience. Let's delve into the essential components that constitute the technology stack for these innovative apps:
1. Front-end Technologies
When developing an online pharmacy app, the front end manages the user interface and experience. Developers use HTML, CSS, and JavaScript, along with frameworks like React or Angular, to create visually appealing and responsive interfaces that enhance performance and interactivity.
2. Back-end Development Tools and Languages
Developers use programming languages like Python, Ruby, or Node.js to create a strong back end for applications, which manages the server, application logic, and database operations.
3. Database Management Systems
An efficient database management system is crucial for handling user data, prescription information, and product catalogs.
4. API Integration for Payment and Delivery Services
API (Application Programming Interface) integration is vital for seamless communication between the app and external services. Online pharmacy apps integrate payment gateways like Stripe or PayPal to facilitate secure and smooth transactions. Moreover, they incorporate delivery service APIs to provide real-time tracking and accurate delivery estimates to users.
By employing the right technology stack, online pharmacy apps can deliver a seamless and reliable user experience. The integration of front-end and back-end technologies, along with efficient database management and API integration, ensures a robust and scalable app that meets the dynamic needs of users and the
healthcare industry
.
As we explore further online pharmacy app development, we will delve into the various cost factors and monetization strategies, shedding light on how these apps can thrive in the competitive market.
User Interface and Experience
A user-friendly interface is paramount for online pharmacy apps to attract and retain users. Intuitive design elements and a clear layout make it easy for users to browse products, upload prescriptions, and complete purchases seamlessly. Efficient navigation and search functionalities allow users to find specific medicines quickly, streamlining the ordering process. Furthermore, online pharmacy apps should consider accessibility and inclusivity in design to accommodate users with disabilities and provide equal access to essential healthcare services. Implementing a rating and review system enables users to provide feedback, fostering trust and credibility within the app's community.
Ensuring Security and Compliance
Security is of utmost importance in online pharmacy app development, given the sensitive nature of medical data. Implementing robust data privacy and protection measures safeguards users' personal information and medical history. Compliance with the Health Insurance Portability and Accountability Act (HIPAA) is essential for handling and transmitting sensitive medical information securely. Secure payment transactions using encryption technologies protect users' financial data and prevent fraudulent activities.
Cost Factors in Online Pharmacy App Development
Several factors contribute to the cost of developing an online pharmacy app. The number of development hours required depends on the complexity of features and functionalities desired by the app owner. Investing in a user-friendly UI/UX design enhances the app's appeal but may incur additional design costs. Setting up a robust backend infrastructure and servers to handle a large user base influences development expenses. Moreover, integrating third-party APIs and services, such as payment gateways and delivery providers, may involve additional costs.
By carefully considering user interface and experience, ensuring security and compliance, and understanding the cost factors involved, businesses can successfully develop and launch online pharmacy apps that provide convenient and secure healthcare services to users. With the rising demand for digital health solutions, online pharmacy apps hold great potential for growth and success in the healthcare industry.
Conclusion
In conclusion, online pharmacy apps have emerged as a revolutionary solution in the healthcare industry, offering convenience, accessibility, and enhanced user experience. With key features like user registration, medicine search, secure payment gateways, and prescription verification, these apps cater to users' medical needs efficiently. However, it is crucial to prioritize security and compliance to protect sensitive medical data and comply with regulations like HIPAA. Understanding the cost factors and investing in a user-friendly interface is vital for successful online pharmacy app development. Businesses seeking to venture into this promising market can collaborate with skilled app developers and
mobile app development companies
to create robust and user-centric online pharmacy apps that transform healthcare accessibility for the masses.