Artificial Intelligence is how we can make a robot-like machine act like humans. AI involves studying human brains' working, thinking, learning, and deciding, ultimately resolving an issue to consume such features in machines.
Through studies, one builds intelligent software systems that can think and act like humans. The primary aim of AI development is to enhance computer functions related to human knowledge, such as thinking, learning, problem-solving, and decision-making processes.
AI is intangible & composed of the below elements;
Learning
Reasoning
Perception
Problem-solving
Linguistic Intelligence
AI research's main objectives include planning, learning, reasoning, representation of knowledge, realization, moving & manipulating objects, and natural language processing.
Benefits Of AI For App Development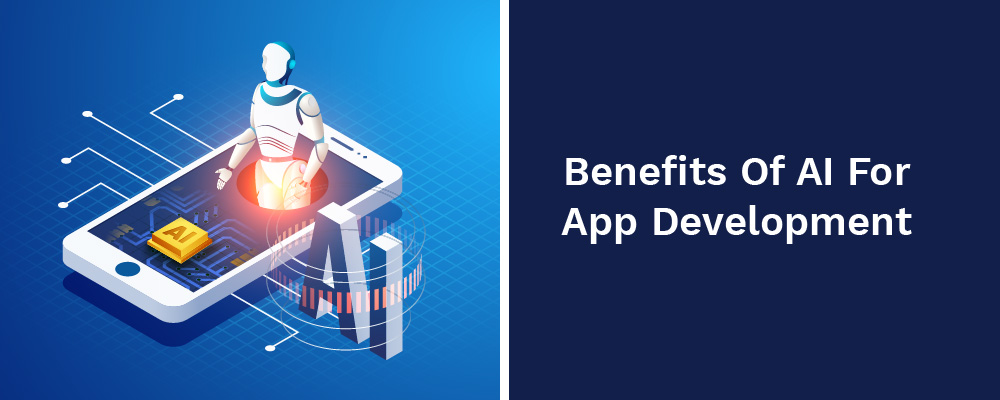 The blend of AI with mobile apps has done a great job and allowed people to use machines that we could not previously imagine.
1. AI helps us to finish tedious work quickly.
No one likes to do work repeatedly. With the mobile app and AI's combination, we can ensure creativity. It helps mobile app development companies concentrate on more important tasks that only apply creative input into the apps and solve real-time app development issues.
2. It facilitates maintenance of completeness & accuracy.
AI provides precision and closure in any field, leaving fewer chances of errors. AI is a profitable option in that way. Humans are more prone to errors than machines. Using AI reduces the risk of inaccuracies in any task.
3. It enables long hours of work without compromising efficiency.
Some tasks are more time-taking like mining processes or fuel research. AI creates bots that can work persistently for hours without showing signs of fatigue with an equal amount of efficiency.
4. Helps take customer comfort to the next level.
AI is so interlaced in our lives that we may not realize it. However, it has a presence in many aspects of our life, from AR to travel apps. User satisfaction is taken a few notches up by simplifying their searches.
5. Mobile AI will attract retail customers.
AI tech is furthering each day and making new frontiers for the retail market that redefine the mobile app's potential. Most retailers render services to a large no. of users by teaming AI algorithms with their brands.
6. Smart Interactions & Competitive Business.
With the development of machine learning into AI systems, businesses have become ready to revamp their radical practices to interact with users. AI tech has helped companies, customers, and developers join hands-on thinking about smart interactions in mobile apps. AI can read user trends, processes, preferences, and the gathered info to render precise solutions.
7. AI apps retain users.
The incorporation of AI with mobile apps has rendered personalized, tangible, smooth experiences to users. The foremost principle of AI for mobile apps is accumulating data from past interactive sessions. It renders precision in understanding users' behavior, which helps brands connect users to the brands.
How AI Resolves Key Business Challenges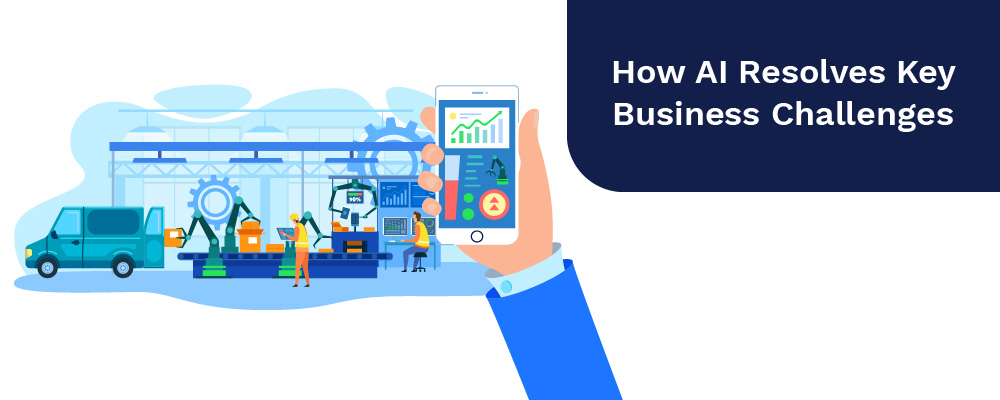 With AI, businesses can overcome long-standing problems, and let us look at how.
1. Fraud
Users are leaning towards more digital & mobile transactions. But it also provides criminals a chance to take what they want from digital footprints. They feed on sensitive personal and financial data to perform fraudulent activities. With growing user expectations about transaction speed, businesses are fighting to meet such demands and promise safe transactions to scan potential fraud.
Several businesses use AI and ML algorithms to sort out & examine the data within a few seconds. Therefore, these businesses have widely reduced fraudulent activities & spammers. Other firms like PoshMark and DoorDash have successfully lowered fraudulent transactions, customer spamming, and chargebacks.
2. Customer Support
An essential element in a company's success is the customer experience. Despite several companies providing quicker transactions, they are still struggling to offer 24*7 user support. AI is stepping to help these businesses offer responsive user support across different channels without having one human being present to address customer inquiries.
3. Personalization
Although users enjoy online shopping convenience with their smart devices, they expect such online shopping platforms to send them personalized interactions. Businesses with a vast user base that do not have face to face connection or any in-store transactions face challenges to customize each experience.
4. Data Analysis
The rapid increase in data might be helpful, but it is challenging to organize it to effectively make it useful for future uses. Although AI playing a significant part in assessing data in the past decade, managing them is troublesome.
Some businesses use AI to help them. They implement a tech called automated ML to automate building AI apps, including ones for data analysis. Software and data engineers can quickly develop effective data analysis models to enhance AI's data analysis processes.
5. Productivity
Businesses that help to get the maximum results from their workforce and concentrate on enhancing their efficiency every day. Some IT businesses claim to be self-healing businesses that actively approach challenges of business application continuity. This business uses AI tech to forecast and reduce IT problems early to not turn into bigger issues that might affect efficiency.
The company uses this solution in a broad range of sectors, from finance, retail to manufacturing. If artificial intelligence didn't have the prediction capabilities, companies would have to fix the damage caused by it. Hence AI does not let the IT sector help them do their jobs better.
Final Thoughts
A massive credit for addressing old business challenges goes to AI-powered solutions effectively. Businesses can fulfill their users, protect their transactions, enhance interaction with the audience and the users, and handle data more productively.
Companies detect their IT problems with AI's help, but they count on automated strips to resolve issues. Therefore, AI's usage and applicability include making wise choices to make solutions useful for businesses.