Mobile app deep links are one of the most important weapons for the mobile app marketer. With the changing user demands, it has become increasingly essential to meet their needs to deliver an exceptional user experience. And at present, they expect push notifications to give them instant updates and more ease and convenience to visit the landing page. Offering such a personalized experience can undoubtedly boost the traffic to mobile apps and increase app engagement.
Whether it is a reminder to check their wishlist, or a notification for a product that went out of stock earlier, offer sale, no matter what, if you want them to visit you, you have to make it straightforward and effortless for them. This is where deep linking comes into the picture as it allows push notifications to direct users to particular pages in the app, making the whole process easier for them.
This article will cover everything about deep linking and how it is important for your mobile app.
Topics to Cover
Introduction to Mobile App Deep Linking
Introduction to Deferred Linking
How can Deep Linking enhance the App User Experience?
Advantages of Mobile App Deep Linking
Challenges of Mobile App Deep Linking
Have you Implemented this Powerful Tool in your Mobile app?
Introduction To Mobile App Deep Linking
In simple words, deep linking is the ability to link to your mobile app content directly.
But before we go there, are you aware of links or URLs?
URL aka Uniform Resource Locator is used to indicate WWW addresses that allow you to visit pages on the internet where it stores certain information.
For example, https://www.hyperlinkinfosystem.co.uk
This is a link or a URL to Hyperlink Infosystem's landing page.
You can consider deep links for your mobile app instead of leaving your app users on the home screen. Clicking on a deep link brings users to a particular screen inside your app. Consider profile pages, shopping carts, product pages, or new content. You can also use deep links to direct your users from several places to your app, such as;
Ads
Social media
Push notification
Website
SMS
Email
Other Apps
Etc.
Introduction to Deferred Deep Linking
Ok so we talked about how deep linking can direct the users to your app, but what if they don't have your app on their device? This is where deferred deep linking comes into the picture to help you make a difference and retain users by offering value.
Suppose your target users do not have your app downloaded; they will be taken straight to the app's download page. And when the app is downloaded on your phone and opened, it will open with the page link your user clicked on earlier.
How Can Deep Linking Enhance The App User Experience?
Mobile app users have great expectations, and it isn't sufficient for apps to be secure, quick, and reliable. App users demand a more personalized touch, and that's where deep links help you. Moreover, it allows marketers and developers to adjust the way users engage with their apps.
Mobile app developers and marketers can create personalized campaigns with deep links that provide valuable and insightful content to the users. Also, deep linking is a brilliant technique for user retention and app engagement as it leads users to particular conversion spots inside the app, customized by their preference or behavioral patterns.
Advantages Of Mobile App Deep Linking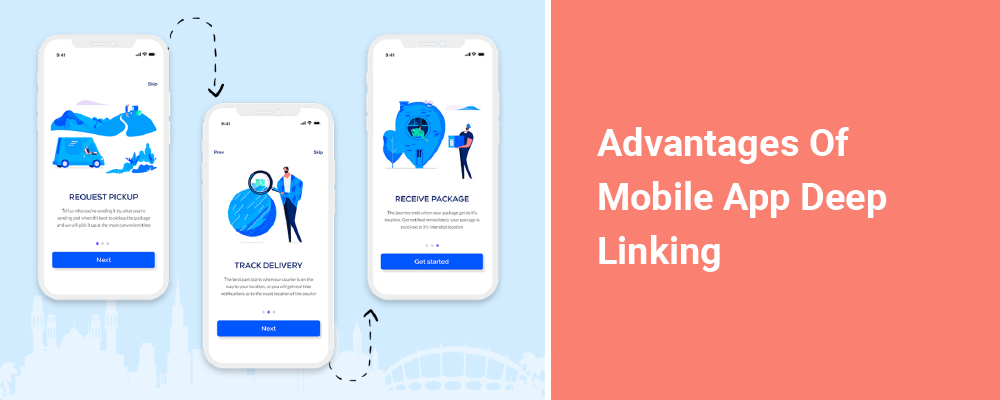 Deep links are like any other URLs to shift traffic from one place to another. But it offers the ability to direct the user to the pages on your app page. Mobile apps are a more personalized spot for the users and provide freedom to receive an additional value. As these links send the user straight to your app, you can enhance their experience and improvise the product for your users.
Add Value And Improve App Engagement
Mobile app deep linking has been proved really useful in improving mobile app user engagement. This is because they don't allow any deviation as they directly land users to the pages of their interest.
Boosts App Engagement
Sending a push notification with deep links can have a substantial impact on your product sale.
Launch New Features
If you have released new features in your app that you desire to show your users, deep linking is the best way to do it. Direct your users to the new page and display them the new features you have incorporated through deep links in your notifications.
Direct Users To Product Pages
Deep linking can direct your users to multiple product pages through your mobile apps. These pages can be neglected carts that they haven't visited in a long time, the release of new items, the arrival of new products, and much more.
Improve User Retention Rate
Deep linking can also help you retain your users to your app and make their shopping experience more memorable. According to sources, deep linking has shown more results in improving retention rates than any other new techniques used by companies worldwide.
Promote Personalized Content
You can send users personalized content where you can direct users to personalized content pages with the help of deep linking.
Offer Promotion
Deep linking is an excellent tool for marketing products & services which are valid for a limited period only.
Challenges Of Mobile App Deep Linking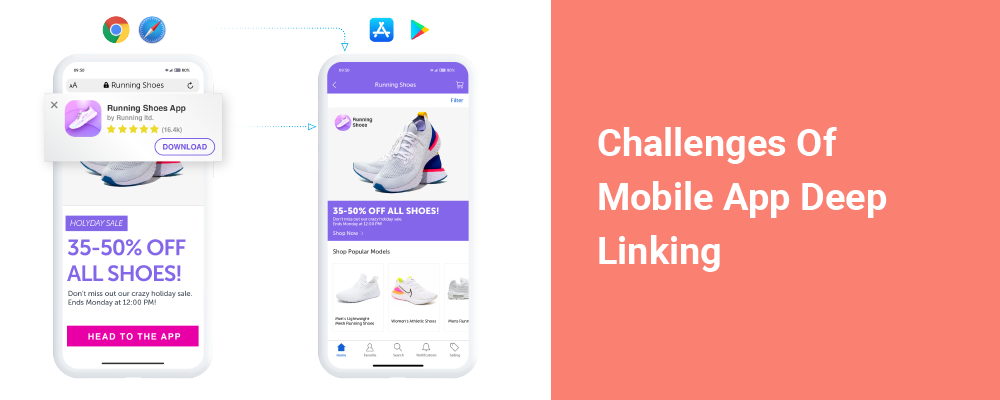 There will always be challenges but will always be a way to overcome them too. And deep linking is no exception. Deep links are a tad bit complex, unlike standard links. The deep links for iOS and Android apps are both different. Mobile app deep linking is a bit more sophisticated than regular links. However, the right mobile app development company can successfully help you overcome these challenges with their profound experience and knowledge.
Have You Implemented This Powerful Tool In Your Mobile App?
Deep linking is a fantastic tool for your mobile app. And they are integral parts of mobile app marketing. If done rightly, they can drive more traffic and convert them into sales. If you have your own business and wish to implement deep linking into your mobile app, connect with our talented experts to help you for app development projects.