The Covid-19 situation affected several industries tremendously, including the education sector. Therefore, several new startups and apps joined the market to offer users unique and innovative features. A lot of apps succeeded, like Udemy and Biju's; however, some apps failed due to several reasons. The primary reason for this generation to prefer digital learning instead of conventional methods is reduced cost and easy accessibility.
These days, cutting-edge technologies successfully provide classroom experiences to the users from the comfort of their homes. The best part is that you can receive education sitting in your pajamas on your comfy sofa from any part of the world. Digital learning platforms can offer courses from photography, digital marketing to painting and mathematics. Hence, EdTech apps by app developers have gained momentum in this pandemic situation as it provides various features to make students' learning experience better than traditional learning.
Introduction To Udemy
Udemy is a digital learning platform that was released in 2010 and is one of the few top online learning platforms to date. Only a few months after the launch, the app could offer over 2000 courses with over 1000 professionals.
And just after 2 years, over 400k students signed up for the app from different corners of the globe. In 2015, Udemy became one of the most popular educational apps. Udemy inspires many new entrepreneurs as the app has got 50M users offering over 15k courses.
Advantages Of eLearning App Like Udemy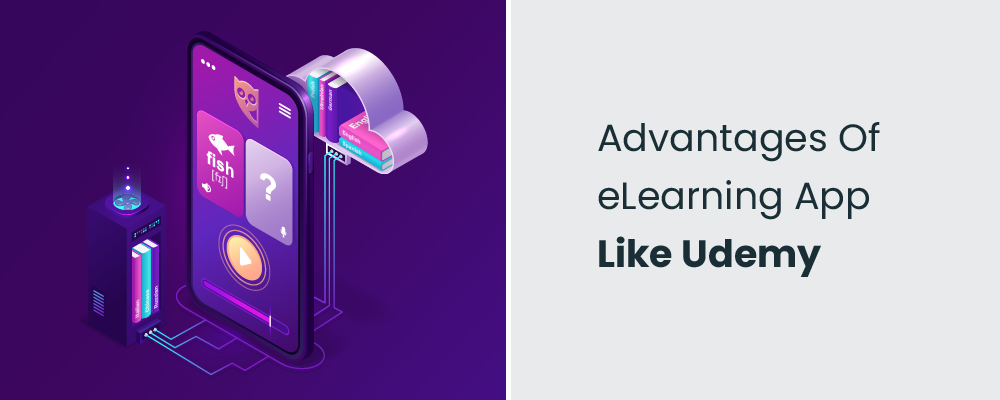 No doubt, eLearning apps are not recent, but they have gained immense fame due to the pandemic situation. Also, innovations are always taking place to make the elearning experience exciting and effective for both professionals and students.
Better Learning
Everyone has a different pace to understand and learn things. Some can do it faster, while some take time to understand the topic properly. The mobile educational apps allow every student an adequate amount of time to manage their studies.
Time Flexibility
Unlike traditional classroom-based learning, e-learning platforms are not time-bound. Students don't have to be on time to learn a specific course; if they miss the class, they can still watch the whole session later whenever they can. This is beneficial for the students who stay at remote places where the internet speed is terrible.
Saves Money
The elearning education system is an affordable way to receive education because unlike conventional education systems; you don't have to rent a place to teach, which saves rent, electricity, infrastructure, and other miscellaneous expenditures. All you require is an internet facility and a device (laptop or smartphone) on which you can learn.
Multiple Courses
In an online learning system, students can manage taking several courses at once, which helps them avail better knowledge in less time.
Challenges Of eLearning Apps
The online learning platforms have some challenges, too, such as;
Using online platforms for education can sometimes feel less interesting or monotonous due to a lack of physical interactions. Since humans are social animals, they need a sense of physical belonging.
Sometimes, the content quality in these apps is not great.
A standard device is required to get a seamless experience while using the app, which is not always possible for every student as not everyone has the same financial stability.
One can easily feel distracted while learning over apps, as they receive various notifications from different social media sites that can divide their attention.
Essential Features For An eLearning App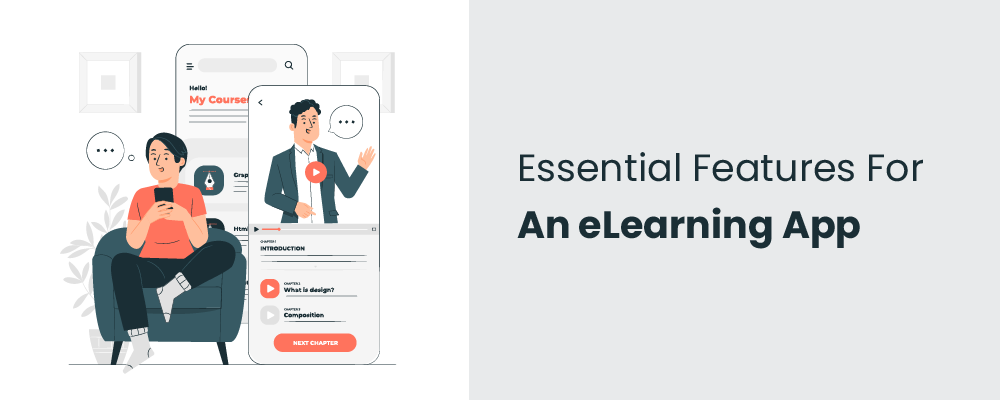 Features For Faculties
Create Courses & Do Updates
Rendering informative content in the form of videos and pdfs is the primary task of the faculties. And these features ensure that they can perform their job efficiently without any obstacles.
Dashboard
This is another important feature for teaching professionals. The dashboard renders the critical tools required during teaching sessions.
Features For Users
Search & Filter
An awesome search engine can be every app's dream. Moreover, an extra filter option can provide you the exact content you are seeking.
Tag Usage
This is a great way to be able to get new updates on any particular topic without looking for it every time. All you gotta do is tag the topic, and the platform will send you updates regarding any uploads on that topic.
Multiple Payment Options
The users can use the platform only after they have made the payment for their courses. Hence, your app should be compatible with multiple payment methods and guarantee a safe transaction. The more the options for payment, the more convenience you will offer the users, which will help your app grow.
Recommendation Engine
Incorporating AI can be beneficial for your business as it can help your users by suggesting them to take courses or videos based on their history. This type of feature can be seen in several apps which developed by app development companies uk these days, like Netflix, Spotify, and many more.
Tech Stack Required For eLearning App
A reliable and top mobile app developer knows the best ways to provide you with a top-notch app using advanced technologies. Below are some of the tech stacks you must check out to build an awesome elearning app.
Payment gateway - Stripe or PayPal
Backend - Node.JS
Frontend - Bootstrap, Angular.JS, JavaScript, and React.JS
Frameworks - Microsoft, Azure, Express, or PHP
Cloud storage - Cloudflare or AWS
Database - MySQL and MongoDB
The Bottom Line
With the rising elearning opportunities, entrepreneurs have got a golden opportunity to develop educational platforms and become successful in this highly competitive market. However, creating a clone app won't do; you have to bring innovation and unique ideas in place to stand apart from several platforms.
If you are considering creating an e-learning app but are confused about how to start one, get in touch with our app development team to guide you on a perfect pathway on your mobile app journey.