You have a lot of duties as a fleet driver manager, such as tracking your drivers' exact positions and keeping expenditures under control. Modern telematics and GPS fleet management systems are among the most potent tools available to fleet managers for increasing vehicle efficiency and driving cost savings.
According to Automotive Fleet, 98% of businesses that employed GPS monitoring software in 2019 reported favorable results, and 45% of fleets achieved positive ROI in 11 months or less.
Here's an overview of the GPS fleet management system and the considerations to consider when selecting a fleet management system.
What is GPS Fleet Management?
A GPS fleet management system is fleet monitoring software that tracks the behavior of a fleet of vehicles using
GPS technology
. GPS fleet management consists of hardware and software that assists in ensuring that your company's cars are working efficiently and that drivers are safe and responsible. Satellite signals are used in this geolocation.
Equipping yourself with the best fleet management system allows you to receive the true geographical location of each car via a sensor-equipped box discreetly put in the passenger compartment. Companies with a fleet of cars or construction equipment can enhance their fleet management using this tracking device.
Why You Should Use a GPS Fleet Management System?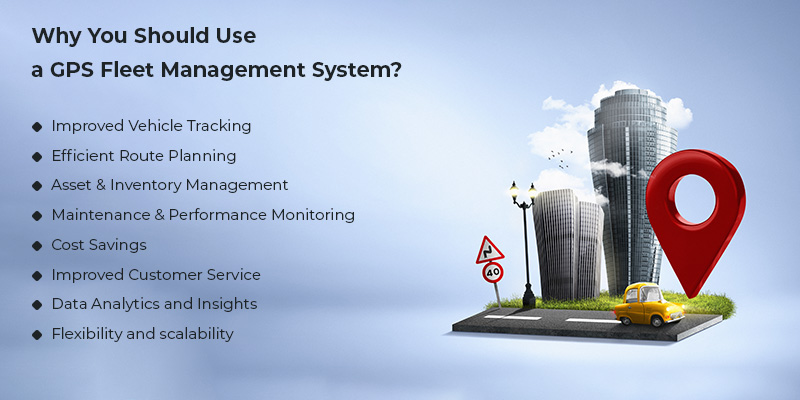 Improved Vehicle Tracking
Using a GPS fleet management system, you can track your cars in real-time, delivering precise and up-to-date position information. This allows you to track the movement of your fleet, resulting in increased fleet visibility and operational management.
Efficient Route Planning
You can optimize route planning and dispatching using a GPS fleet management system. The technology can assess traffic patterns, road conditions, and other factors to recommend the most efficient routes, lowering fuel usage and increasing total productivity.
Improved Driver Safety
GPS fleet management solutions frequently contain features such as driver behavior monitoring and notifications. Measuring characteristics like speeding, abrupt braking, and quick acceleration, helps encourage safer driving practices. By addressing these habits, you may improve driving safety and lower the likelihood of an accident.
Asset and Inventory Management
Some GPS fleet management systems can track assets and inventory. This allows you to keep track of important assets and inventory transported by your fleet, lowering the risk of theft or loss and streamlining inventory management operations.
Maintenance and Performance Monitoring
A GPS fleet management system can offer information on the health and performance of a vehicle. It can monitor critical parameters like mileage, engine diagnostics, and maintenance schedules. You can proactively plan maintenance, enhance vehicle performance, and reduce downtime by monitoring this data.
Cost Savings
Using a GPS fleet management system can result in cost savings in a variety of ways. Lower operational expenses by optimizing routes and lowering fuel use. Reduced insurance premiums can come from improved driving safety and lower accident rates. Furthermore, effective asset management and maintenance schedules can help you extend the life of your cars, lowering replacement and repair expenses.
Improved Customer Service
With precise real-time tracking and fast route planning, you can give your customers more accurate delivery predictions. This increases client satisfaction by assuring prompt and dependable service.
Data Analytics and Insights
GPS fleet management systems generate massive volumes of data, which may be studied to get useful insights. By utilizing this data, you may discover patterns, make educated decisions, and adopt strategies to improve the performance and profitability of your fleet.
Flexibility and Scalability
GPS fleet management solutions are scalable and can meet the demands of fleets of all sizes. These solutions may be tailored to your individual needs, whether you have a small fleet or a huge enterprise-level business.
Things to Consider When Choosing a GPS Fleet Management System
Capabilities and Functionality
Examine the GPS fleet management system's capabilities and functionality.
Hire software developers
to look for real-time tracking, route optimization, driver behavior monitoring, maintenance scheduling, and reporting capabilities. Check that the solution meets your unique fleet management requirements.
Scalability and Integration
Consider the system's scalability to meet your fleet's future expansion. Hire dedicated developers to determine if the GPS fleet management system interfaces with other tools or systems that you presently use, such as dispatch software or inventory management systems.
Customization Options
Look for a GPS fleet management system that allows you to customize the solution to your fleet's specific needs. This guarantees that the solution is compatible with your operations and offers the flexibility required for successful fleet management.
User-Friendliness
Consider the GPS fleet management system's user interface and simplicity of use. A user-friendly design can help your employees understand and manage the system fast, improving adoption and reducing training time.
Data Security and Privacy
When working with fleet information, data security is critical. Check that the GPS fleet management system has strong security measures to safeguard your data from unwanted access and adheres to privacy standards.
Customer Support and Training
Examine the GPS fleet management system provider's quality of customer support and training. Adequate support offers rapid assistance in the event of any difficulties or concerns, while comprehensive training enables your staff to use the system's capabilities efficiently.
Cost and ROI
Consider the GPS fleet management system's pricing structure as well as the return on investment it provides. Compare the features, functions, and pricing of several suppliers to find the system that gives you the most bang for your buck.
Reputation and Reviews
Look into the GPS fleet management system provider's reputation and customer reviews. Look for testimonials or case studies to learn about other firms' experiences with the system.
The Best Fleet Management Systems to Consider
Fleetio: Excellent for Process Automation
Samsara: Ideal for Large Corporations
AUTOsist: Best Overall
Rhino Fleet Tracking: Most suitable for Alexa compatibility
Whip Around: Best in terms of affordability
Azuga: Best for Usability
Onfleet: Best for Task Management
Conclusion
Finally, selecting the correct GPS fleet management system is critical for improving your fleet operations and increasing efficiency. You can make an informed selection by taking into account variables such as features and functionality, scalability, customization possibilities, user-friendliness, data security, customer support, and pricing.
Several leading fleet management system providers, including those with mobile app development skills, provide complete solutions to fit your business's requirements. Conduct extensive research, read reviews, and examine your fleet's particular needs to choose the
software development company
that gives the most value and matches your goals.
Investing in a dependable GPS fleet management system from a top software development company can improve fleet performance, streamline operations, and promote long-term success.