Many people are posting on social media platforms such as Facebook or Instagram, which requires them to make their picture look fabulous. While there are several photo-editing apps developed by app development companies available currently, Canva stands out of all, offering plenty of incredible features. It's an excellent on-demand graphic design tool for businesses as well as individuals to use templates and create fantastic layouts and for pictures, covers, videos, presentations, visiting cards, and a lot more.
Canva is a user-friendly and creative design platform for businesses, professionals, and individuals to use several features. Canva has a free and a pro version that can be bought at a nominal rate, but yet provides many photos and graphic elements, making it redundant to purchase pictures from websites like Shutterstock.
Canva was founded by Melanie Perkins, Cliff Obrecht & Cameron Adams on January 1, 2012. The app has raised millions of money to expand its platform and add more value for its uses. It's an excellent tool for professionals as well as amateurs and has a collection of over 1 million photos, fonts, graphics, of which you can create brilliant posts for your Instagram page.
Topics to Cover
Why is Canva so Popular?
How to make money from a Design App like Canva?
Essential Features for Canva-Like App
Technologies you can use in your Canva-Like App
The App Development Cost for Cava-like App
Why Is Canva So Popular?
The reasons for Canva's popularity are as below:
App users can choose from over 3 million photos.
It is free to use, and you can become a pro member to use more premium images.
Users can design stunning layouts on the move, as they don't have to sit in front of a desktop to create one.
Canva allows more members to work on the same design simultaneously.
It has a seamless UI interface.
It has templates of ample things such as Instagram posts, story, Facebook cover, logo, icon, visiting card, resumes, invoices, brochures, flyers, presentations, you name it, and it's there.
How To Make Money From A Design App Like Canva?
Eventually, what we all aim for in a business venture is profit. Canva is no exception.
Premium Version
Canva offers a free and a pro version. You can do the same for your designing app too. The pro version offers additional features like a wide variety of pictures, elements, templates, fonts, background remover options, and a lot more. Moreover, both the app and website version offer a 30 day trial period for you to know how the pro version is worth purchasing after your trial period is over.
Canva Printing
This version helps users print their designs on physical items such as postcards, flyers, t-shirts, invitations, etc. Although online is helpful, brands also need items with a logo for event promotions, which is where the app is handy. You will be charged as per the order volumes, residence country, or other factors.
Canva Courses
This model is not that popular. But wouldn't it be great if your design app offers such online or offline courses? It would add a value addition for the users who are genuinely interested in gaining knowledge. Canva offers a vast collection of online and offline courses related to social media, branding, design, and much more.
Canva Business
The business version of the app will help fulfill the professional needs. For this version, you can levy a monthly subscription fee of $30, just like Canva does.
Essential Features For Canva-Like App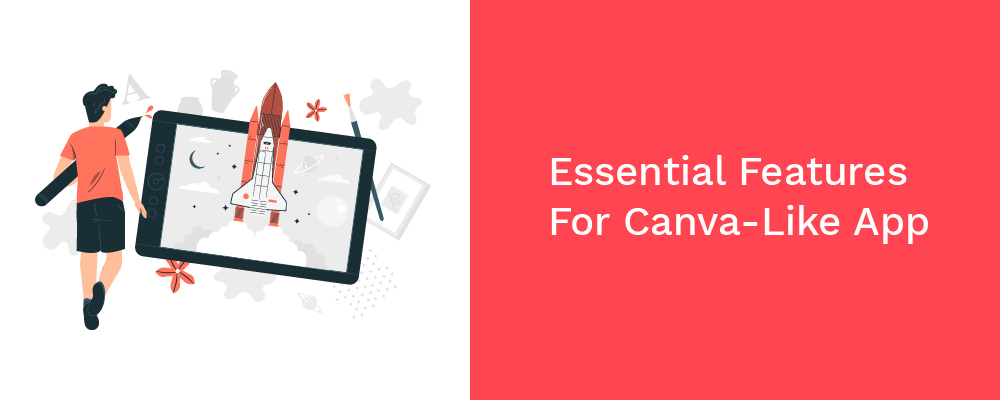 An on-demand app like Canva has a plethora of features that you must incorporate in your designing app as well to be successful. Let's have a look at some of the features that you must include:
Picture editing - effects, filters, background removal, positioning, cropping, transparency, flipping, rotating, and more.
A wide variety of templates & layouts - for Insta posts & story, Facebook cover, icons, business cards, brochures, presentations, posters, invitation cards, picture collage, resume, menu, t-shirt, book cover, and much more.
Many graphic elements make your post more engaging and interactive, including static and motion, simple and vibrant, etc.
App integrations, for instance, Canva has integrated several apps like Instagram, Google Drive, Dropbox, Google Maps, Pexels, Giphy, and a few more.
You can even share your photo folders via the share option available and send the link using which other users can also edit the photo.
Adding music to your video to engage your audience with free audio tracks.
There are lots of things to explore with this innovative graphic design app. Despite not being a designer, its straightforward interface enables users to use it with ease.
Technologies you can use in your Canva-Like App
Messaging - Twilio or Firebase
Notifications - Map, Amazon SNS, Twilio
Payment Gateways - net banking, e-wallets, PayPal, Braintree
Mobile SDK - iOS & Android
Databases - MySQL, Cassandra, HBase, and MongoDB
Cloud Storage - Amazon and Google
The App Development Cost For Cava-like App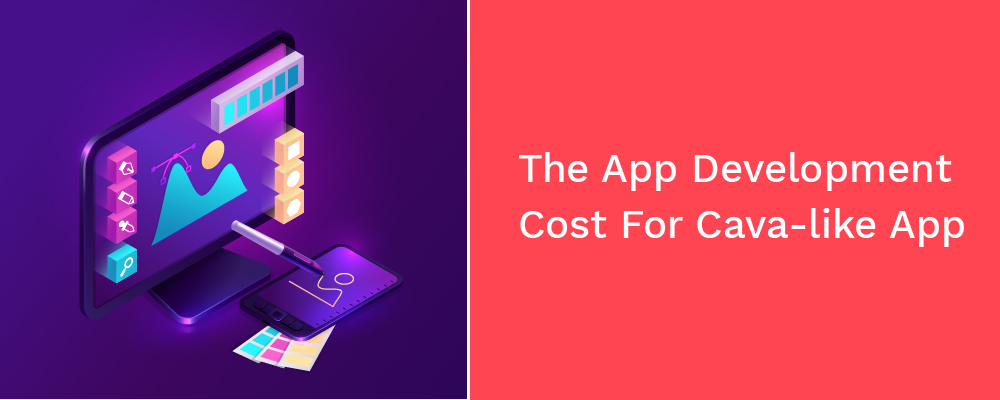 The app development cost to build an app as Canva varies with several factors such as:
Number Of Platforms
Location
App Complexity
Features
App Developer Experience
Tech-Stack Used
UI/UX Design
These are the various factors that affect the cost of your overall app. However, just to give you an average figure, it might cost you around $15,000 to $30,000 or even higher if your app takes more time to develop due to its complexity. Also, location can impact your app costs hugely. For instance, the hourly fee to build an app is $100-$150 in North America, while it is only $30-$50 in India. Isn't that huge?
The Endnote
Creative apps like Canva are loved by people who own a business or a professional such as a social media marketer, graphic designer, who can use various features of this fantastic app to their advantage. Are you looking to develop such an outstanding app? The right app development company will help you create the most successful and unique app like Canva!