As simple as running a business look in your head, the reality is far distant from that. No doubt, it involves tons of opportunities to create business growth strategies, experiments with the latest technologies, and work with people who share the same goal as you. But these things also come to an end after a while. Fundera states that only 30 percent of the companies can celebrate their 10th anniversary. This is due to a lack of capital in the business.
ERP, also referred to as Enterprise Resource Planning, helps companies tackle various business processes from one place of a business, including taxi business, home services, food delivery, etc. ERP software is built for the control and optimization of the processes that impact your businesses' performance. It takes care of the whole business processes' chain such as logistics, human resources, inventory management, accounting, and so forth.
This blog will discuss why your Enterprise needs an ERP software app by top app development companies and how it can be created.
Introduction to ERP Software Solution
Multiple organizations use ERP software apps for automation purposes in a company's operations. ERP solutions are primarily used for resource management in companies. To put it simply, all the data received is saved in one database for everyone working in the organization to utilize the data for analysis and reporting.
There are 2 types of ERP software apps ~ custom ERP and out-of-the-box ERP.
Custom ERP software apps are the solutions built from the start by the engineers of the company. This customization aims to fit the ERP solutions in the company processes, and the employees can use them conveniently.
The out of the box ERP software app offers little or no customization. Its simple description can be that every company will have to adjust their ERP software app, including its processes, and dedicate time & money to train their staff.
Advantages Of An ERP Software App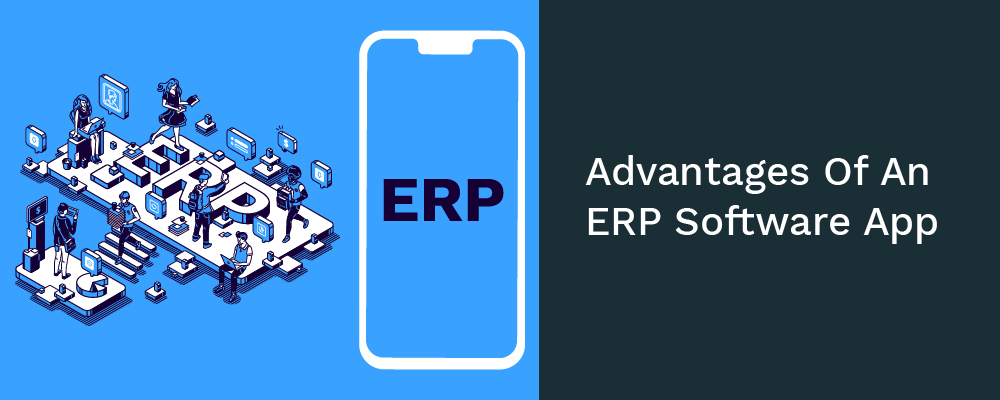 Dedicated Modules
Using a custom ERP software app, you can get the privilege to use the modules that your business needs. The minimum benefit for the staff is that they can use a particular set of modules that they need for their work.
Same Workflow
The company won't have to change the operational process with a custom ERP software app.
Simple Maintenance
The ERP solutions built internally in the Enterprise can be easily maintained & supported.
Why does your Enterprise need an ERP Software App?
ERP solution allows the business process like resource management, financial management, and so on to process on autopilot.
ERP solutions provide real-time data that is proven to be lucrative for accounting, marketing, etc.
The special business needs can be easily addressed.
Developing an advanced ERP solution will sync your Enterprise with the market.
You can tailor the app as per the advanced solutions you want to include.
The Custom ERP solution will work most efficiently. Thus, it will boost productivity.
Essential Features Of An ERP Software App
Several features can be implemented into an ERP software app to make it user-friendly & efficient.
1. Integration
ERP offers an integrated & intuitive platform that enables us to supervise, assess, and conduct significant data-focused tasks. An ERP software app gathers, stores, & examines data in all departments. This assures communication in all departments.
Working from an ERP prevents the lack of compatibility inside the department. The assessed data helps in forecasting future tasks based on market trends. Therefore, increasing efficiency & guaranteeing the seamless working of organizational operations.
2. Automation
The ERP software apps' functionality automates tasks such as accounting, reporting, order entry, invoicing, etc. With automation, a lot of time can be saved on these minor tasks so the staff could concentrate on bigger projects. Automation also prevents the possibility of human error. When the staff members are investing too much time repeating the same tasks, naturally they will make some errors. Automation enables separating one task from another to their system respectively; thus, fewer chances of mistakes.
3. Reporting
This is one of the top functionalities of ERP software apps as it provides descriptive reports that are pertinent, intuitive, and actionable. These reports are traceable, corrected, errorless, and reduced any questionable & inconsistent action. These ERP solutions help you find your businesses' weaknesses and ensure that you perform stronger every time.
4. Data Analysis
This one is used to assess the patterns and trends in your business. This enables the users to ponder over the tasks that will likely be effective in the future. ERP software apps help in assessing all the data regardless of the operational process. It also helps in forecasting the demand, making the budget, or evaluating the HR operations.
5. Accounting
An ERP software should have a solid and robust accounting feature. ERP software apps help manage multiple processes, including payable accounts, receivable accounts, tax management, fixed-asset management, risk management, and others.
6. Relationship Management
A CRM is helpful for businesses with massive clientele having huge spreadsheets. Incorporating CRM within an ERP software will allow centralized customer information. The employees can access the information at one play while working in other departments simultaneously. CRM tools are mainly famous in marketing automation, sales, and lead management departments.
Cost Estimates Of An ERP Software App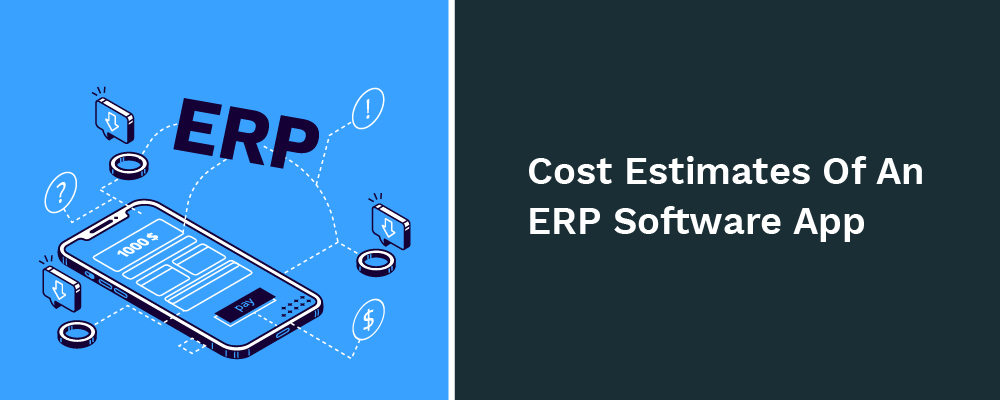 One of several factors impacting the app development cost is the expertise level of the team. The mobile development company you recruit for creating your ERP software app should have an excellent developer team. And usually, such an experienced team charges a reasonable sum of money. You can expect the app to range from USD 7,000 to 50,000 depending on your needs and technical functionalities.
Final Words
The best way to deal with your company's operational problems is by incorporating an ERP software app in your business. This solution boosts your company's performance in the best possible way. Although at the start of the app development phase, it may seem expensive to choose the right mobile app development company, which will help reduce cost at multiple steps and develop ERP systems for your company.