Today, celebrities want to engage with their fans directly, and fans are connected to them via their social networking accounts. Customized mobile apps for stars are the latest trends that are booming.
Social media has gained a lot of popularity in the lives of celebrities. A significant amount of aspirin and famous actors are obtaining their tailored mobile apps for iphone and android app development. After all, an excellent way for interacting with your fans after combining every social media platform relevancy and branding has a crucial role in all the goals & celebrity marketing techniques.
There are several instances as well; a famous Hollywood celebrity Kim Kardashian has released her app with the name 'Kim Kardashian Hollywood.' After publishing this app, it was a hit, as the celebrity app out of the masses obtained record-breaking revenue and installs. Till now, over 42 million people have installed this app. These stats came out from Q4 2015.
Celebrities even using social media channels and active in social media apps like Instagram, Facebook, and Twitter keep in touch with their fans, allowing them to communicate with their fans and grow their audience actively. But these days, the purpose of making celebrities and releasing these apps is the same. Mobile apps by top app development companies in uk are great tools for popular faces like musicians and influencers to stay famous and connected with their bands.
Several celebrity apps are already available in the market, like Kendall Jenner & Kylie Jenner, Nicki Minaj, Kate Perry, Ellen Degeneres, Britney Spears, and Kim Kardashian. More names are popping up every other day.
Reasons Why Celebrities Should Develop Their Personalized App
Excellent Source of Income: Money is indispensable and for celebs too because marketing their apps is for earning, and you should not forget that celebs branded apps will produce more income than non-branded ones.
Strengthen their brand: These apps are helping celebrities connect with their fans online and offline. A personal celeb app is noticing that it has perfect brand marketing strategies for stars in this way. Some celebs even have their websites, but that's not adequate as of now; hence, celebrities' mobile app is much needed today.
Most celeb apps offer high-quality content and for free to easily attract users and target audience. This way, they can earn money with the subscribers' help those who opt for subscriptions, several packages, and supreme content.
In June 2014, the Kim Kardashian app was released by Glu mobile on android and iOS both. This app earned $1.6 million in only a few days after the release, and by the end of Q1, the app earned $43.4 million and had 22.8 million subscribers.
Categories of Celebrity Mobile Apps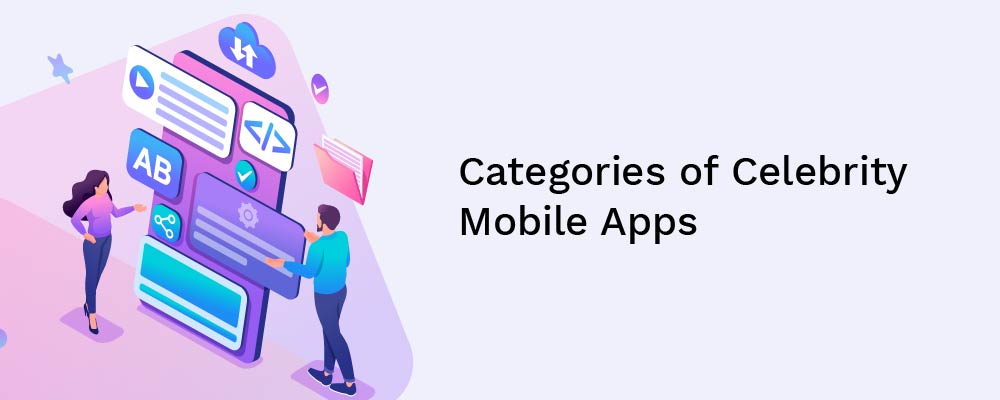 Games: Currently, the trend of the famous niche for celebrity apps is games. After the Kim Kardashian app's popularity, several celebrity mobile game apps have launched in the market, like there is for Britney Spears, Nicki Minaj, Gordon Ramsay, and Katy Perry.
Lifestyle: Such apps provide content that lets the user get a sneak-peek into their favorite celeb's life. Usually, such an app has both free and paid content. They display a makeup tutorial with a link to the products they use. Besides, fans can also shop the entire celebrity look virtually with accessories and links of clothes offered in the app. Apart from Kim Kardashian, a Kim Kardashian west official app is free for downloading and offering subscriptions of $2.00/month. This app is a special means for a celebrity for keeping connected with their fans & strengthening their brands by highlighting videos & candid photos.
Content App: Based on the celeb, the content displayed in the app varies. Like British Chef, Jamie Olive released cooking apps: Jamie Recipes & Ultimate Recipes so that celebs can exhibit their cooking instruction stepwise for encouraging fans to cook recipes.
Social Platform: This app is to expand a fan's community & great to unite. The Taylor Swift app, "the swift life," will connect her with her fans. These apps render the latest news about these celebs, videos, and exclusive photos and allow users to communicate with other users, which is the best way celebrity fans can like, comment, and share on others' posts.
Features of a Celebrity Mobile App
Sneak - Peek: This feature will allow fans to sneak-peek into their celeb's daily lives.
Daily Social Post: Celebrities can manage their daily social media accounts with the app.
Announcement Notifications: If the celebrity has posted something in their accounts, fans will be notified for the same.
Chat: This is a nice feature for both as it will help to converse with their fans over time.
Fundraising: Celebrities can ask to raise funds for social causes.
Live-video Streaming: This will help celebrities to go live with their fans, and video calls are also enabled.
Set Calendars: This feature is rendered with the information for their upcoming shows and events.
Photo Album: Celebs can click their pictures and share them with their fans.
Social Media Integration: This feature allows us to integrate Facebook, Instagram, Twitter profiles and accounts.
Conduct Polls: For collecting information about their fans.
Top Celebrity Mobile Apps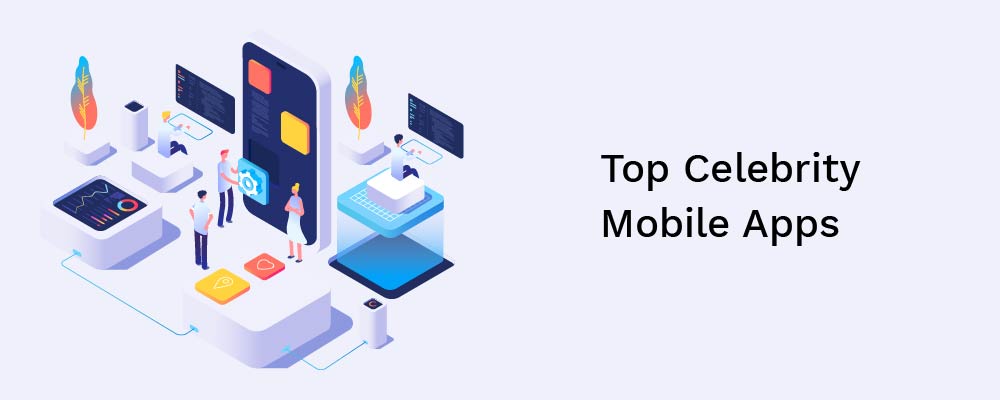 Let's discuss some great celebrity apps that users love.
American Dream - Britney Spears
A famous musician Britney Spears has her game, the American Dream app. It allows the users to handle the conversations with the manager and create their organized and songs musical shows. This is free to use and offers several features like competing with other singers and making your album.
Heads-up
This is famously called Heads-up among app users. This is a fun gaming app by top software companies where the users need to guess cards from different types guiding their friend in only 60 secs.
Kylie & Kendall
This app is referred to as Kylie & Kendall as it comes from Jenner's sister. This app offers users to create their own stories, which makes it different from the rest.
Gotta Go
Chelsea Handler offers this app, and it is quite handy. It protects you from attending tedious meetings and conferences. If you are sitting in a monotonous conference, then you can set the alarm for any time to receive message calls for that particular moment.
Final Words
Coming to an end, we have seen several ways how celebrities are coming up with their mobile apps to boost their presence in the industry and stay under the limelight. Also, not to forget that it is a great way to keep in touch with the users and keep them updated.