Mobile apps have hit the world by storm with the amount of innovation it has brought into this world using the latest and advanced technologies. There is a lot for everyone in the mobile app world. Imagine building an app for the people who cannot rest while watching their favorite TV show or celebrity. You can actually create a lot of fun elements for the crazy fans by developing an app that is all about their most-liked shows.
In this blog, we will be talking about the uniquely designed Star Wars app for the hardcore fans of the Star Wars series. So what does the app include? It is an all-inclusive app for the fans that includes everything such as news, selfie filters, sound effects, show updates, game updates, themed weather alerts, and much more.
The Star Wars app provides a plethora of features like force trainer, Jedi filters, lightsaber game, enigmatic sound effects like the breathing of Darth Vader, Chewbacca roar, Blaster Shots, and a lot more. Moreover, you can discover several famous quotes from Star Wars, such as "The Force will be with you, Always!" and other fun blogs. This stunning app has created its UI design just perfecto to make it very interesting for Star War fans.
This blog will focus on the Star Wars Official app features profoundly, as you understand as an app developer how to create an app like Star Wars for fans of other famous series like Game of Thrones, The Stranger Things, etc.
Topics To Cover
- Introduction to Star Wars & the Star Wars App
- Exciting Features of the Star Wars App
- Benefits & Downsides of the Star Wars App
- Are you Prepared to Create a Movie-based App for Diehard Fans?
Introduction To Star Wars & The Star Wars App
Star Wars is a movie series created by George Lucas that turned out to be super popular. This movie continuously advanced in the motion picture special effects field and became one of the most lucrative merchandising industries.
The Star Wars app is not a mobile game, though, if you are thinking. It has a brief lightsaber game, but it isn't a gaming app. Star Wars app has a UI designed to engage users from any side, whether it is Rebels, Droids, Dark, Jedis, or Neutrals. This app is created to do several things, one of them being capturing selfies with varied filters. You can even explore a vast range of Emojis, Stickers, GIFs, and much more.
Exciting Features Of The Star Wars App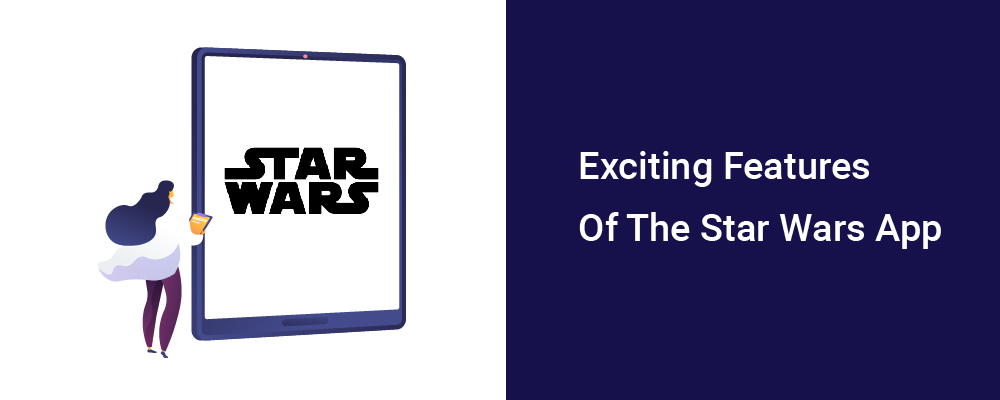 This has several exciting features that can turn your world upside down if you are a star wars fan. This app connects you with the Galaxy that is far, far away. Let's read about its fascinating features.
Incredible Audio Quotes & Sound Effects
The Star War app consists of a broad range of sound effects that might interest you if you are a Star War lover. It includes classic sound clips of your favorite characters, scenes, weapons, vehicles in the show. It even has quotes from famous Star Wars characters.
Explore The Unique Star Wars Content
You don't have to go to YouTube anymore to view the news related to Star Wars. Simply download the app and unlock the unique content offered by this app to keep you up-to-date. The app includes special Star Wars news, trailers, blogs, interviews, videos, announcements, and more.
Star Wars-themed Weather Alerts
This is one of the top weather apps that notifies you about the temperature and provides you an accurate & profound understanding of the Star Wars Space that might have the same weather conditions. You can avail the Star Wars-themed weather and 5-day forecasts, highlighting original art & parallax effects of spatial locales and planets.
Star Wars Selfie World
Dive into the fascinating world of selfies with the Star Wars app. This is one of the top selfie clicking apps that includes various filters, including Dark Side, Droids, Jedi, and Rebel. You can capture a selfie and share it in different fantastic costumes & settings, including Princess Leia, Jedi, and many more.
Be Updated Of The Star Wars Universe
You can track whatever's happening in the Star Wars world with the app. You can never miss out on essential updates such as new movies or shows based on Star Wars. You can receive prompt notifications on big announcements, such as trailer releases, movie highlights, etc.
Benefits & Downsides Of The Star Wars App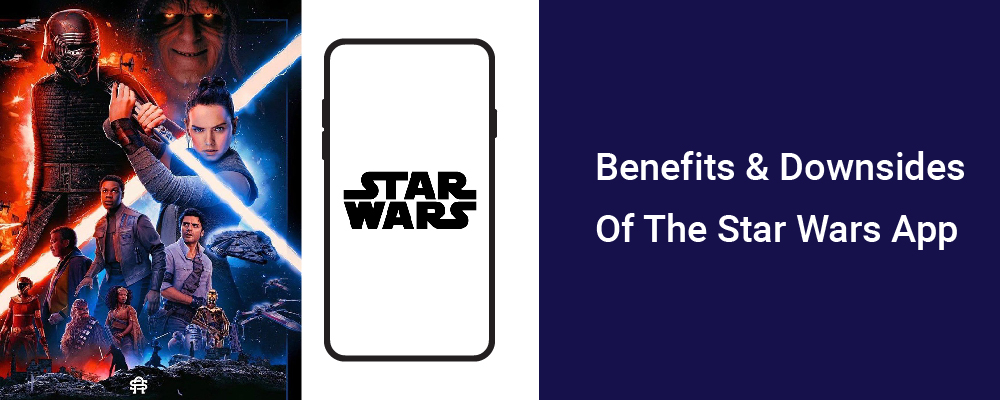 Benefits
Receive official Star Wars news before anyone else via this app, and there are several blogs for you to catch up on.
There is an amusing selfie feature for you as a Star Wars fan.
You can indulge yourself in GIFs, stickers, emojis, and Star Wars-based content.
Access to exclusive Star Wars content such as blogs, trailers, videos, and much more.
Install incredible quotes and sound effects by the famous Star Wars character.
Downsides
This app can't be used offline; it requires an internet connection.
Are You Prepared To Create A Movie-based App For Diehard Fans?
Besides the Star Wars App, several other apps were created to attract the Star Wars fan base, such as Disney Now, Disney+, Star Wars: Galaxy of Heroes, etc. The Star War apps do not offer only blogs and news articles and ensure that using it always remains interesting for its fans. It is super important to keep the users engaged with your app as they can get bored easily with the repetitive feature, so trying to offer something different every now and then is essential to keep them engaged.
If you are an app developer from app development companies or a business owner planning on developing an app based on series or movies, the Star Wars app can give great inspiration due to its unique concept. You can also create an MVP for your app to see how the users respond to your app before building one, as it can cost you a fortune. Hyperlink Infosystem can help you create a beautiful movie-based app to attract many diehard fans to use it to relive the moments they enjoyed watching the film.