Messaging is an essential marketing tool for mobile apps. Texting is your direct touchpoint with your app users. Push notifications have always been the best way to capture attention in your app's messages that attract users to open the app.
Without regularly communicating relevant info to your app users, it's tough for apps to develop a relationship with users and keep them active. Messaging enabled apps by top app development companies to captivate users early, target lapsed users, and resume communicating throughout the app lifecycle.
It is essential to build your audience's needs & wants & establish what it is they are seeking from your app. The more precisely you can target your messaging campaigns, the more chances you will keep your users engaged & reducing users to delete your app.
There are 2 main types of messaging options within a mobile app:
Push Notifications
In-app Messages
This blog will discuss in-app messaging features to look into a mobile app and its benefits.
Critical Features Of In-App Messaging Platforms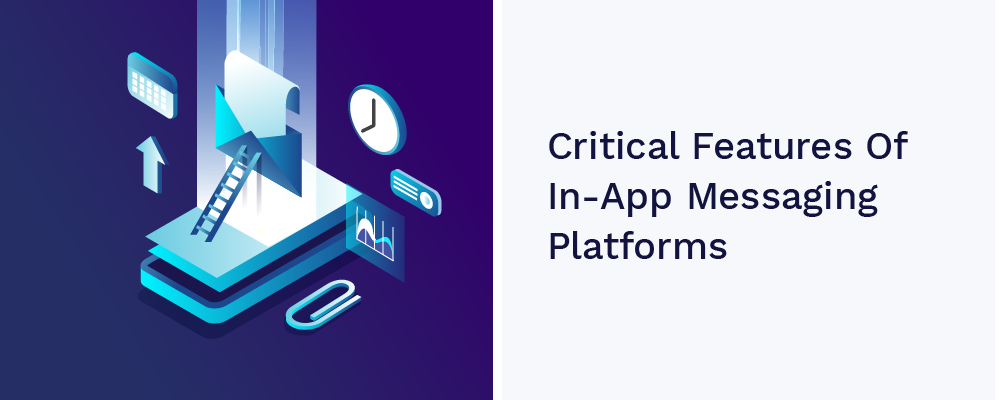 The crucial features to seek for in mobile app messaging platform includes:
1. Rich & Interactive Messages
Adding rich photos and interactive buttons boost the possibility of a user engaging with your message. The message included within a notification is equally essential, but when paired with branding, the ability to communicate with the message turns notifications into a more effective marketing tool.
2. Division & Channels
Not all your messaging will be pertinent to all your app users. Divide your users in ways that make it simpler to send specific messages to a particular user group. This lets you retarget users with promotions. Create more pertinent users to fit each message type you send. Good systems will allow you to use Analytics events within the app to understand what the user is doing & then send messages based on this behavior or absence of action that might indicate they are losing interest in the app & could uninstall your app.
3. Automations
This refers to automated messages that let you establish rules that automatically activate messages sent to the user when met. The messaging provider you choose should allow you easily set & modify these rules within a web portal to save the cost & time delay of having these manually planned each time.
4. Geolocation Targeting
Targeting audiences with geofencing & beacons enable you only to target users that enter a physical location you have defined. This is either done through the smartphone Bluetooth in the case of beacons or GPS in the case of geofencing. It lets you send messages to the user based on their location. This allows you to know that your messages are being sent in the precise place & moment your users could be most responsive to hear from you.
5. Integrations With Rich Analytics Data
Good messaging platforms will come with super visual, rich, and user-friendly analytics. It's essential when picking a messaging platform to consider the analytics power that comes pre-integrated. You can easily action insights that your analytics service tells you to render timely, informed, & relevant messages based on the user's behavior & interest.
6. Confirmed Delivery
Confirmation delivery is a feature that must be available from all messaging platforms. They allow you to assess the campaign's effectiveness better. If this feature isn't available, then it means you don't see the whole story. If only 30% of the users viewed the message, you could be upset by the results.
7. Intelligent Delivery
Intelligence delivery can be used to perfect the notification timing based on past usage patterns. Meaning that message is delivered at the time of the day that you will mostly be using your app. It's possible for app marketing platforms to smartly work out when it's the best time to target each individual user that is most likely to lead to an interaction. Users even have the power to inform you of their preferred delivery options & specify when they want to hear from you.
Advantages Of In-App Messaging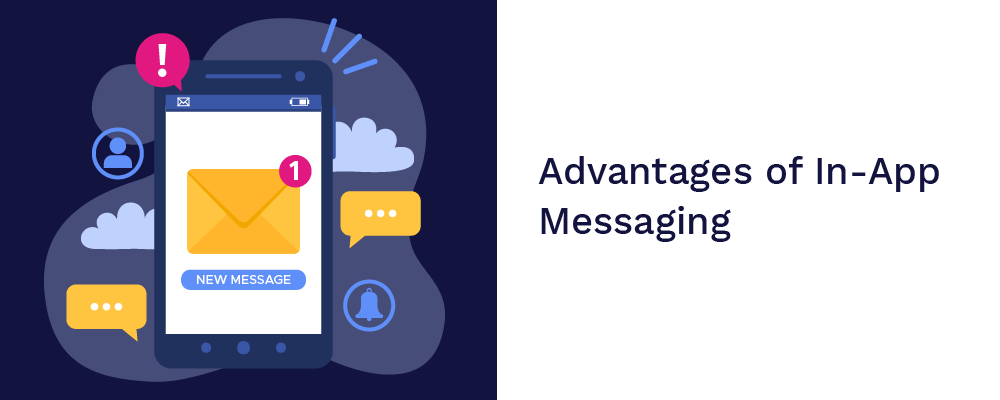 With in-app messages, you have total freedom on the message design part. With push notifications, this is super-controlled by the smartphone's operating system. In-app messaging allows you to create a completely custom design & include branding, images, videos, and action buttons to engage users & motivate them to interact.
Another great benefit is the fact that you do not have to ask permission from the app user to send them messages. Speaking of which, it is increasingly good practice to ask users to choose any form of communication, mainly if they are designed to sell the users.
In-app messages can appear instantly; if the person is currently in the app, it will emerge upfront on their screen. Like push notification, it can be set to appear at a pre-decided day & time. In all cases, it will interrupt the user when they are using the app.
You can also set messages to appear the next time they open the app, not to disturb them with their current session.
Moreover, you even have the alternative for the message to appear in the mobile app's inbox. In this case, no message appears on the phone, but the app can be set up to display unread messages in the app inbox to draw them to see the message.
Conclusion
Brands that use all the available messaging marketing tools will engage users from the initial touchpoint throughout the app's lifecycle. Using the features to reach the users at the right place with personal messaging will motivate engagement & conversation and increase user retention.
Using the in-app message combined with push notifications in multi-channel campaigns enables interactions with users if they are active or not & keep all bases covered.
Start using all the available features to increase your messaging campaigns and retain users long-term with a messaging technique personalized to your app & users.