Last year was an exciting year for mobile apps that made digital transformations more common than ever. It brought the technology industry a breakthrough with record-breaking 218 billion record-breaking installs. 2020 Mobile app download stats reveal astonishing demographics & fascinating data on app spend, expose new mobile app categories, unearth app usage, and revenue data that keeps increasing.
This blog will look at mobile app stats that will hugely influence mobile app development in 2021. These app stats represent the user mindset in a quickly shifting digital landscape. They assist app developers, entrepreneurs, and businesses map out their digital techniques and make detailed, data-backed decisions.
1. Startups With Apps Attracted More Funding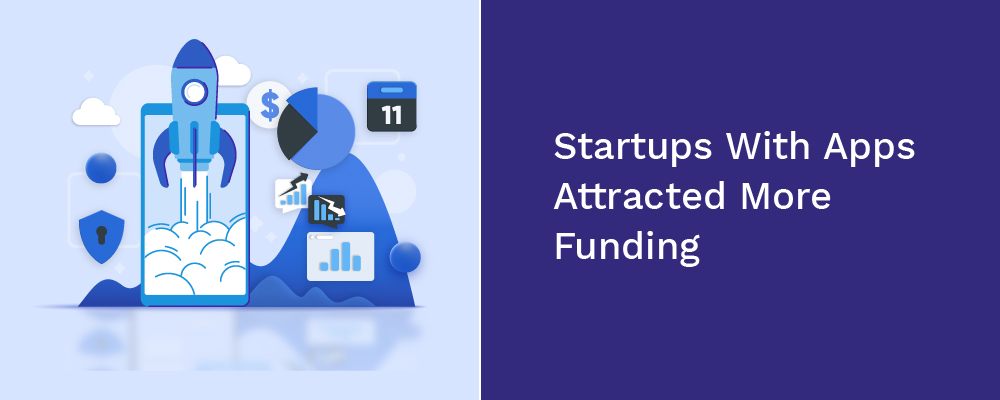 Venture capitalists spent $73 billion on mobile app development companies in 2020. As per the data from Crunchbase, companies with a mobile app solution made 26% of total worldwide funding. Small businesses and startups that have apps tend to get more funding than those that don't. Top categories that collected investment included fintech, transportation, and eCommerce.
Demand is touching skies for app-based tech startups. Since the App Store launch, mobile apps have been a massive crowd-puller, driving 2020 towards the digital revolution. Apps are often the only way people could get things done staying in their homes. Despite several apps out there that make our lives damn easy, there's still plenty of room for more well-executed apps that get things done. Therefore, if you are setting up a new business, mobile app development would be a fantastic option, provided it is planned and executed correctly.
2. Users Spent $143 billion In Mobile Apps In 2020, 20% Higher Than In 2019
The economy worldwide went richer, with users spending $143 billion on apps in 2020, and this number is expected to rise in 2021. Mobile apps resume being a big business. If carried rightly, they are profitable in many ways. Besides direct revenues like subscriptions, in-app purchases, and paid downloads, mobile apps help companies to make money by growing user acquisition, rendering improved customer service leading to higher retention and decreased churn rate, expanding new markets, even international ones.
3. The Average App User Spent 4.2 Hours/day Using Mobile Apps
After 8 hours of work and sleep, there remain only 8 hours in a day. Of that, a person spends 50% on apps. Mobile time spent in apps excelled Live TV in 2020. It's quite evident that mobile apps take a large chunk of people's time and mind space. Apps are the most significant medium to communicate any message to people. From expanding a business to achieving social change, mobile apps are rich. Whether you are planning to commence your new business or have already started one, these app stats clearly motivate you to develop your mobile app.
4. Total Mobile Ad Spend Rose 26% To Reach $240 Billion In 2020
This figure will reach $290in 2021. Mobile apps are the bright side of the ad industry in 2021. Blocking 3.5 trillion hours on android, mobile is indeed the most engaging channel than print media or TV. Smartphones are a place where companies like to display their services or products. An app in this landscape unlocks doors to interstitial ad placements like never before, growing revenue potential manifold.
5. Mobile App Discovery Shows Room For Betterment As 37% Of App Users Claimed Family And Friends As Their Primary Source For Finding New Apps
One app statistic that holds special importance to marketers and app makers globally is that there is a significant disconnect between apps and app users to discover it. There are quite fewer avenues that enable improved discovery of relevant mobile apps by people who could benefit from that app. According to App Annie Intelligence, 37% of app users surveyed by App Annie said that the only way they found new useful apps was through their family and friends.
App publishers need to build better ways to enhance the discoverability in app stores. This might include good (ASO) App store optimization, better ad placements, & other mobile app marketing practices.
6. 25% Of Publishers Made Over $2 Million Yearly On App Stores
This one's pretty simple as far as app stats are concerned. App developers are making more money. App Stores are earning revenues. It's just a fantastic time to build new mobile apps. Once Apple introduced its App Store Small Business Program, declining fees from 30 to 15. App Annie claims that more than 16k iOS app makers made over $100K/annum. 2,304 iOS app makers made over $2 million/year, which is 25% more than that in 2019.
7. Not Just Millennials & Gen Z, But Boomers Spent More Time In Mobile Apps
Boomers may have been slow to embrace the first showing of internet & desktop computers, but the same is not the case with smartphones.
In the States, no. of boomers using mobile apps grew by 30% year over year than 16% for Gen Z & 18% for millennials. Our elders seem to be enjoying apps more than us.
eMarketer study found that almost 6 in 10 baby boomers are digital shoppers & half of 55-65 years olds surveyed said that they had used an eCommerce app last month.
This simply conveys that app developers must diversify their offerings to a broader audience instead of just younger generations.
8. Business Apps Witnessed 275% Growth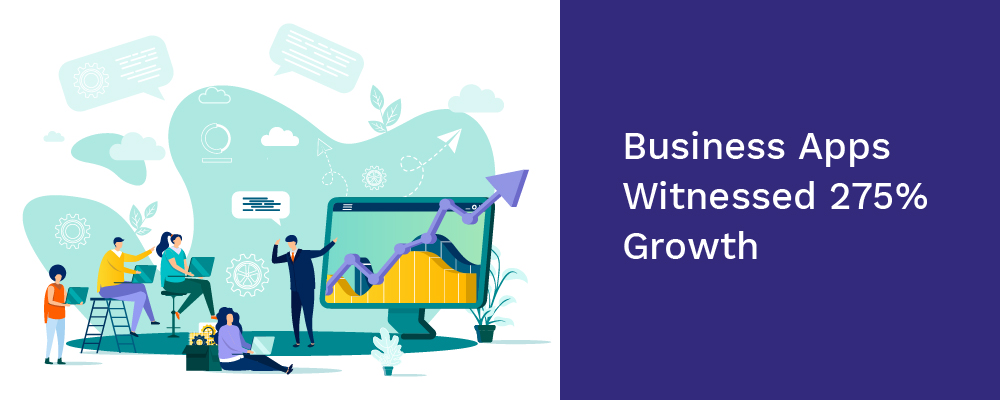 One class of mobile apps broke all usuals and became one of the most trending app categories of the year. With millions working from home in 2020, mobile business apps surpassed all milestones, frequently experiencing more traffic than they could deal with.
Google Meet, Zoom hiked in usage and time spent. Besides these giants, many other apps that help people working from home in various ways witnessed increased adoption.
Final Words
We talk about mobile app sector statistics like total hours in-app usage, total app installs, and top apps installed every year. Mobile app stats for 2021 are different. They disclose recent trends that will shape the app development's future in fascinating new ways. 2021 is the year to cease all the impossibles and let innovative ideas flow. If you have got a way to make lives better, we strongly motivate you to take the initiative and develop a fantastic app.