If you are a developer or are too much into apps, you should know that react native mobile app framework is amongst the most trendy cross-platform frameworks these days. Those days are gone when app developers create different codes and designs to develop the same app for different platforms such as iOS or Android. However, app developers can develop the same app for separate platforms using a single codebase using this cross-platform framework. What can be greater than that for the app developers and owners!
Topics To Cover
Know the Potential of React Native Framework
The Reason to Choose React Native for your Business
React Native is the Best Fit for these 3 App Types
The Endnote
Know The Potential Of React Native Framework
You must be wondering which popular websites and apps have incorporated react native framework. Below are a few famous internet breakthroughs that you must definitely be knowing have used react native for their app development process.
Pinterest
Facebook
Airbnb
Bloomberg
Instagram
And many more
So why do these well-renowned business players use this robust framework? Because it helps them establish their presence over different platforms with perfection in less time and money. React native framework saves the app developers time and energy as they only need to create a single code for multiple platforms.
React Native framework is best for website development, VR development, and mobile app development, including Windows, Android, and iOS.
The Reason To Choose React Native For Your Business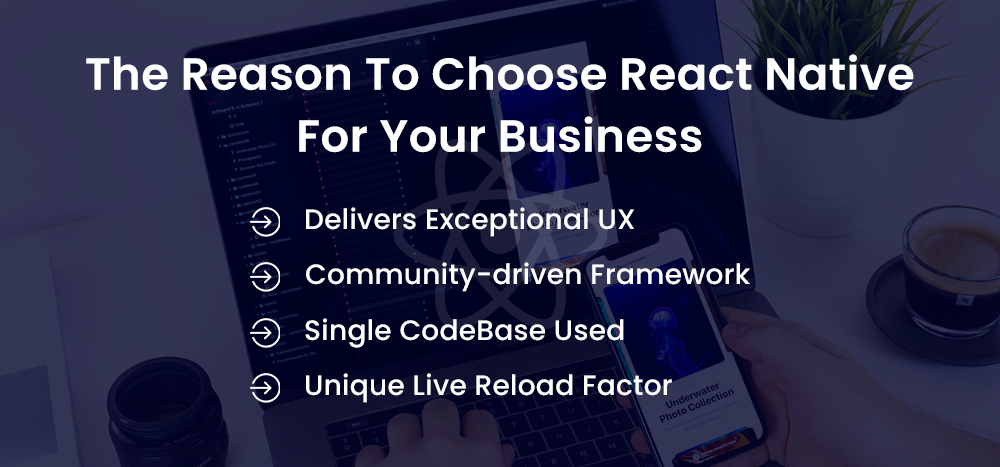 Looking at pros and cons is always good while entering into an online business. It is important to consider multiple options before investing resources into something, only to find out it was a waste. Several startups and established businesses these days are employing react native framework as their cross-platform tech. And why have you pondered over it?
Below are some great advantages to hire react native app developers; let's get into detail!
It Delivers An Exceptional User Experience
The success of any website or mobile app relies on the user experience. A fantastic UI/UX design helps in attracting more users. This cross-platform framework is one of the booming and assuring app development frameworks that help deliver superb UX. Hence, employing this fully responsive framework is worth a try for your business.
A Community-driven Framework
When you recruit a react native app developer for your venture, you don't have to stress about community support as this framework is community-driven. It has enthusiastic developers on board with awesome backup to help developers lead and weather any challenges during the development process.
A Single CodeBase Is Used
After all, what entrepreneurs want? A quality product with reduced costs and less time consumption. This is exactly what react native app offers, as it saves time and cost for app owners and developers. App developers need to build a single code to develop the same app for iOS and Android. The code only once and is used over multiple platforms and reused for designing other apps.
No doubt, minor changes might be needed for using the same code on multiple platforms; however, 90% of the code is used again, saving many resources.
It Has A Unique Live Reload Factor
The mobile app development process is lengthy and challenging indeed. But you can make it fun using this cross-platform framework! How?
React native encompasses an exclusive live reload factor that makes it easy for app developers to track the latest changes made using the code. Any modification you make while building the app can be immediately checked. And it should be noted that no other framework delivers this quick change, such as this robust framework.
React Native Is The Best Fit For These 3 App Types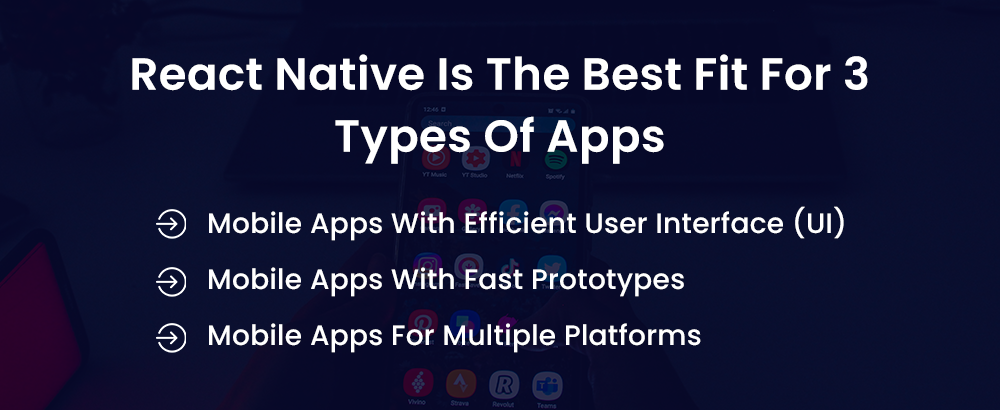 These are the 3 types of apps for which you must absolutely choose a react-native framework for your mobile app to receive astounding results.
1. Mobile Apps With Efficient User Interface (UI)
All entrepreneurs want to create a mobile app that delivers an excellent user interface and user experience. The best UX is essential for your app's success. React native framework uses JS as the primary thread for app development. Therefore, you don't have to stress about the UI. The hurdles can be reduced or eliminated using react native framework for mobile app development.
2. Mobile Apps With Fast Prototypes
Business owners usually look ahead too fast or work prototypes to launch their product or idea quicker than competitors. At Hyperlink InfoSystem, we are proactive and quick to help clients develop their apps quickly, along with fast prototypes using this open-source framework.
By recruiting react native developers, you ensure quick accomplishment of your iOS and Android project as you can build it three times quicker than any other development framework. Moreover, apps that require quick development to enter the market should employ this framework.
3. Mobile Apps For Multiple Platforms
This is the best reason to employ react native framework. Today, you must have your mobile app for most platforms to reach more audiences, and by utilizing this cross-platform framework, you can do so at less cost and time. You can use a single code to develop iOS, Windows, and Android mobile apps with minimal modifications.
The Endnote
Now you must know how to react native frameworks can help your business develop mobile apps in less time and cost and deliver an excellent user experience at the same time.
Hyperlink Infosystem is a top react native app development company UK having world-class react native developers. We are located in many parts of the globe including, the US, UK, UAE, and India. Our professional team will help you develop a dynamic, cross-platform app with an aesthetic UI. Get in touch with us to create an incredible react native mobile app.