Every revolutionary software product we are familiar with today was once just a concept. Sometimes, these initial ideas appeared far-fetched, but dedicated software development teams turned them into reality. What sets triumph apart from failure? Why do only a handful of brilliant software ideas endure and transform into something extraordinary? Among the pivotal elements contributing to a software product's success are a well-structured development process and effective marketing strategies.
This article will center on the IT industry and provide insights on establishing a new software development process or enhancing an existing one, ultimately optimizing your teams' productivity.
What does the "Product Development Process" entail?
A Product Development process in custom software development involves a blend of steps, tools, methodologies, and management approaches designed to facilitate seamless collaboration. Essentially, it encompasses a series of routine tasks, undertaken by development teams on a daily, weekly, or monthly basis. By partnering with a custom software development company and
hiring software developers
, this process ensures the efficient creation and evolution of software products.
How does a product development life cycle work?
The Product Development Life Cycle encompasses the entire journey of product creation, starting from the initial idea and culminating in a market-ready solution. This distinction from the Product Development process lies in its broader scope, spanning over years and encompassing more than the implementation of a singular software development project. The life cycle encompasses stages like planning, discovery, market research, project requirement formulation, feasibility assessment, product design, integration of solutions, thorough testing, deployment, ongoing maintenance, and ultimately, marketing efforts.
Stages of the Software Product Development Life Cycle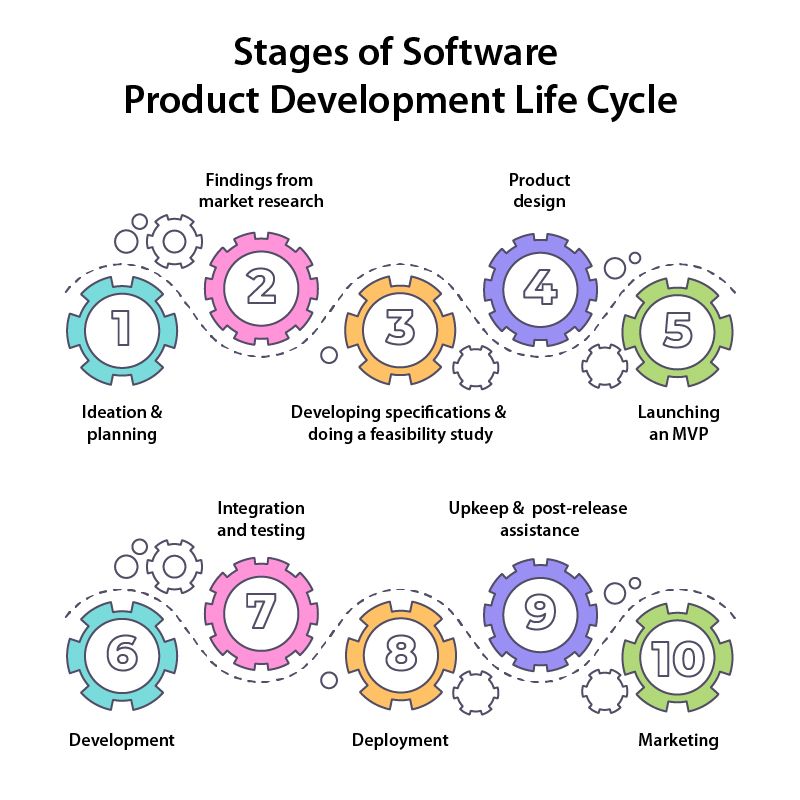 1) Ideation and planning
The initial phase of software product development begins with ideation and planning, centering around the viability and enhancement of the concept at hand. A pivotal step in this process is brainstorming, serving as an unequivocal starting point. During this phase, key questions must be addressed: Does the proposed product align with the broader company mission, what supplementary expertise and resources are required, what would be the estimated cost of development, and whether the company possesses adequate time for the product's creation.
2) Findings from market research
Following the ideation phase, the process advances to discovery and market research, a crucial juncture in gauging the alignment of your envisioned product with the current market demand. Evaluating the potential customers' requirements and comprehending the viability of your product within the market landscape becomes paramount.
Collaboratively, your team should address pertinent questions such as the possible pitfalls leading to project failure in the long term and corresponding risk mitigation strategies. Competitor analysis is vital: assessing rivals with similar offerings and devising ways to outshine their products. Identifying essential features for your product, harnessing prevailing trends, and projecting future trends are key considerations to fuel your strategy for success.
3) Developing specifications and doing a feasibility study
Upon completion of market research, the focus shifts to crafting requirements and conducting a feasibility analysis, a pivotal phase in translating your product vision into a software development reality. Your development team delves into comprehending project objectives and assessing their feasibility in terms of implementation. This stage plays a pivotal role in aligning the development strategy with the product's envisioned goals.
4) Product design
Product design constitutes the stage where the comprehensive design of your software product comes to fruition. This encompasses the establishment of workflows, project standards, technological framework, and functional attributes. Additionally, the final prototype is crafted during this phase, providing a tangible representation of the envisioned product.
5) Launching an MVP
On certain occasions, it's prudent to introduce a Minimal Viable Product (MVP) to solicit feedback on essential features prior to engaging in extensive development. User input garnered from the MVP can be pivotal in incorporating new elements into the product or eliminating existing ones, based on their valuable insights.
6) Development
During the development phase, your team translates the comprehensive design documentation into a fully operational product through coding. This pivotal stage transforms your product vision into a tangible reality, marking the realization of your project. Given its complexity, this phase warrants extensive discussion, which we'll refrain from delving into at length in this context.
7) Integration and testing
Integration and testing encompass a variety of approaches, often involving Quality Assurance experts who employ diverse frameworks and implement continuous integration to ensure rigorous testing for top-notch quality. This phase commonly employs a combination of manual and automated testing techniques, widely recognized and utilized in various projects. Progress to subsequent stages occurs only once the software has been deemed free of bugs and issues.
8) Deployment
Deployment marks the transition of your software project into the production environment. While future enhancements and refinements are still possible, the fundamental product is now prepared for use by end-users. While straightforward projects may be launched in a single release, more intricate endeavors might necessitate a phased rollout for optimal execution.
9) Upkeep and post-release assistance
Following the accumulation of valuable real-world feedback, your team can shift its attention to refining the product's performance through necessary adjustments. Subsequent maintenance and routine updates are integral to addressing any further user requirements and ensuring optimal functionality.
10) Marketing
Last but certainly not least, it's imperative to initiate marketing activities concurrently with the development process. Even if your product isn't fully finalized, it's prudent to commence preparations and maximize promotional efforts to ensure the comprehensive success of the entire project.
The major Advantages of an efficient Product Development process
Enhanced product quality through structured development.
Improved collaboration among team members.
Efficient use of resources for optimized results.
Timely project completion for faster market entry.
Flexibility to adapt to changing requirements.
Clear project visibility for better tracking.
Effective risk management and issue resolution.
Higher customer satisfaction with well-defined outcomes.
Optimal budget allocation for cost-effectiveness.
Streamlined decision-making based on well-defined steps.
Conclusion
In conclusion, the steps outlined in software product development are essential for creating successful and innovative software solutions. Whether you're a startup or an established business, partnering with a reliable
software development company
can significantly contribute to the efficiency, quality, and ultimate success of your product. By adhering to a well-structured process and leveraging the expertise of experienced professionals, you can bring your ideas to life and deliver valuable software products to your target audience.