With the advancement of technology, mobile apps have eased our way of living and managing our relationships. What do you think I am talking about? The idea of sending birthday wishes, occasions, and valentine's cards sounds great during such times when you cannot send cards to your family & friends. E-greeting apps are great for rescue, and these apps are available on iOS & Android devices. These days, there are various apps for several purposes, and there are many eCards making apps by top app developers allowing everyone to make some fantastic eCards. Prepare yourselves to use your creativity and make many beautiful cards.
The Wonders Of Online eCard Maker Apps
Many businesses are introducing their eCard maker apps in today's market, enabling users to display great creativity and skills to those they love. Several apps these days are offering templates each day for occasions. These apps are letting users modify each piece of information in the free cards to suit the messages and are keen on conveying their exquisite tastes and as per receivers' choices. These apps have plenty of offers for the users, and it will be a great profitable deal if you are planning to make an app of your own.
ECards Are Better Option Than Email
Ecards are an excellent digital substitute for greeting cards and postcards. You are now wondering how you let donors send eCards; the answer is quite simple. Ecards help donors personalize their causes in a highly styling manner. They offer a personal touch as they have emotions attached to it, which is lacking in emails. Like greeting cards, eCards are not just confined to holidays alone. Businesses timely have offerings and designing of something, and they will need the means to spread awareness for the same. This is where eCards can work their magic of spreading info about their latest offers and schemes, which can be less effective via emails.
Features Of An Ecard Maker Mobile App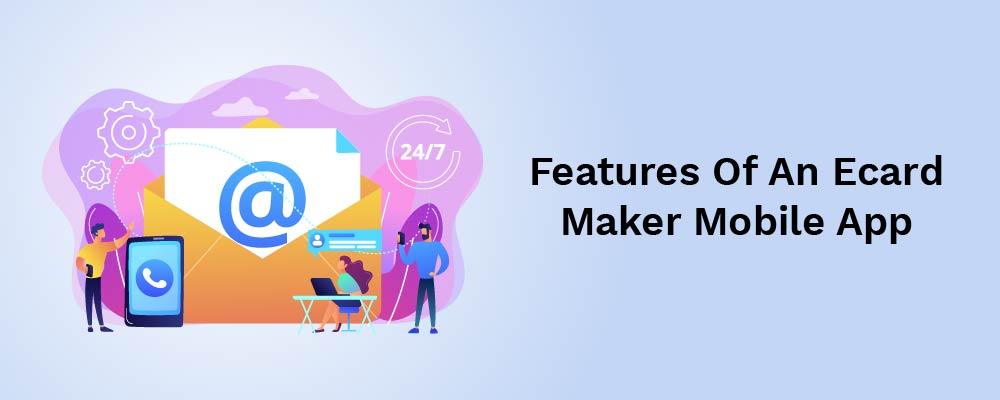 If you plan to create your eCards in mobile apps for your business, you should know the crucial features of these apps.
Typography: Ecard creators must install the unique varieties of free expert designing fonts for every occasion. This will help users to make stunning eCards.
Picture: Render photo gallery and graphics for your eCard app users so that users can choose from tons of picture options accessible to them.
Themes: Your eCard creator mobile apps offer the best layouts, colors, classy fonts so that users will tweak the photos, icons, and texts.
Quick UI & Simple - This offers a fast and simple UI that enables your users to use the apps easily.
Unlimited Storage: It is an essential feature. As you use eCards creating apps, thus it is crucial to render unlimited storage inside the app since there is vast data storage like photos, graphics, and many more.
Custom Music: Providing users the custom music option can make them fall in love with your app, so it is a must.
Business Signatures: With a business signature, users will have to add the signatures to the cards; this feature is best for enticing new users.
Multilingual - Render multilingual features inside the apps, can get you success in attracting a massive number of users globally.
Various Occasions: This feature enables your users to make eCards on various occasions like birthday, new year, and festivals on 7 occasions in the years.
Video Cards: Recently, video cards are popular for people creating eCards creators of mobile apps to ensure that you have to sync these features into your app to make video cards.
Set Speed: Users have to set speed for creating video cards using set speed features. Multiple designs & themes: It is essential to have numerous designs and themes offered to your users to create fantastic eCards.
Social Media Sharing: Enable your users to install a wide variety of background music for creating the video card.
Real-Time Stats: This function keeps the admin updating whatever recent news into apps, like how many people are using apps & much more.
7 Day Demo Trial: Users are free to use this app for 7 days, and even after that, if they wish to use it, they need to take subscriptions and make payments.
Paid Stickers & themes: If the users wish to use the themes and stickers, they'll need to make the same payments.
The Cost To Create ECard Maker Mobile App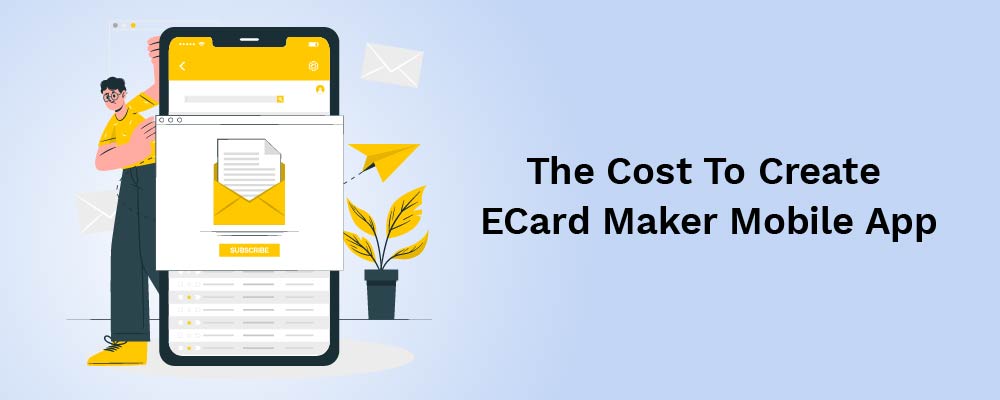 Mobile apps are growing at an incredible speed, and it isn't surprising that most people are curious about the app development cost. To discover the app development cost for an eCard maker mobile apps, you need to keep the below things in mind:
Multiple platforms (Android, iOS, Windows)
App Complexity (Low or high/basic, individual, or custom)
App Architecture and Features
App Development Location
With all these factors in mind, app development cost must be around $12,000 to $18,000 to make an eCard maker mobile app on a single platform. If you want to create an app with various features and include several functions, the cost might be around $25,000. However, ensure that spending a massive amount promises the app's good quality.
The Bottom Line
Mobile apps are a significant part of our lives. Whether it is education, business, entertainment, communication, finance, no matter what, mobile apps have added a comfort factor to our lives. This is the reason why we can receive everything at our doorstep and book everything at our fingertips.
Ecard maker mobile apps are also such apps that enable us to send gorgeous pieces of card to faraway places, expressing our emotions to our loved ones and spreading instant happiness all around.