Mobile apps are expected to produce more than $935 billion in revenue by the end of 2023. Are you also planning to develop a mobile app with the most trending, react native framework? If you are on a strict budget & want to build an app, then react-native is your safest option. A native app will cost you approx. $70-$80k, and creating an app using react native can reduce the app development cost by up to 30 to 40%.
Facebook introduced react native in 2015, a JavaScript framework for writing genuine, natively offering smartphone apps for iOS & Android. The React Native development's scope is rising, and most mobile app developers are excited to work with the latest version of React Native launched in 2020.
React native is the most famous cross-platform mobile app framework used by worldwide developers, as per a 2020 survey, which states that 42% of software developers used react native.
Moreover, features such as single-code reusability and native-like performance have made react native the best choice for building cross-platform apps.
What Is React Native?
React Native is one such tech that has been favorably adopted by many enterprises extensively and is massively used across the industry, including tech giants Uber, Skype, Facebook, and Microsoft. It stimulates more elevated mobile development & effective code sharing across android, iOS, Web, without abandoning the user's experience or app quality.
Why Choose React Native App Development?
React Native is an affordable framework that allows you to run a single app on any OS. But, before you make the final decision, it's important to understand why it will be the best for your project.
1. Known For Optimal Performance
React native enhances the performance as it uses a different thread from UI & the native APIs.
2. Maximum Code Reuse & Cost Saving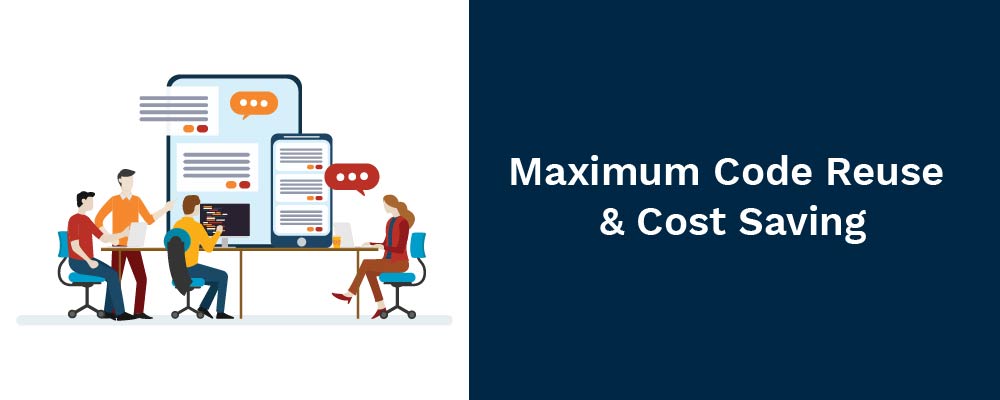 Code reusability is one of the best advantages of react-native. Native apps need separate code for multiple platforms & require multiple software developers for iOS & Android. React Native allows you to develop just one codebase for both OS. This saves your time and cost.
3. Live & Hot Reload
React native must be considered as one of the most diverse frameworks. It features an intriguing addition that you won't discover in the native systems. The 'live reload' empowers you to see the after-effects of the newly made changes to the code.
The hot reloading depends on the HMR (Hot Module Replacement) and makes its starting after the underlying reloading measure.
4. Reduced Costs
Compared to native apps, a cross-platform app is 30% more affordable than developing android and iOS apps individually. Big code lumps can be reused between the platforms, which affects the costs.
The Cost To Develop An App With React Native
The app development cost with react native depends on various factors. Starting from app complexity to team size, everything matters & contributes to the react native app development cost.
Moreover, the app development cost differs from region to region. If you are an SME or startup, several top native app development companies are available for react native app development & marketing services you can choose.
In the meantime, let's begin with the factors that you must consider for react native app development cost.
1. App Complexity
Any mobile app available on Google Play or App Store can be distinguished on a complex basis. The complexity level depends on the app features & app type you are choosing for your business. The more complex the app features are, the more expensive it will be to create. To develop apps with react native, below are the app types to choose.
Simple App: No API integration, essential UI features, no back-end, social login, calendar, basic features. Cost - $10,000 & Time - 2 to 4 weeks
Database/API App: Custom UI features, API integration, back-end server, payment features, headsets & tablet adaptation. Cost - $10,000 to $50,000 & Time - 2 to 3 months.
Multi-feature/Advanced App: 3-rd party integrations, multi-language, custom animations, real-time features, pro design, complex back-end. Cost - $50,000 to $150,000 & Time - 3 to 6 months
2. User Authorization
The mobile app starts to get more complex & expensive once user authentication is involved. Typically, user authorization involves data interaction & integration across devices and alerts.
If you are designing a mobile app that does not demand logins & authorization, it can cost you a bit less than apps with logins. For native app development, you need 2 applications then react-native as you can use the same code for both platforms.
3. App Category
The social media or gaming app cost will be much more than a calculator or flashlight app. Each app category includes different apps that offer different sets of features, different functions, and separate security regimes that impact the overall app development cost with react native.
4. App Design
A well-devised app design captures more attention instead of a poorly designed app. An app that provides stable transitions, seamless navigation infused with branding guarantees user retention.
A good app design includes UX design, visual design, copywriting, and icon branding, which provides user engagement and reduces the app churns.
- UX design cost: $10,000 to $25,000
- Visual design cost : $5,000 or more
- Copywriting cost: $1,000 to $5,000
- Icon branding cost: $2,500 to $10,000
5. Team Size & Location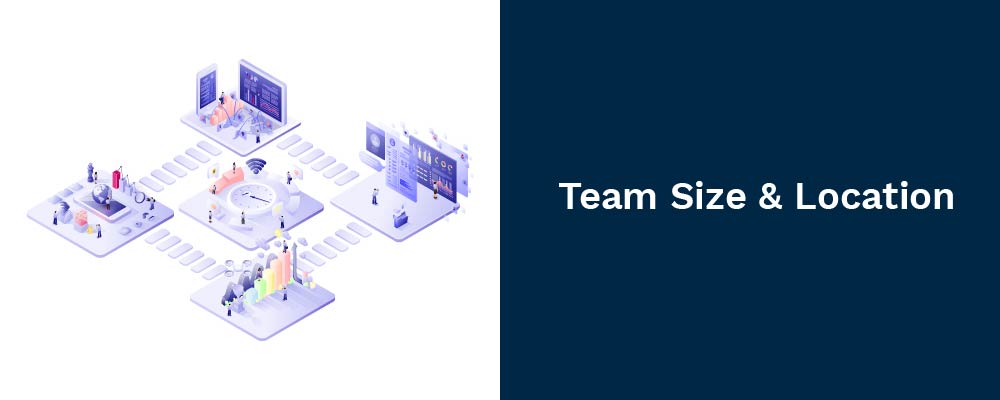 The hiring cost varies whether you're hiring freelancers, a high or mid-cap company, or in-house staff. Usually, if you hire a freelancer, it would cost much less, but it won't ensure quality.
6. App Maintenance & Support
To match user expectations, grab attention, and retain users, it's essential to meet user expectations & engagement levels. App maintenance includes app design, updates, bug fixes, code optimization, exploring new features, improving stability, performance analysis, adding support for the modern OS versions, including 3rd-party services. Usually, app maintenance cost is 15 to 20% of the original price of app development.
Conclusion
In this blog, we have discussed all the android and iPhone app development cost of react native apps. We also discussed various factors on which app development cost depends on. Hopefully, this blog will help you make the right choice keeping in mind the approximate costs mentioned here.