Presently, there are countless mobile applications out there, and several apps are already in the working process every day. However, there is still an out-of-box idea, which may still not have been present to the world. The app development companies are creating mobile apps - which are beneficial to the users and company. Users will always welcome new ideas and concepts for mobile apps.
But what if someone makes the same mobile apps with similar features - before you launch your app - well, you will lose your credibility, and chances of growing success will decrease. For such situations, we have a brilliant idea - which every app development company should adopt. In the end, to make a mobile app exclusive - you require to patent the mobile app.
To patent a mobile app is not an easy task and process; you need to go through legal documentation and methods to get it.
What Is A Patent And Why Is It Important To Have?
A patent is an intellectual business law - which does not allow anyone to mark your idea, name, or anything as theirs. The patent is a right that no one can steal your ideas, concepts, or whatever your patent is all about. If someone prevents that law, they will face criminal charges. The patent is an assurance that whatever you belong to remains yours only.
In this article, we will show you ways on how to patent your mobile app ideas:
Step 1: Research And Cross Verify
Before getting into the procedure, do your research thoroughly. Many times, while filing for a patent - people come to know that someone already owns it. So, to not waste time and confusion- do the research. Cross verify it - therefore, there would not be second thoughts about it.
The mobile app should be qualified for a patent, and it should be different and unique. Your app should be original, valuable, and advantageous to others. Thus, making your research about the patent is authentic; will be a little time-consuming - but it is still better than filing for wrongs.
Step 2: Approach A Patent Lawyer
Whether you wish to or not - you have to approach or hire a lawyer for a patent for a mobile app idea. It is mandatory to hire a patent lawyer for a mobile app. By hiring a legal lawyer, you have maximized the possibility of your patent application getting accepted; you require consulting with and contracting a patent lawyer who has expertise in software patenting. Ensure that they are knowledgeable enough to take the case.
You cannot take a risk in this legal matter, so find someone who can help you file appropriately and right. A professional will help you to go through the entire process for the mobile app effortlessly. Discuss your budget with them and all necessary information before going ahead. Thus, keeping it transparent; would be better for everyone.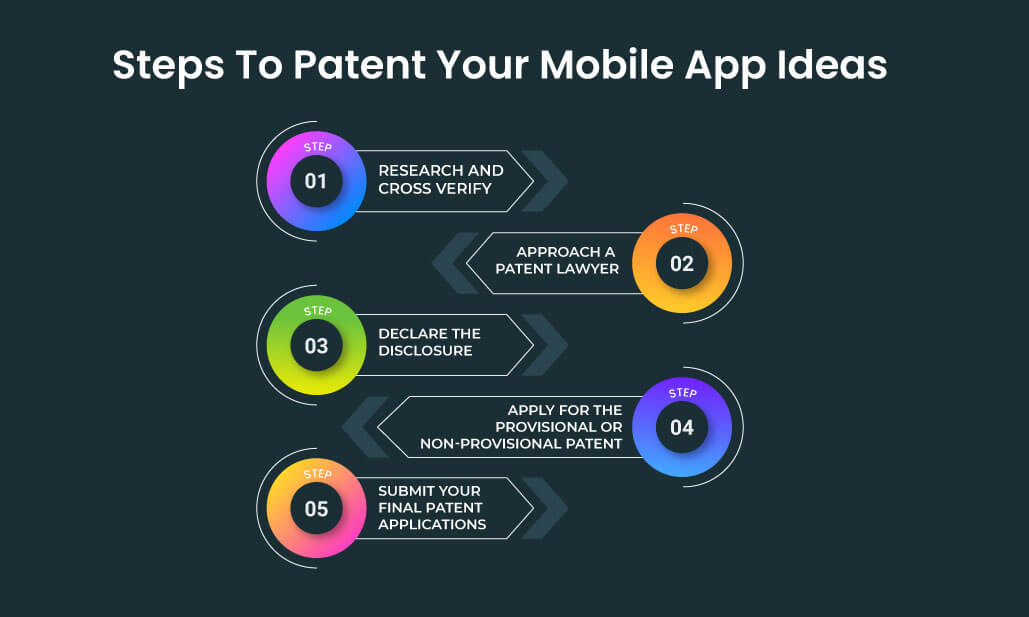 Step 3: Declare The Disclosure
While filing, the court will ask for the most obvious thing - proof. You cannot submit a file about your mobile app idea without it. So, while filing, your documentation should be ready; prepare all data and records for the entire development process. Furthermore, you can create a model of your app to know the details about its progress. It will help your patent lawyer to understand your mobile app idea better.
If the evidence is genuine and apparent, the chance of rejection will be reduced. Hence, prepare the file of the mobile app idea well.
Step 4: Apply For The Provisional Or Non-provisional Patent
After the document is ready, it is time to apply for your mobile app idea's provisional or non-provisional patent application. It is up to you to decide which one is suitable for your mobile application and a patent.
One of the most prevalent patent applications is the provisional application. In this application, you will be able to file a provisional application without a precise patent document, claim, or even report of disclosure statement. In a non-provisional application, you can file without doing any claims on an application filed in the law domain or without referring to an application that is already being treated.
Both have their advantages and disadvantages; go through every point and decide which one to apply for your mobile app idea patent.
Step 5: Submit Your Final Patent Applications
It is the final and last step of the process, and that is to submit your patent application. After being done with every required procedure - you need to submit your patent application to the court with the approval of the patent and trademark office.
The entire process is extensive and requires a lot of paperwork, and you should explore it. Conclusion of your lawyer or attorney and provide vital documents which they ask for during the procedure.
We want to inform you that sometimes applications get rejected. You can submit it again as well, and sometimes the procedure took longer than you expect, so it is okay - if it takes years to patent.
How Much Cost Will Require A Patent For A Mobile App Idea?
Yes, the cost depends on what you choose and what kind of patent you select. For instance, the cost of the provisional patent will cost you around $2000 to $5000. It also depends on what kind of lawyer you select for the case and the required documents. Non-provisional is cheaper than a provisional patent, and it will cost you nearly $1000 to $2000. The process is comprehensive, so include an additional cost or fee in your budget. It is an essential step for mobile app development, so choose wisely.
Final Words
And that was by our side; we hope you have few ideas and are clear about the concept of getting a patent right for your mobile application ideas. There are other alternatives such as copyright, trademark, and others. Research about it and check which is ideal for your app idea. The patent will take time - so be patient about it and hope for the best result. Ensure that you do miss out on any step during the procedure.