WordPress has become an essential software system. We can say almost half of the website developed on WordPress, not just that website - used for blogs, daily news, and much more. One of the reasons WordPress is so famous is its easy-to-use approach and multiple options of methods. The UI/UX is friendly and provides the best outcome to professionals.
However, operating the website can be a task, but there are multiple mobile apps by mobile application development company to make it easier. The mobile apps show how various tools can work to make WordPress more manageable. It will be your quick, so you do not have to put lots of effort and time behind it. Thus, if any minor changes occur to your website - you should know what to do.
Today, we will mention the mobile apps which help you to manage your WordPress websites:
WordPress.com App
WordPress itself has an app name WordPress.com made for the work to perform through mobile devices. The mobile app helps you to scale the WordPress dashboard. Hence, you operate or modify your blog - anywhere and anytime. Moreover, the mobile app enables you to comment, like, or post the blog or anything from the WordPress dashboard. WordPress.com app is easy to use and makes your work simpler.
If you worry that you would not get the same feature as a desktop, you are wrong as it provides the same features. It facilitates you to look at the necessary statistics from the dashboard. As you are using it from a mobile device, it will notify you about comments or any updates regarding the posts. Not just changes, but you can upload any post from your mobile device of WordPress. Thus, it makes your work way more accessible than you would have thought of, and the best part is you do not need to spend your whole time on a desktop or laptop to manage.
Google Analytics
Google Analytics is famous for its metrics - but it also helps to manage WordPress from your mobile device. It is a dynamic tool that is pretty helpful for website owners. So, not only yours - but Google Analytics help you to keep track of various website activities, such as are people engaging on your website, how many people visit your website daily, where they are from and what they do, how much time they spend on your websites, and many more. The analytics helps you grow and show where you are lacking; the duration of a session is much more. With the mobile app device, you can make changes in real-time and check the standard metrics on your smartphones.
Google Analytics provides several features which are helpful for your website. No matter what you use - iPhone or Android, it will show you the same result. You can create and save reports in your WordPress dashboard. It enables you to customize news and understand users better with the analytics.
BlogPress
As the name indicates, it is for the blogs and certainly one of the best blog management platforms you came across. But now, you can access it through your mobile devices and work on your blog more efficiently. BlogPress app is used for managing WordPress as it makes it easier to operate. You can find it on iOS and .apk. It allows you to obtain link tests and integrated well with social media websites. It also has an interactive material design - so you can comment on the post efficiently and smoothly.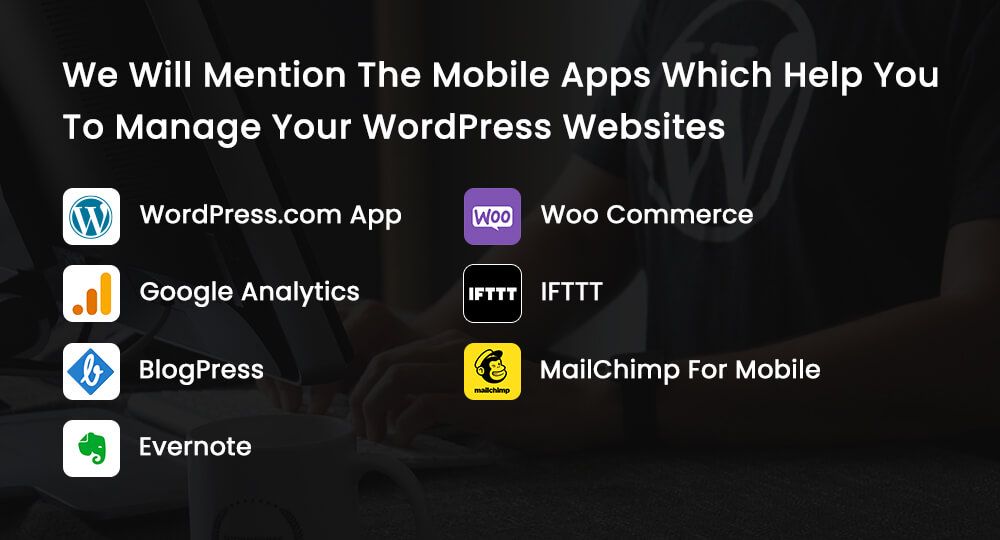 Evernote
Evernote is specialized for taking notes. In WordPress, you need to do changes now and then- and nothing could be better than Evernote to manage it. The mobile app syncs with every mobile device and is great for products, posts, or creating strategies for your website.
Moreover, it empowers you to take notes, voice memos, bookmarks, tick off the to-do list, capture photos and video, and much more. All features are cover by Evernote; they allow you to keep track of all deadlines and accomplishments you need to do. You can use the same format for mobile applications, desktops, Mac, and other devices.
Woo Commerce
WooCommerce is famous for being an alternative to WordPress. The open-source platforms help to create e-commerce adequately. You can download it from Android and iOS platforms. The mobile app enables you to build, publish, and make a group for online products immediately and directly. With WooCommerce, you can print blogs, articles, sales, and others in real-time. It provides statistics so you can keep track of analytics, revenue, and other data. To sync with any website or mobile app, WooCommerce helps you to do your business seamlessly.
IFTTT
Any problems regarding the internet? IIFTT is for you and suitable for your business. IFTTT(If This Then That) is enables you to make the internet works for you. The role of IFTTT is to bring power to your mobile phones. It is a monitor tool that allows you to observe, automate your workflow. The instant notifications make it better for your mobile devices. IFTTT has several service providers that supply event notifications to different companies and tools. You can operate IFTTT from anywhere and anytime. The mobile app helps automate numerous things on the internet by performing all your apps and devices together.
MailChimp For Mobile
MailChimp for Mobile delivers you the facility to handle all your email marketing campaigns from anywhere and in real-time. The app will help you efficiently recognize your newest website audience and discover how they react to your campaigns. You can download it from iOS and Android platforms for better work. All types of statistics reports can be known instantly so you can take action promptly.
Final Words
With these mobile apps, working on WordPress has become more accessible and manageable. It provides you seamless flexibility to work and offers you functionality in real-time. For quick and instant work on WordPress, download above mention apps.