Several ways are available to be fit and even more apps to ensure that you stay fit & eat nutritiously. From workout tips and tricks to a personal trainer, pilates, yoga, or some other exercise. You can easily download the top app to achieve your fitness goals via this detailed list of the best personal training apps. It is important to remember that all apps aren't expensive, and there are several free workout apps on the App Store. Each mobile app listed in the best home workout mobile app list has a specialty that usually reflects its capabilities and features.
2021's Best Home Workout Apps
This compiled list of top home workout apps by one of the top app developers in 2021 has a combo of personal training home exercise apps that provides tailored suggestions & training modules. These 7 apps have been chosen based on their features, overall experience, usability, and user feedback.
1. Nike Training Club
One of the top fitness apps with fantastic features, awesome workout videos, easily understandable instructions & personal attention to user needs. This app is the best for home workouts that also offers fantastic nutritious eating recipes & instructions to live a healthier life. A smooth interface and an overall wellness theme have led this app to be one of the top home workout apps.
Remarkable Features:
Access to Nike master trainer.
Inspiring 30-day challenges.
Yoga lessons for a flexible body and a calmer mind.
Specific exercise routines for small spaces.
Thoroughly customized routines.
Info on health and wellness for sleep, recovery, and entire well-being.
2. Workout Trainer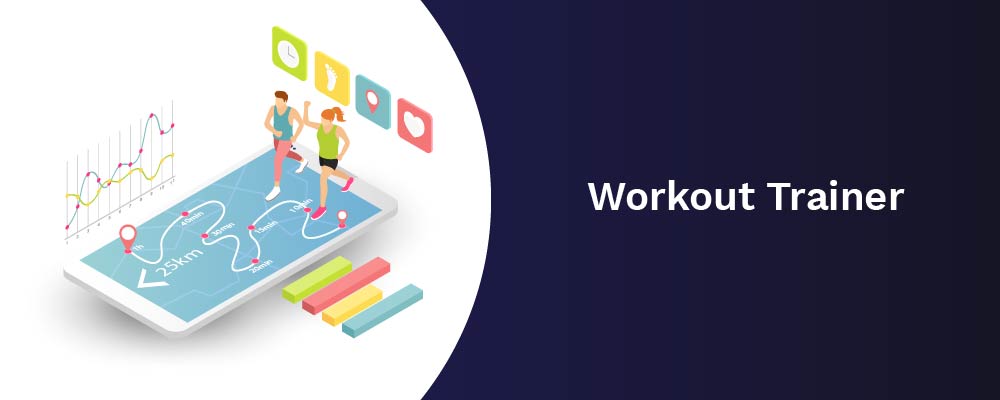 Workout Trainer app is one of the top bodyweight training apps in the market. It helps your workout regime with a guided stepwise photo, audio, and video instructions. It takes a more analytical approach to training. Several workout apps don't go into so much detail. This app offers advanced heart rate reviews and performance analysis for the entire training process, and it is ideal for measuring performance growth.
Remarkable Features:
Performance metrics to track progress.
Over 100 multi-wheel training programs available.
Renders dedicated 1 on 1 online training.
Adjustable difficulty levels for a differing range of physical capability.
Thorough heart rate analysis.
3. Peloton
This is popular as a home bike trainer but has much more to offer. This is one of the top home workout apps that offers indoor cycling to high-intensity interval training (HIIT), walking, yoga, meditation, and more. It renders long-term programs to accomplish goals over months.
Remarkable Features:
Treadmill running and outdoor running audio assistance.
HIIT, cardio programs, and strength conditioning.
Guided 4-18 weeks long-term plans focused on 'Crush your core,' 'Mastering the basics,' etc.
It helps in yoga, meditation, and stretching workouts.
4. 7 Minute Workout
This is one of the excellent fitness apps that solve the issue of not having adequate time to workout. No tools or specific location is needed to perform the workouts mentioned on the 7-minute workout app. Everyone can use this home workout app as it doesn't even require an essential tool; the workout routines are focused on maximizing effort using the bodyweight.
Everyone can spare 7 mins of a day no matter how busy they are. Hence, a 7 Minute Workout is the top app for home workouts. It is one of the most productive apps that encourages you and keeps you on the fitness path. The 7-minute workout doesn't want to take more than 7 minutes of your time in a day, thus stands out in the market.
Remarkable Features:
Amazing and straightforward to understand workouts.
A whole exercise log and custom workouts.
Adjusts the no. of sets or relaxation time to decrease or increase intensity.
Daily 12 HIIT workouts that sum up to only 7 mins.
It doesn't ask too much of your time.
5. Fitbit Coach
Fitbit coach encourages, adjusts to your skills, and helps you reach your fitness goals. Indeed one of the top personal training apps available in iOS and Android. It even provides premium services that cover a whole year of personalized training, helping you gain strength, lose weight, increase stamina, or others.
Remarkable Features:
Workout anytime and anywhere with easy instructions.
Adaptable workouts according to your goals, preferences, and body weight.
Fantastic variety of exercises.
Use Fitbit radio to get various music stations for fantastic workout motivation music.
6. Aaptive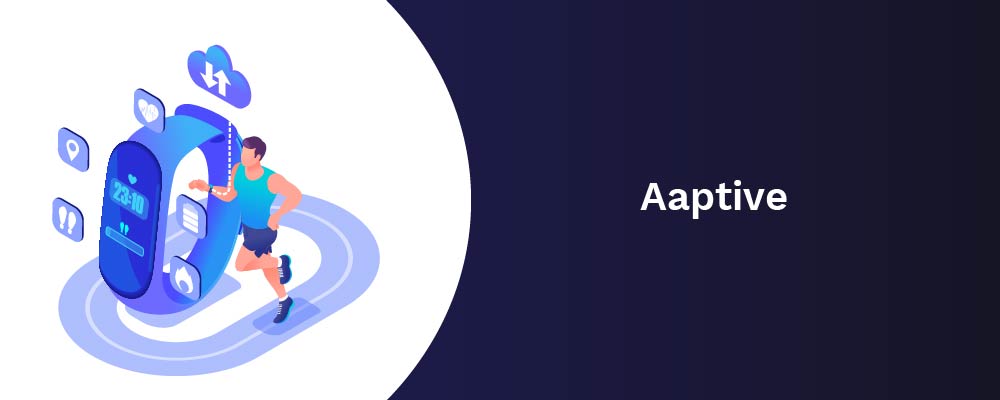 Aaptive is the top workout trainer app that is totally audio-based. While most workout apps concentrate on rendering detailed video descriptions, some prefer perfect audio instructions to avert them from distracting themselves during workouts. This is one of the best fitness apps that provide fantastic music & motivation.
While performing heavy cardio or HIIT, video instructions do not make a lot of sense, right? This is where Aaptiv comes into play. It offers fantastic audio lessons, enjoyable beats, the motivation that ultimately leads to more focus.
Remarkable Features:
HIIT programs help you be more productive in burning calories, yoga, and strength training.
Fresh & continuously updated content that keeps the app alive and pertinent.
Access to over 2500 trainer-led exercises.
Great for yoga and long-distance runners.
7-min exercises to full training modules.
7. 8fit Workouts and Meal Planner
This is the most suitable fitness app for people who want absolute change in their lifestyle and need healthy guidelines alongside exercise plans.
Most workout apps focus mainly on workout only, missing out on vital aspects of health - Nutrition. 8fit workouts and meal planner takes care of all the facets of your goals with a customized stepwise process leading to a healthier life.
Remarkable Features:
Lifestyle mentor to teach healthier habits.
Everyday motivation and activity tips.
No tool is needed at all. Each workout can be done from anywhere.
Over 250 exercises to take you through a multiple-level journey.
Total nutrition guide for stronger and healthier eating habits.
The Bottom Line
Tons of apps are available out there on both iOS and Android platforms. You can choose the home fitness mobile app development services to enhance the workout time and make you healthier and fitter. Picking from these top home workout apps can lead you to live a better life and become stronger. The most crucial part on your end is to commit to the program you choose and not deviate from your goal to achieve the results.