Innovative technology has shifted a vision into a reality. Remember when people in the movie used to call while changing voices, and we think it is just a movie. Well, no, it is a reality now. The mobile app has made it real for us. There is an enormous voice-changing mobile app.
The mobile app helps you change the voice; they have various options - so it is far from being monotonous and just a standard app. It could be for dubbing, audio effect, video changing, and many more. With the emergence and evolution of technology, there are many manageable ways to change your voice with the help of audio-deforming software.
Below are the top voice-changing apps to look forward to:
Best Voice Changer
Are you looking for a mobile application that changes your voice and records it? The Best Voice Changer is perfect for you. It will be able to apply numerous different effects to make it sound like you are traveling from a car or the sound of a train or noisy traffic. You can also fast or slow your voice. In addition, there are features like you can mimic any voice with the effect.
If you want to make a sound of an animal, human, or anything - you can do it with the Best Voice Changer app. Another possibility permits you to put a chorus or echo consequence. Once you have recorded your voice, you can save the recording on your mobile phone; you can also make a ringtone out of the record. The best voice changer is for you if you want to experiment with your voice and make funny and cute sounds.
Celebrity Voice Changer
We all love at least one celebrity voice and wish to sound like them. Thanks to advanced technology, it is possible with celebrity voice changers. The mobile app has the option of recording with various sound effects. So, you have several options to decide from. It is pretty popular among the experts. Nevertheless, it is available only on iOS, and you need a subscription to unlock video effects. Another con is that it has limited usability- but the mobile app is fun to use.
IntCall
Another popular voice-changing app is Intcall mobile app. It only shows us that the pranking calls have sustained their reputation because they are specifically for that. You can change your voice, call your buddies and tell them something they do not think about and prank on them that you always wish to for fun.
The app's settings enable you to increase the accent of the voice, so you can imagine having an adverse gender – if you are a male, you can turn your voice into a female and vice-versa. In addition, you can add multiple effects to the speech to sound scarier or more foolish. Try this app once- you will not get bored.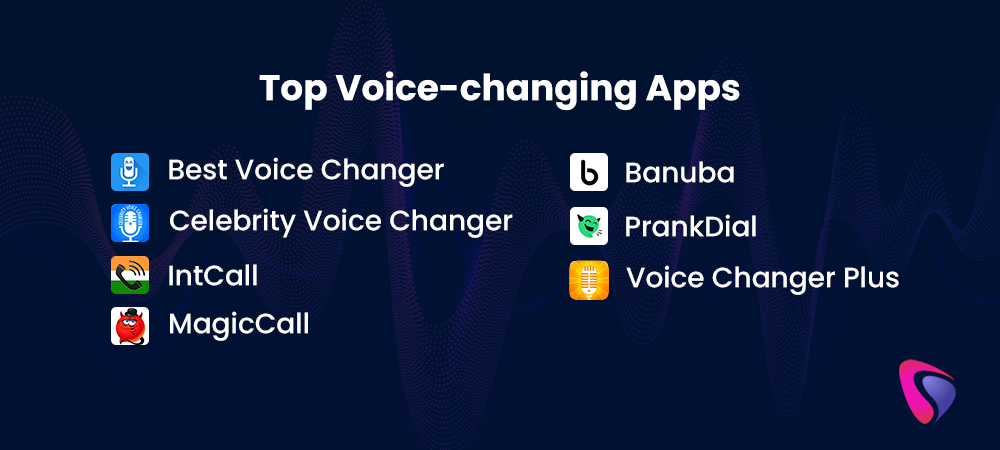 MagicCall
This mobile entertainment application lets you fool your friends by calling them and developing the voice in real-time. You can be a child, man, woman, and even animations. If you wish to tease them further, you can even practice the voice-changing highlight mid-call. The magicCall voice changer application permits you to put sound voices, giving you alternatives to add claps, weird sounds, and many more sounds you desire to add during your call. In addition, you can make your call more enjoyable by adding background sounds such as the rain, traffic, and even a music concert.
It is free to download, but for more additional features- you have to purchase. The mobile app lets you share your recorded content on social media platforms and with your buddies.
Banuba
If you want a simple voice-changing app with no extra sound effects- then Banuba is your go-to app. It is a multi-functional audio and video editor. It is remarkably comfortable to have everything in one app – if you like these enjoyable things, you should try them. Thus, you can edit videos by employing modern stickers and filters. It is quite popular among youth and teens.
The voice will be changed with the chosen filter. It has varied options and so many alternatives that for once, you will get confused about which one is better among all.
PrankDial
One more prank call? Yes, because it is quite different and after all, we love to have a choice. PrankDial enables you to prank call your friends and enjoy laughter and giggling with them. The specific feature of this mobile application is that it has prank calls saved, granting users over 150 prank calls to the practice. The mobile application automates a call and talks to the person like whatever person you are. You do not have even to record your voice; PrankDial will generate the content for you. You prefer hilarious prank calls, like some of the models, and trick your friends.
It is a different platform and intention service users. You can download the application for free and get three free calls per day and several in-app purchase possibilities. It is available for Apple and Android Users.
Voice Changer Plus
The Voice Changer Plus is seemingly one of the best options for a voice-changing app. The mobile app has a well-defined and easy-to-use UI with an introduction to different sound effects.
As the name suggests, it is a plus- it has more options. You can send your audio recordings, alter how they sound, and share them on social media programs with friends. Nevertheless, the highlight of this app is that it empowers you to trim recorded clips to make them fresh and funnier, but this feature requires you to pay for the premium version.
It has unique features which you will hardly find in any other mobile apps. For example, it will also allow you to produce ringtones and put photos or videos to your changed audios.
Final Words
There are plenty of options for voice-changing apps in Android and iOS. Every mobile app has remarkable features, use it and enjoy it. For mobile app developers, it is an excellent chance to get into voice-changing apps.