Mental peace is vital for good health, especially when needed the most amid personal life, work issues, and social pressure. Good mental health is a way to live a good life. So how do you cope with anxiety and stress? Meditation? Pew Research Center's research claims that almost 14% of US adults have tried meditations at least once in their life. The no. of people practicing meditation has tripled since 2016. In fact, it is forecasted that the value of this market will double from $1.2 billion in 2017 to $2 billion by 2022. About 200-500 million people meditate globally.
The increasing stress levels have compelled people to opt for different meditation techniques using meditation apps which developed by top software companies. These apps are like a boon for a meditator who practices meditation. Mobile apps for meditation have become the best methods to maintain a mindfulness practice. As per Statista, the apps mentioned in this blog are the best yoga and meditation apps of 2021 based on their installs. These are 2021's top apps known to reduce anxiety, stress and relax your mind.
Top Meditation Apps For 2021
This is the list of top meditation apps by android app development company based on their price, features, and installation availability. Most of them are free to use. But, perhaps after a free trial, you may need to pay for subscriptions, in-app purchases, or in-app products.
1. Calm: Meditate, Sleep, Relax
Calm is an award-winning app widely used by people globally due to its vast features & functions. This USA-based app was released in 2012 to enhance mental fitness & mitigates some critical mental health issues like depression, anxiety, insomnia, and stress. It even provides sleep stories for sleep meditation.
Calm ranked number 1 for meditation & mindfulness with over 26 million installs and over 225,000 5-star reviews. Moreover, it is named as the world's happiest app by the Humane Tech Center.
Key Features:
- Offers sleep stories
- Guided meditation
- Sessions on everything from stress to happiness
- Track daily progress & time
2. Headspace: Meditation & Sleep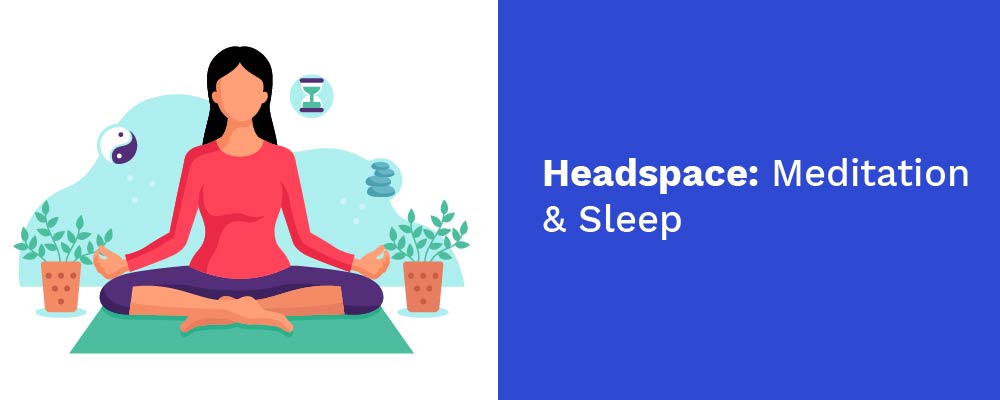 This is another most famous app that helps users to concentrate, breathe, & be calm. The app creates conditions for sound sleep by practicing mindfulness and meditation. This app has been installed over 54 million times globally and has yearly revenues of more than $100 million.
Super popular in Canada, UK, Germany, and the US, this app has 100s of guided sessions on men's and women's health, stress management, personal growth, and anxiety relief. This is a widely used app for meditation & has raised more than $73 million in funding.
Key Features:
- Real-time updates & notifications to remind you to breathe & relax.
- In-app subscriptions.
- Sessions on classic meditation & relaxation techniques
- Different music to induce a restful sleep cycle.
3. Deep Meditate: Meditation & Sleep App
This app has a lot to offer to stressed people. It claims to help potential in sleeping better, enhance interpersonal interactions, and enjoy life better. This app has a tool to help stressed people to meditate often.
This app comes with a vast range of features and offers 15 unique meditation music, meditations, & much more to offer. This app is for both amateurs and experienced people to guide them while beginning and next level.
Key Features:
- Meditation timers
- Offline support
- Progress report
- Guided meditation for novice
- Different music and meditation
4. Insight Timer: Meditation, Music, and Sleep
This is a free app recently identified as an app of the year by TIME magazine & Women's Health. The no. 1 free meditation & wellness app has 100s of free sessions on meditation, peace, anxiety, and happiness. Insight Timer provides the most massive free library of guided meditation on earth's most loved meditation Time.
This app has tons of music tracks from world-famous artists. Thus, users can join millions of other users to meditate on the Insight Time app to relax body and mind, manage stress, enhance happiness, and reduce anxiety.
Key Features:
- The vastest library of meditation music
- Multi-language support
- Timer & progress support
- Guide for amateurs
- Video-based guidance for practice
5. Stop, Breathe & Think: Mindfulness & Meditation App
This app is the top mindfulness app that has accumulated $3 million in funding so far. This relaxation app is chiefly designed to help users be mindful, sleep better, de-stress, develop emotional strength and confidence to manage life's ups & downs. The users can engage in short exercises that enable them to check-in with themselves, ask questions, and notice how they feel.
Key Features:
- Breathing timer
- Guided meditation
- Session on various topics
- Track your progress & mental well-being
- Real-time notifications & reminders
6. Buddhify: Mindfulness Meditation On The Go
This app helps users keep calm and be clear and kind to all facets of life. If users are looking to lessen stress & anxiety or get sound sleep, this app comes with easy-to-follow guided meditations, helping users live healthier & happier.
Users don't need to look for a formal meditation session as it brings mindfulness to all aspects of the user's life. This app has more than 200 meditations to help users weather life's challenges like sleep, anxiety, pain, stress, and challenging emotions.
Key Features:
- Mindfulness exercises
- Sessions for total beginners & those with more experience
- Kids content for little ones in your life
7. The Mindfulness App: Relax, Calm, Focus & Sleep
This app has opened a world of expert-guided meditations, helping users towards a more peaceful & healthier mindset. Millions of meditators use this app in more than 130 nations. This app is famous for rendering guided meditation for everyone, including amateurs and professional users. This app renders tailored meditation with guided introduction bells and natural & ambient sounds.
Key Features:
- Reminders & mindful notices
- Offline support
- More than 250 guided meditations & courses
- Consistent stats to track the journey
- Timed sessions
The Endnote
These are the top meditation and mindfulness apps that you should learn from. At Hyperlink Infosystem, we encourage you to examine your audience's needs, research the market and competitors, and then build your unique meditation & wellness app. Ensure that your meditation app by app development company renders a solution to your user's problems & adds value to their lives like these apps.