Concierge App Development Company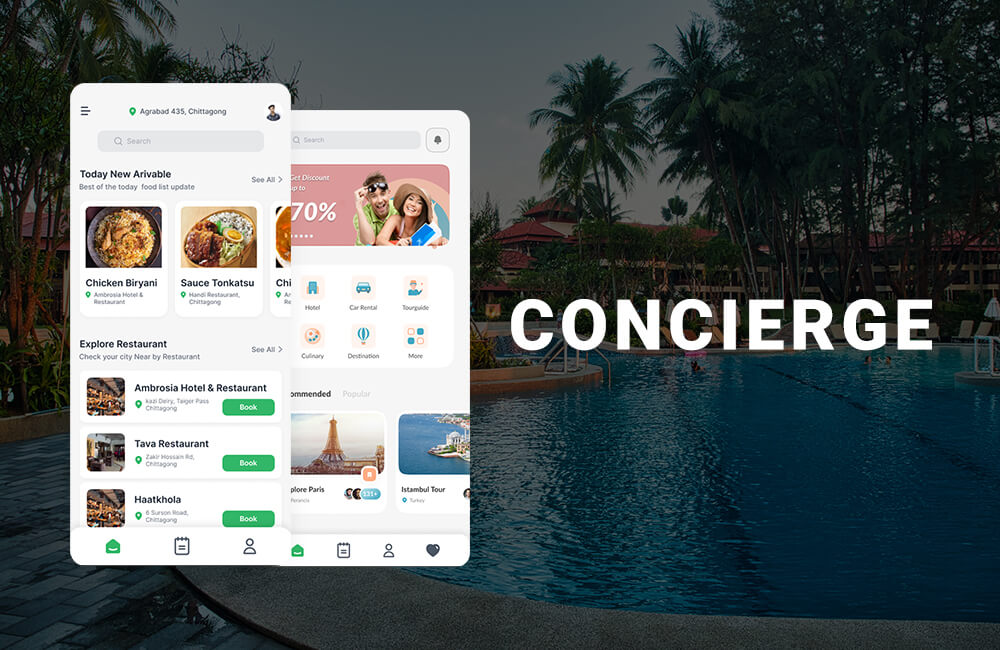 Digitization has introduced new uses and has revolutionized consumption patterns in all professional sectors. In a particularly competitive environment, the hotel industry must also adapt to an increasingly connected clientele and to new consumption standards.
The Advantages Of Digitization In The Hotel Industry
Customer Experience; From Reservation To Room
One of the main advantages of digitalization is the improvement of the customer experience in order to develop loyalty. Today, customers expect a superior level of service including quality multimedia equipment, rooms equipped with internet network, speed of service and a unique and personalized experience.
Thus, digitalization allows your customers to book a room with one click on the internet or directly via a mobile application. Some hotels also offer online check-in. These digital services make life easier for your customers, but also for your staff, by simplifying management.
Hotel rooms are not left out with the integration of connected objects, light atmospheres and interactive concierge interfaces from which travelers have access to information about their stay and to hotel services (room service, maintenance, spa, etc.).
New Channels For New Consumption Patterns
The travelers of today prepare themselves mainly with the help of internet. Businesses must adapt to the behavior of modern customers which are increasingly linked to new technologies if they want to stay in business.
Today's Traveler:
Prepare his/her trip and book online,
Compare different offers before making a decision,
Is a fan of "last minute" reservations,
Is increasingly using mobile reservations (M-tourism) via applications such as hotels.com or booking.com,
Is influenced by the opinions of other travelers.
Also, digital technology allows hotel establishments to be visible on the internet (website, virtual tour, etc.) and on social networks. It helps to build the loyalty of an increasingly opportunistic clientele by developing a web communication and e-reputation strategy. Internally, many digital applications have been developed to meet the new needs of hoteliers.
Concierge app combines human and artificial intelligence to provide a professional concierge service. It allows combining the know-how of professionals with the speed of the devices.
Advantages Of A Good Concierge App
Timely Response No Matter Where The User Is
The main advantage of using an app to organize a trip is that when you download it to a mobile device, you can have it at any time and in any place. Although through a mobile device, you can visit travel websites. We know it is a bit cumbersome to see different web pages on a Smartphone and compare the benefits offered by one or the other.
These websites are beneficial if used on a desktop computer and if you have enough time to take a look at the options offered by the different pages, but if what you are looking for is immediacy and variety in the same tool, the best option is a travel app such as those developed by Hyperlink InfoSystem.
Valuable Results In Each Search
We refer to this specific point when we talk about quality. The quality in the world of travel apps is determined by the usefulness of the information or results and the loading speed.
The information requested by the user must be as comprehensive as possible, and it must offer a true solution to be truly successful. A good app always seeks to have a differential touch to the rest of its competitors in this saturated market and when it comes to tourism travel mobile applications.
Loading Speed
Two fundamental aspects determine the quality of a travel app, one is undoubtedly the value of the search results, and the other is the loading speed.
If the application has a complete and attractive content, but its functionality is not optimal, or if the speed is not right, this app is doomed to failure because today's users are not there to wait too long.
If the loading speed is optimal, there is no reason for users to be tired of the app, and it would be impossible not to consider it an advantage when planning a trip.
Enjoy The Trip To The Fullest
This is the main idea of ​​a trip, but it is also the goal of a good tourism trip planning app. It is about saving time and money with its use and obtaining valuable information regarding the best places to visit in a particular city in the world.
The truth is that planning a tourism or business trip has never been easier than it is today. Today, we have at our fingertips the most detailed information about the site that we intend to visit, all by just downloading an app.
Technologies Used In Traveling And Hospitality
5G
Blockchain
Big Data
Virtual Assistants
Internet of Things (IoT)
Augmented Reality
Mobile Technology.
Features Of A Good Travel App
Uber-Like App Service Integration
Location-Based Emergency Services
World Clock Time Converter
Currency Converter
In-App Language Translator
Weather or Climate Forecasting
Geo-Tracking Services
Travel Itinerary Generator
Our developers at Hyperlink InfoSystem can assist you with a top Concierge App. The cost of the development of such app is between $6000 and $12000.
"Above page is written for promotional purpose. We do not damage any copyright. We create apps from the scratch only."
Process We Follow
Being a Top development company, the proficient developers of our teams follow a well-organized development process that includes the following steps.
Requirement Gathering
We help clients to gather and analyze the requirements to understand the functionalities to be integrated into the app. This process enables us to draw a development plan and transform the clients' concepts into an efficient and functional app.



UI/UX Design
Our developers use effective UI trends to design apps that are not only pleasing to the eye but also intuitiveness and consistency. We make sure the applications not only satisfy the needs of our clients but are also simple and convenient for the end-users.
Prototype
We develop a preliminary visualization of how the mobile app would look and function. The prototype of the mobile application will give an idea of the look and feel of the app, and we test the users' reactions to the UI and UX designs.



Development
Our team of app developers has a thorough understanding of different programming languages, frameworks, third-party APIs, and more and will develop logic and codes to make your mobile application browsable for your target audience integrating various features and functionalities.



Quality Assurance
Our developers carefully test every app to ensure that they provide an excellent user experience and meet the requirements of our clients. Apps developed by our development team are bug-free because they go through a series of automated and manual testing before deployment.



Deployment
Our app developers follow strict guidelines and best practices of app stores to make your mobile application good to go. The app deployment phase will make sure your mobile applications can meet all the publishing criteria and reach your target audience.



Support Maintenance
All digital solutions need improvement. The deployment of an app is not the final stage. We work with our clients to offer post-deployment maintenance and support to make sure the mobile application always stays bug-free and trendy.



Get Free
Quote

Now !

Got An Idea? Leave A Message To Us And We Will Reach Out To You Soon.