What Is The Cost To Design And Develop A Travel App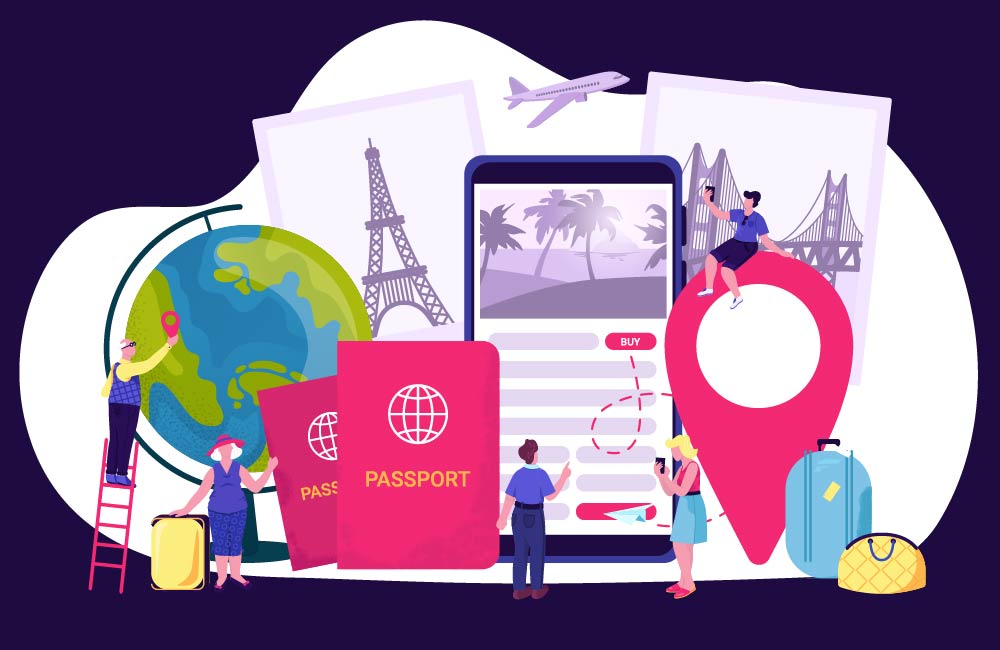 In today's digitized world, the travel and tourism sectors are also updating their businesses with the latest in digital technology. Travel and tourism have grown by leaps and bounds in recent decades. This increase is due to several factors, the most important being digitization. This has taken the experience of traveling to another level, not only for tourists planning their vacations but also for tourism businesses. It has been made much easier with the use of the multiple tourism mobile applications that allow the user to prepare everything before reaching their destination.
The Market For Tourism Apps Grows Every Year
This ease of travel has increased the flow of tourists and travelers. According to a survey conducted by eMarketer, tourism was in the top 10 most downloaded app categories worldwide. According to another recent survey, tourism has increased greatly in the last decade, and thanks to the growth of technology and knowledge about it, 70% of tourists use mobile applications to travel and book.
The tourism app development market grows every year as new fashions and services are introduced. New features are being launched, such as the use of the latest technology in IoT (Internet of Things), VR (Virtual Reality), AR (Augmented Reality) and GPS devices to offer the best experience to its users. These mobile applications have made traveling more carefree and safer than ever.
In case you are considering the possibility of developing a tourism app, you should explore this field and learn about the different features that will make your app more intuitive.
Features Of A Travel App
"Social Traveling" Apps, To Travel And Connect With People
It is a new fashion that is gaining popularity. It allows the traveler to share their plans with others who have similar interests. This not only allows them to find travel companions, but also the costs of the trip can be shared, so that it is done in a much cheaper way. This feature can also connect the traveler with app users who live in the destination town, so that the experience improves even more. Another service it offers is to connect the user with his friends and to see suggestions from other users.
There is great potential for the tourism app industry to grow further and generate revenue. In order to develop a good travel app, it is mandatory that it has a detailed research behind it. The features you want to add to your app and the monetization methods you want to use require more concentration than you might imagine when you are thinking of developing a tourism app.
Real-time Weather Service Incorporated In An App
When tourists book their tickets, they also worry about the weather where they are going. Therefore, if you offer them a real-time weather service, this will be a plus in your tourist app.
Businesses Available 24/7 Thanks To Apps
An app can make your business available to the customer 24 hours a day, 7 days a week. You don't need to be available all that time if you use a tourism app or a travel app for your business. Clients can enter your application at any time, check the details of their tour and plan another according to what suits them.
The main benefit of an app is that people can rate and book their tour even if your business is closed or after hours.
The Images Of The Place To Visit Help In Choosing The Trip
When a tourist plans any trip, they like to see pictures of the place they want to go to. With the help of photos and videos of their destination, tourists can make decisions about their trips more clearly. High-quality photos and videos are the first thing to attract from any travel or tourism app to ensure a good experience.
Amazing Features Of Travel Apps
The best way to understand the requirements to meet is to use a travel app yourself, as if you were going to travel, and check what services you are missing in said app. Look for the features that would make your experience more enriching if they were added.
The travel or tourism app should allow you to make all the reservations relevant to the trip. For example, it should offer the option of booking a hotel or resort, dinners, lunches, etc. The app should give access to all the different aspects of a trip and a vacation.
To develop a tourist application is not enough. You need to make your app successful to get your investment back with benefits.
Most travel apps allow you to check the destinations most searched by users. This can be taken as an advantage, so that you make suggestions about the best offers and destinations to visit for potential users of the application.
A travel mobile app needs to make its online presence strong and attractive, so that it can attract more travelers. This will increase your app downloads exponentially. Ads are a key aspect when introducing a new app to the market.
In the age of social media, not a day goes by without people sharing their latest experiences with friends and family. It is important that the travel app also allows the user to share all their experiences, photos and reviews online. This option will make the app much more popular and widely used.
The app manager should be concerned about compatibility, data security and other important features of the app. This should be compatible with the operating systems that are present in the current market and offer incomparable security in terms of data saved by users, especially those related to monetary transactions.
Traveling and tourism are increasing tremendously around the world. Tourists ask for advances in technology. A travel agency needs a mobile application if it wants to be in this competitive market. Agencies can hire internal staff to design, develop, and launch a travel app, or they can hire an app development company with similar experience such as Hyperlink Infosystem to make their app successful on the internet. The cost of a good travel app is around $8000.
"Above page is written for promotional purpose. We do not damage any copyright. We create apps from the scratch only."
Process We Follow
Being a Top development company, the proficient developers of our teams follow a well-organized development process that includes the following steps.
Requirement Gathering
We help clients to gather and analyze the requirements to understand the functionalities to be integrated into the app. This process enables us to draw a development plan and transform the clients' concepts into an efficient and functional app.



UI/UX Design
Our developers use effective UI trends to design apps that are not only pleasing to the eye but also intuitiveness and consistency. We make sure the applications not only satisfy the needs of our clients but are also simple and convenient for the end-users.
Prototype
We develop a preliminary visualization of how the mobile app would look and function. The prototype of the mobile application will give an idea of the look and feel of the app, and we test the users' reactions to the UI and UX designs.



Development
Our team of app developers has a thorough understanding of different programming languages, frameworks, third-party APIs, and more and will develop logic and codes to make your mobile application browsable for your target audience integrating various features and functionalities.



Quality Assurance
Our developers carefully test every app to ensure that they provide an excellent user experience and meet the requirements of our clients. Apps developed by our development team are bug-free because they go through a series of automated and manual testing before deployment.



Deployment
Our app developers follow strict guidelines and best practices of app stores to make your mobile application good to go. The app deployment phase will make sure your mobile applications can meet all the publishing criteria and reach your target audience.



Support Maintenance
All digital solutions need improvement. The deployment of an app is not the final stage. We work with our clients to offer post-deployment maintenance and support to make sure the mobile application always stays bug-free and trendy.



Get Free
Quote

Now !

Got An Idea? Leave A Message To Us And We Will Reach Out To You Soon.