How Much Does It Cost To Build An App Like Bird E-scooter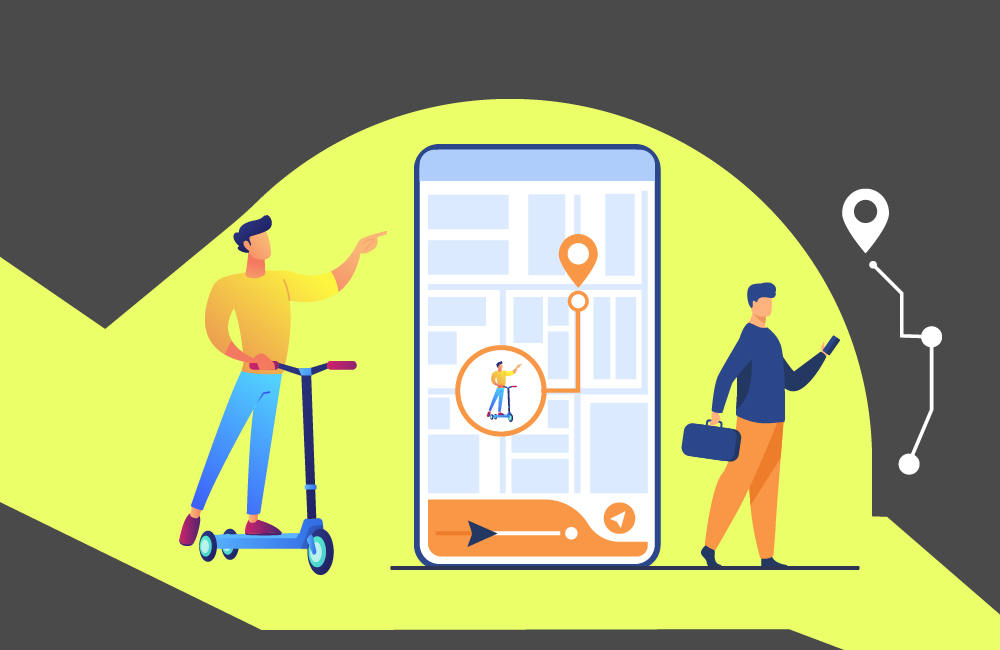 E-scooter (electric scooter) is one of the newer technologies hitting the market. It is considered to be handy, low-emission and quiet. They have many features that make people queue up to acquire or rent them. There is little wonder then when apps like Bird e-scooter were created to help manage and maintain these devices.
The Bird EScooter mobile app can help you manage and maintain your e-scooter. This means saving money and relieving you off stress. Hyperlink InfoSystem can assist you with the development of a top e-scooter mobile app similar to Bird e-scooter.
Here are some of the features of e-scooter:
Environment friendly
Speed
Security
Handling and use
Comfort
Costs
Environment Friendly
An emission-free vehicle is just right between the emissions scandal and climate mockery. The electricity for driving the electric motor has not yet been generated emission-free, but at least the operation itself takes place without exhaust gases. This is particularly beneficial in cities with high levels of air pollution. The electronic scooters are also important progress in terms of noise pollution and can thus contribute to significantly improving the quality of life in urban areas. If you want to be more precise, you should pay attention to when the e-scooter is used.
Speed
The comparison is also important in this area. The electric scooter is always faster than on foot. Whether you can keep up with a car depends on the traffic situation and the infrastructure. With a top speed of 12 km/h or 20 km/h (depending on approval), the e-scooter can only beat the car if traffic jams are avoided. The e-scooter offers the possibility to be combined with other vehicles and thus to keep the travel time short, whether in the city or in the country. Especially in smaller towns or villages where most people prefer the car.
Security
The greatest disadvantages arguably arise in the area of ​​security. Injury, breakage, or property damage are the problems that can arise during use. In some areas, e-scooters are used on the road and share the lane with cars and trucks. You should therefore be particularly careful at intersections or when there is heavy traffic. It can also be dangerous at night or in the winter months. In all of these areas there are fundamentally similar problems as with the bike. An additional potential for conflict arises with pedestrians. However, e-scooter mobile app like Bird e-scooter can help reduce such occurrences. You should contact us at Hyperlink Info System to assist you with the development of a similar mobile app.
Handling And Use
Handling is easy despite the compulsory insurance. You don't need a driving license for e-scooters and operation is straightforward. They can be stowed compactly and have a low weight. Charging is also uncomplicated: any normal socket is sufficient and, unlike e-cars, the scooters are not dependent on special charging stations. E-scooters are ideal for short distances in urban areas that are poorly accessible by public transport or that are overloaded by car traffic. But the scooter can also be used in the village or in small towns. The distances to the nearest supermarket, doctor or train station are often just long enough that walking is no alternative. With an e-scooter, you can do without the car more often in these situations.
Comfort
Comfort is also an important factor. Lots of people plan to cycle to work. But in summer or when there is too much incline on the route, people prefer to use a car or public transport. The e-scooter can remedy this and offers a good compromise between car and bike. The scooters should only be used to a limited extent in winter. The e-scooter, like the bike, can therefore often not completely replace the car or the train.
Costs
The prices vary widely. As always, the price ultimately decides about quality and durability. In addition to electricity costs, the running costs also include compulsory insurance. Compared to the car, the e-scooter is cheaper. Those who use public transport a lot have to decide individually what is cheaper. It may make sense to use the scooter in the summer months and continue to travel by bus and train in winter.
The Cost Of An App Similar To Bird Escooter
Hyperlink InfoSystem can assist you with the development of a top e-scooter mobile app similar to Bird e-scooter. The cost of the app will depend on the features to be integrated in the app. Our developers are experts with several years of experience in the development of I.T solutions with varying levels of functionalities. The cost of an app like Bird EScooter can range between $10,000 and $20,000.
Our dedicated development team will work full-time on your project or participate according to your schedule requirements. Our team consists of experts from the areas of project management, front-end and back-end development as well as UI and UX development.
"Above page is written for promotional purpose. We do not damage any copyright. We create apps from the scratch only."
Process We Follow
Being a Top development company, the proficient developers of our teams follow a well-organized development process that includes the following steps.
Requirement Gathering
We help clients to gather and analyze the requirements to understand the functionalities to be integrated into the app. This process enables us to draw a development plan and transform the clients' concepts into an efficient and functional app.



UI/UX Design
Our developers use effective UI trends to design apps that are not only pleasing to the eye but also intuitiveness and consistency. We make sure the applications not only satisfy the needs of our clients but are also simple and convenient for the end-users.
Prototype
We develop a preliminary visualization of how the mobile app would look and function. The prototype of the mobile application will give an idea of the look and feel of the app, and we test the users' reactions to the UI and UX designs.



Development
Our team of app developers has a thorough understanding of different programming languages, frameworks, third-party APIs, and more and will develop logic and codes to make your mobile application browsable for your target audience integrating various features and functionalities.



Quality Assurance
Our developers carefully test every app to ensure that they provide an excellent user experience and meet the requirements of our clients. Apps developed by our development team are bug-free because they go through a series of automated and manual testing before deployment.



Deployment
Our app developers follow strict guidelines and best practices of app stores to make your mobile application good to go. The app deployment phase will make sure your mobile applications can meet all the publishing criteria and reach your target audience.



Support Maintenance
All digital solutions need improvement. The deployment of an app is not the final stage. We work with our clients to offer post-deployment maintenance and support to make sure the mobile application always stays bug-free and trendy.



Get Free
Quote

Now !

Got An Idea? Leave A Message To Us And We Will Reach Out To You Soon.