How Much Does It Cost Of An App Like Dubsmash Clone Cost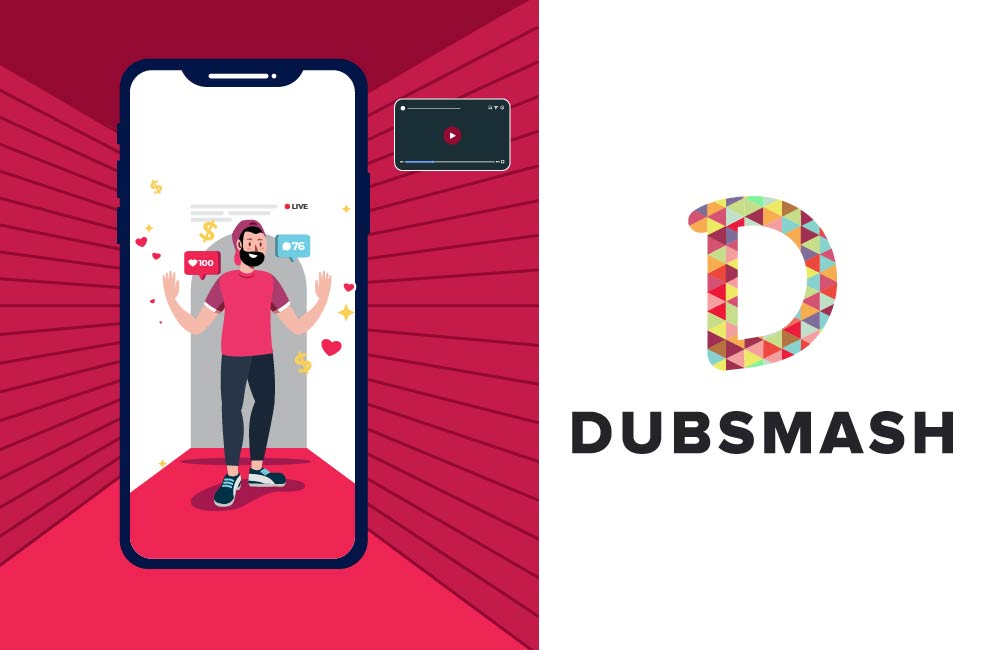 If you have not done so yet, we invite you to join the great community of Dubsmash. It is a fun application that will allow us to record our own videos by mimicking, acting and simulating the voices of famous people.
It is really remarkable with the immense number of people who have had the opportunity to enjoy the features of Dubsmash since it was released. It is translated into more than 10 languages ​​and that therefore has reached the most remote corners of the world. It is a totally free and can be easily acquired through its official site, as well as Google Play or the iOS App Store.
Costumes, voice synthesizers and even makeup can help us make us look like any character we want. Previously, it was possible to make dubbing that made it seem that one person was a different person with the use of computerized devices. Now you can do all kinds of dubbing with Dubsmash on your smartphones. You will spend hours laughing with this incredible application.
Dubsmash is an application created to dub movies, series or whatever you can think of, available for various mobile platforms. This application contains a large number of audios available so that you can dub with ease and make it look like you are the one speaking. Hyperlink InfoSystem can assist you with app similar to Dubsmash.
Dubsmash Features
Some features of this particular application are:
Record a video of yourself with a prerecorded audio from a movie, series or tv show.
Choose from hundreds of famous available audios.
You can upload your own sounds or audios to dub or make it available to other users.
Share the Dub you have made with your friends directly from the application.
How Dubsmash Works
The function of this application consists of 3 main steps to be able to use it, which are: Choose, record and share. First choose your sound or audio from the application library or use the search engine. Second, record yourself with the audio in the background, dubbing as if you were the character. And third, share with your friends from the application.
Dubsmash is a tool that has evolved to a great extent as a function of time, having created different types of adaptations to be enjoyed from computers, mobile devices and even Tablets.
Get ready to join the great community of Dubsmash, an application that has grown significantly since its launch. Just start interacting with users from all over the world, compare recordings, take new ideas and venture into creating fun videos.
The application that mixes selfies with famous phrases.
If you mix a person making a selfie video and at the same time, he is doubling a famous phrase, you get the Dubsmash application. It is undoubtedly the most popular application at the moment and is sweeping the world.
Dubmash is the application for mobile devices of the moment. This application offers the possibility of using known phrases from movies, series or songs and using them in the form of playback with the user's face. It represents another twist of more in the incipient world of the selfie, so fashionable today.
Part of the success of Dubsmash is due to the fact that it is a totally free application and that it has a fairly extensive audio library that the user can use at no additional cost. These phrases are divided into several categories, from comedy, cartoon to science fiction. The user chooses the phrase he likes the most and immediately afterwards the mobile camera is activated to record the selfie.
Then the chosen phrase sounds and the person simulates saying that phrase. Once the video is finished, which can last a maximum of 30 seconds, the application automatically mixes it. There is the option to share the video with friends or family on social networks such as Facebook or Instagram.
Dubsmash is currently one of the most downloaded applications on the Google Play store and is becoming a true phenomenon around the world. It does not seem that this trend is going to end there, because these videos are beginning to be played on the almighty YouTube. Go ahead and download Dubsmash to make your own video.
Dubsmash is an application for smartphones that lets you play back cult quotes (movies, series, ads, songs) by recording yourself with the selfie mode of your phone. And above all, we can share these playbacks on social networks, hence the buzz.
Dubsmash: The Playback Vine Is Here!
Between Snapchat or Vine, video is clearly on the rise on social networks, or among a more or less young audience. It is often humorous in scope, and some have built real networks and fame through short videos. And precisely, it is on humor that Dubsmash is based, a young application that allows users to dub all kinds of movie lines, celebrity phrases, song lyrics, or whatever you want.
And to use Dubsmash, it's very simple since there is no need to even create an account. Just download the free app, and take advantage of the large library of cues and sounds listed. We can also choose the languages ​​spoken to broaden the range of possibilities. Once the replica is selected, just open it, which will automatically launch the front camera of your smartphone. The user then has an unlimited number of tries to tune their voice to that of the audio tape.
Once the video is recorded, it can be saved very easily on the smartphone, or be shared via Facebook Messenger or WhatsApp. We are already starting to see Dubsmash videos flourish on YouTube, and the phenomenon may not stop so quickly. Hyperlink can help you develop app similar to Dubsmash at the cost of $5,000.
"Above page is written for promotional purpose. We do not damage any copyright. We create apps from the scratch only."
Process We Follow
Being a Top development company, the proficient developers of our teams follow a well-organized development process that includes the following steps.
Requirement Gathering
We help clients to gather and analyze the requirements to understand the functionalities to be integrated into the app. This process enables us to draw a development plan and transform the clients' concepts into an efficient and functional app.



UI/UX Design
Our developers use effective UI trends to design apps that are not only pleasing to the eye but also intuitiveness and consistency. We make sure the applications not only satisfy the needs of our clients but are also simple and convenient for the end-users.
Prototype
We develop a preliminary visualization of how the mobile app would look and function. The prototype of the mobile application will give an idea of the look and feel of the app, and we test the users' reactions to the UI and UX designs.



Development
Our team of app developers has a thorough understanding of different programming languages, frameworks, third-party APIs, and more and will develop logic and codes to make your mobile application browsable for your target audience integrating various features and functionalities.



Quality Assurance
Our developers carefully test every app to ensure that they provide an excellent user experience and meet the requirements of our clients. Apps developed by our development team are bug-free because they go through a series of automated and manual testing before deployment.



Deployment
Our app developers follow strict guidelines and best practices of app stores to make your mobile application good to go. The app deployment phase will make sure your mobile applications can meet all the publishing criteria and reach your target audience.



Support Maintenance
All digital solutions need improvement. The deployment of an app is not the final stage. We work with our clients to offer post-deployment maintenance and support to make sure the mobile application always stays bug-free and trendy.



Get Free
Quote

Now !

Got An Idea? Leave A Message To Us And We Will Reach Out To You Soon.