How Much Does An App Like Google Fit Cost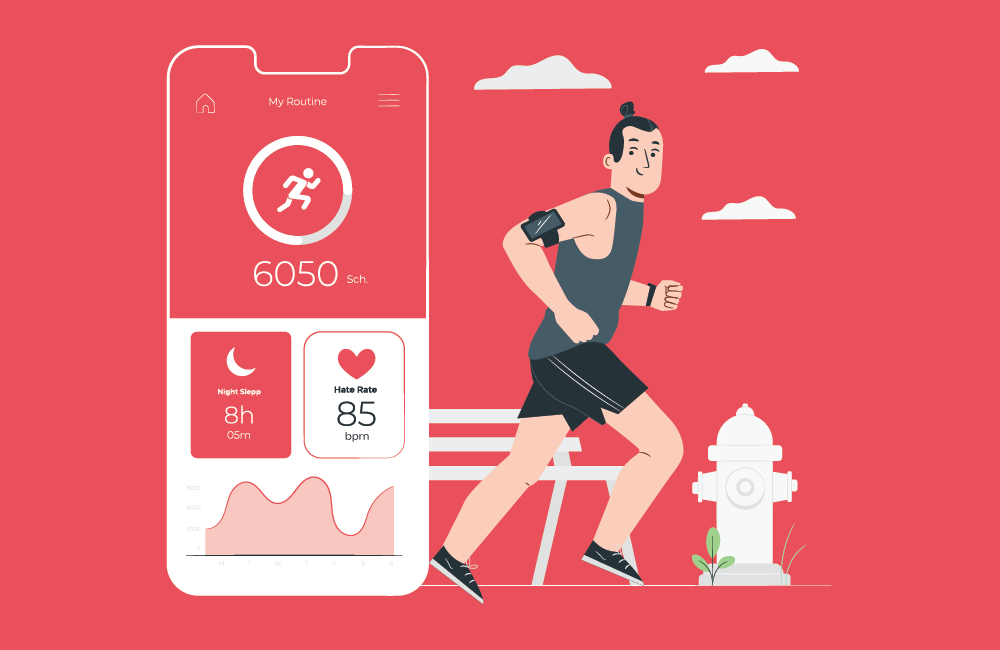 Google Fit is an app developed by Google that help you take care of your well-being and health. Google Fit coordinates physical activities using the sensors of a smartwatch or smartphone.
Our mobile devices can do unbelievable things. They inform us about the weather forecast and help us not to get stuck in a traffic jam on a busy highway. They make it possible to choose the right restaurant and determine the shortest path from point A to point B. So why not endow them with additional abilities? For example, so that they can help you monitor physical activity, count the number of steps taken and calories burned?
Yes, fitness trackers, sports bracelets, some smartwatches, electronic pedometers can do this. But Google goes further! With Google Fit, you can turn any Android device into a fitness tracker.
What Is Needed For This
First, you need to download the Google Fit app and install it on the device you are using. There are versions for regular Android as well as Wear OS.
Secondly, you need to have a Google account. It will need to fill out a profile: indicate gender, height and weight. Do not flatter yourself, indicate the data with maximum accuracy, because the service uses them in calculations. If you lie, you will also receive incorrect information with your fitness guide.
Google updated the Fit app in August 2018 based on research and guidance from the World Health Organization and the American Heart Association. Therefore, the app has changed its approach to fitness goals. Based on the recommendations, you need to get at least 150 cardio points per week. It's simple, look.
The time of activity and cardio training is taken as a basis, this can be set in the settings when installing the application or changed in the future.
Activity time is credited for all physical exercises, even for walks and yoga. A minute is credited for 30+ steps taken in a minute. Heart points are a reward for intense activity: brisk walking (100+ steps per minute), running, cycling. Moreover, for different types of exercise, you will receive a different number of points: for walking and cycling, you will receive one point, and for running or aerobics - two points.
In general, to be in good shape, you only need to devote 150 minutes a week to moderate exercise and 75 minutes to intense. Walk for 30 minutes at a brisk pace five times a week - and you have achieved your goal. This will improve sleep and overall psychological well-being, as well as reduce the likelihood of cardiovascular disease.
How It Works
You just carry the device with you, and Google Fit tracks its movement. It is especially pleasant that no additional settings are needed. Do all of the above, and then Google Fit will get to work.
The progress in achieving the set goal is visualized on the screen of the mobile device. Two rings - blue and green - fill up as you are active. The app also counts steps, kilometers traveled, calories burned.
Google Fit determines the difference between the methods of movement automatically, the system focuses primarily on the speed with which you move, so funny incidents are possible: it can count fast walking as running, and fast running as cycling.
When the goal is achieved, the message "You did it!" Will appear on the screen.
In addition, data can be entered in manual mode, for example, when you trained without a smartphone. The following data are available for entering:
Blood pressure;
Weight
Activity (here you can choose from a large list, there are a lot of sports, including exotic ones such as frisbee, paddle boarding, paragliding, squash, horse riding and even the floss dance).
Even More Statistics
You can get acquainted with more detailed statistics. Google Fit can tell you about each segment of your activity: how many steps were taken, how much distance you covered, how many points you earned.
For more accurate statistics about your activity, you can use Google Fit as an aggregator of data from other applications. You can link accounts with more than 30 programs: this is weight tracking, and sports trackers, and calorie consumption, and data on heart rate and sleep.
It Always Works
The good thing about the service is that it doesn't need to be turned on like many sports apps. You just install the application, fill out the profile - and then Google Fit works. You can forget about it for a while, and then go back to viewing information about your activity, and it turns out that the service has memorized everything it needs.
If you think that this function is no longer needed, it can be easily disabled in the device settings.
It's Not Time To Throw Your Fitness Tracker Away
Google Fit so far offers only basic features, not even all the declared functions work as well as we would like. The highlight of the service is that you can use it to track your physical activity using literally any Android device.
But if you are seriously involved in sports or fitness, then it makes sense to use more advanced devices and gadgets, which have more features, which provide higher accuracy and have the function of a trainer. Hyperlink Infosystem can help you develop a fitness tracker app with the necessary features to suit your lifestyle. Developing an app similar to Google Fit will cost you between $5000 to $15000.
"Above page is written for promotional purpose. We do not damage any copyright. We create apps from the scratch only."
Process We Follow
Being a Top development company, the proficient developers of our teams follow a well-organized development process that includes the following steps.
Requirement Gathering
We help clients to gather and analyze the requirements to understand the functionalities to be integrated into the app. This process enables us to draw a development plan and transform the clients' concepts into an efficient and functional app.



UI/UX Design
Our developers use effective UI trends to design apps that are not only pleasing to the eye but also intuitiveness and consistency. We make sure the applications not only satisfy the needs of our clients but are also simple and convenient for the end-users.
Prototype
We develop a preliminary visualization of how the mobile app would look and function. The prototype of the mobile application will give an idea of the look and feel of the app, and we test the users' reactions to the UI and UX designs.



Development
Our team of app developers has a thorough understanding of different programming languages, frameworks, third-party APIs, and more and will develop logic and codes to make your mobile application browsable for your target audience integrating various features and functionalities.



Quality Assurance
Our developers carefully test every app to ensure that they provide an excellent user experience and meet the requirements of our clients. Apps developed by our development team are bug-free because they go through a series of automated and manual testing before deployment.



Deployment
Our app developers follow strict guidelines and best practices of app stores to make your mobile application good to go. The app deployment phase will make sure your mobile applications can meet all the publishing criteria and reach your target audience.



Support Maintenance
All digital solutions need improvement. The deployment of an app is not the final stage. We work with our clients to offer post-deployment maintenance and support to make sure the mobile application always stays bug-free and trendy.



Get Free
Quote

Now !

Got An Idea? Leave A Message To Us And We Will Reach Out To You Soon.