How Much Does It Cost To Develop An App Like Helo?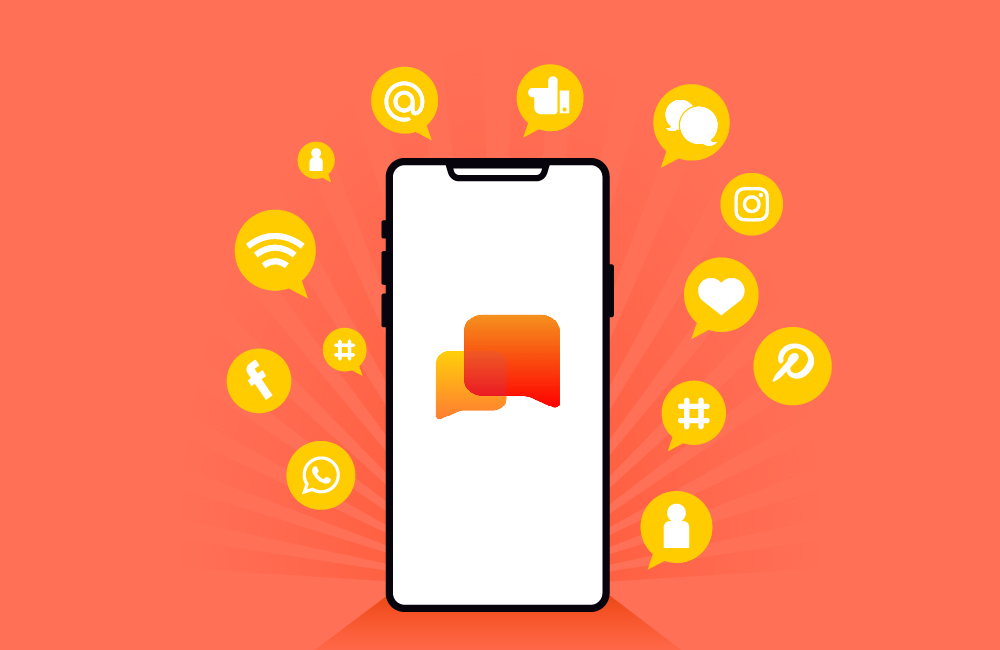 Social media has been an integral part of the daily routine of marketing and communication professionals for several years. Social media is also an essential element of an effective online strategy for companies. Helo, LinkedIn, Facebook, Twitter and Instagram are continuously introducing new features. Businesses keep growing and online platforms evolving at the same pace to meet business expectations. It is of the utmost importance to stay up to date with the latest developments in order to adjust and optimize the strategy for your social media management.
Helo is India's leading social media platform. Social media network us and bring advantages, but also disadvantages that can primarily damage our health.
Advantages of Social Media
Communication
Thanks to social networks, networking and communicating with other people is easier than ever. So, you can get in touch with people from anywhere and also meet people who are far away via video chat.
Information
Thanks to social networks, you are not only connected to friends, but also to news services and you get to know things faster than before.
Inspiration
By sharing information, ideas, art and more, it's easier to get inspiration and get creative yourself.
Show Yourself
Those who have a talent or want to show their creativity can share it with others through social networks and receive comments and feedback.
Working Together
Thanks to social media, it is possible to work together with programs such as Microsoft Teams, Slack and more, which make it possible to work together from different locations.
Research And Health
Thanks to social networks, it is possible to disseminate information on public health and safety in the event of a crisis. In addition, researchers all over the world can research a topic together and complement each other.
Combat loneliness
Isolated seniors in particular can often be lonely. Thanks to networking and video chats, they can get in touch with family and friends and thus fight against loneliness.
Why Social Media Should Be Used For Corporate Communication
Nowadays the vast majority of target groups can no longer only be found "offline", but rather online. Especially in social networks like
Helo
Facebook
Twitter
YouTube
Xing
LinkedIn
Instagram
and Co.
messages, opinions and viral content are exchanged. Companies also make use of the possibilities of social networks and introduce appropriate corporate communication.
Social media networks have established themselves in many everyday lives - whether at work or in private. Many companies already have social media experts or PR managers who at least know about communication in social networks and actively use it. Most companies are also aware of the legal situation and the style required in the respective network.
What many companies lack is the right social media strategy. This is exactly where you have to fall back on an experienced expert who taps the potential of the networks. Experts also have access to the tools they need to carry out systematic analyzes and identify clear criteria for success.
Generally speaking, a professional SWOT analysis should be carried out in relation to social media
Strengthen
Weaknesses
Opportunities
and Risks
Cost of Developing Mobile App
The costs for app development cannot be determined as a flat rate. You cannot call up a flat rate for an app. No app is the same as the other and even if apps appear similar at first glance, the costs can be extremely different.
Some definitely incurred costs:
The workload of the developer per hour
Developer account at Apple
Developer account with Google
Percentage fee to Apple / Google
Server / hosting costs vary depending on the need and cannot be determined across the board
Costs That Depend On The Type of App:
Simple apps that only run locally on the smart phone (calculator, flashlight, household book etc.)
Apps that retrieve information from a server (news apps, weather apps, information apps with dynamic content etc.)
Apps that retrieve information from a server and send information to a server (messenger apps, social media apps without login etc.)
Apps that retrieve information from a server and send information to a server including login (social media apps with login etc.)
Complex apps that require a login and retrieve a lot of information from servers (online shops, flight bookings etc.)
Apps with complex 3D elements (games, 3D editing programs, video editing programs etc.)
The Operating System is Crucial:
In addition to the app category, the operating system is also decisive for the cost of an app. In general, it can be said that the development of a native Android app is on average 20% higher than the cost of developing a native iOS app. The reason for this is that the variation of Android devices is significantly greater than that of Apple devices. If you rely on native apps, each app has to be developed individually, as each app is developed specifically for the operating system. So-called hybrid apps offer an alternative. These are only developed once, can run on iOS and Android and are significantly cheaper to develop and maintain.
The design of the app also affects the cost of app development. If a complex, unique design is to be implemented, the effort for the implementation of the app increases. If complex animations are also to be integrated, the effort increases even further.
Stay in contact with your friends and family with a social media app similar to Helo. The development cost of a top social media app cost around $15,000 depending on the features to be integrated. If you ever consider the development of a mobile app of this nature, contact us at Hyperlink InfoSystem.
"Above page is written for promotional purpose. We do not damage any copyright. We create apps from the scratch only."
Process We Follow
Being a Top development company, the proficient developers of our teams follow a well-organized development process that includes the following steps.
Requirement Gathering
We help clients to gather and analyze the requirements to understand the functionalities to be integrated into the app. This process enables us to draw a development plan and transform the clients' concepts into an efficient and functional app.



UI/UX Design
Our developers use effective UI trends to design apps that are not only pleasing to the eye but also intuitiveness and consistency. We make sure the applications not only satisfy the needs of our clients but are also simple and convenient for the end-users.
Prototype
We develop a preliminary visualization of how the mobile app would look and function. The prototype of the mobile application will give an idea of the look and feel of the app, and we test the users' reactions to the UI and UX designs.



Development
Our team of app developers has a thorough understanding of different programming languages, frameworks, third-party APIs, and more and will develop logic and codes to make your mobile application browsable for your target audience integrating various features and functionalities.



Quality Assurance
Our developers carefully test every app to ensure that they provide an excellent user experience and meet the requirements of our clients. Apps developed by our development team are bug-free because they go through a series of automated and manual testing before deployment.



Deployment
Our app developers follow strict guidelines and best practices of app stores to make your mobile application good to go. The app deployment phase will make sure your mobile applications can meet all the publishing criteria and reach your target audience.



Support Maintenance
All digital solutions need improvement. The deployment of an app is not the final stage. We work with our clients to offer post-deployment maintenance and support to make sure the mobile application always stays bug-free and trendy.



Get Free
Quote

Now !

Got An Idea? Leave A Message To Us And We Will Reach Out To You Soon.