How Much Does An App Like Hotel Tonight Cost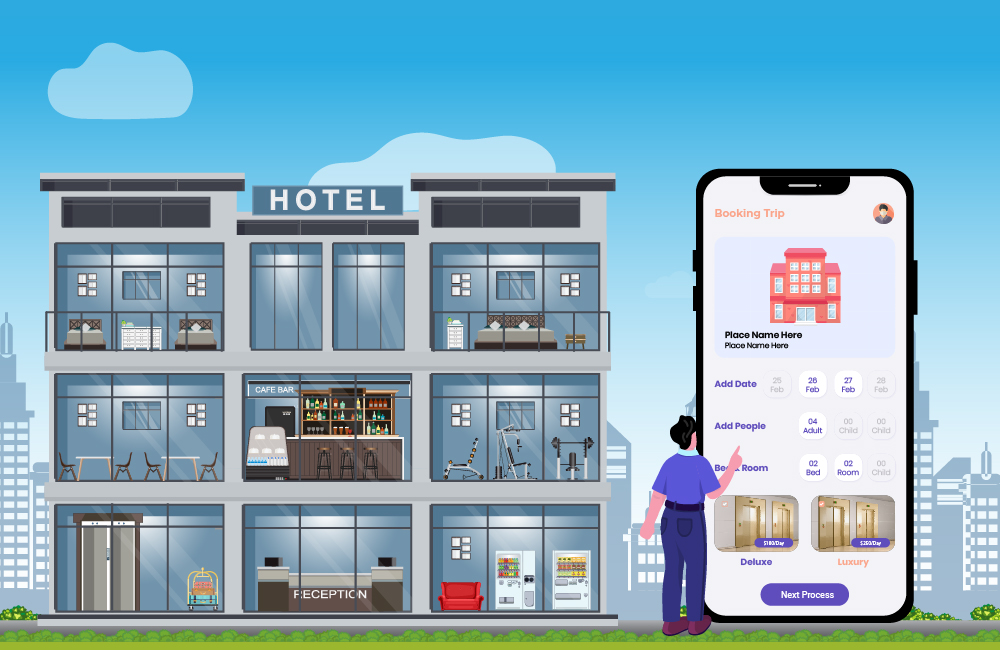 Last-minute apps for hotels are revolutionizing space searches and promising luxury rooms for half. But the offers differ considerably.
Many travelers know the situation: The train is delayed again and the last connecting train did not wait. A strike at the airport or freezing rain in winter messes up the planned itinerary. Or the business trip is extended because the meeting continues the next day. Suddenly a place to stay is needed quickly.
There is now a quick remedy for this emergency situation. Instead of querying the websites of hotel portals or the homepage of certain hotel chains with a laptop, an app is now sufficient. Because a new generation of travel apps is conquering smartphones. The small programs are aimed at spontaneous bookers who are looking for a free bed at the last minute. This has advantages for everyone involved: Customers can quickly find a cheap bed, and hoteliers increase their room occupancy.
A good half a dozen apps on the subject of last-minute hotels are now available free of charge in the app stores. What all applications have in common is that only hotels that can be booked for the same evening are listed. Instead of navigating through hundreds of suggestions in a large city, the selection is reduced to a few hotels. These include a striking number of deluxe and design hotels, the savings potential of which can be as much as 50 percent compared to long-term room rates. This makes the apps interesting not only for stranded business travelers, but also for city travelers who want to visit for a weekend.
With one of these apps on their smartphone, nobody has to spend a night at the train station or on a cot at the airport. However, it is worthwhile to install the apps of several providers and to compare the prices in a city.
Advantages For Mobile Hotel Apps
Stay In Contact
You can accompany each guest before, after and during the trip. You also have the option of maintaining contact with the guest with notifications from the app.
Incentives For Booking
The app binds the visitor to the company. With the marketing of new events and special offers through the app, the customer will most likely book with you again.
Market Advantage Through Modern Appearance
Benefit from progress and digitization. Be the first with such an in-house app. In this way, you can achieve higher profits through new target groups and a special relationship with the guests, as well as bypass the competition.
Offer Your Customers Special Offers
Offer your customers a special and personalized offer. Inform customers when new offers are available or events are planned.
Information About The Hotel And The Region
Inform your customers about your company and the region. Market special activities in summer as well as in winter and gain trust through the special content strategy.
Ensure Customer Satisfaction
Ensure your customers are satisfied. Stay in contact with your customers and help them if problems and requests arise. In this way, you can give customers a special feeling of security and security.
Location/Information
Interactive maps show customers various information about the location of your hotel and shops, bars, ski slopes, restaurants, etc. With this function, guests will never again have a problem finding their way around the area.
Additional Sales
You can use the app to make other offers and services from your hotel attractive to customers. This creates additional sales and revenue. Implement your perfect cross-selling & upselling strategy.
Receive Valuable Guest Feedback
You can use the app to collect important customer feedback and optimize various processes.
In regards to the development of a hotel booking app, Hyperlink InfoSystem is the agency that is best suited to provide you with the needed solution. We have over 9 years of experience in mobile app development. Depending on its features, the cost of an app like Hotel Tonight is between $6000 and $12000.
Have Native Apps Developed
Native apps are programs that are installed on the mobile device - apps in the classic sense. They are programmed individually for each operating system (Android and iOS) and are therefore more expensive than hybrid apps and web applications. A mobile native app costs an average of $7,000 to develop. However, this applies to each operating system (iOS and Android), which means that native app development will cost around $14,000 in total. However, native apps offer some advantages. A mobile native app has a high performance and recognition value, makes it easier to use and increases the user experience. A native app development also guarantees the highest level of data security during use. There are additional costs for publication in the respective app stores. The cost of publishing on Apple iOS in the Apple Store is $99 per year for individuals and $299 for businesses. Registration in Google's Android Play Store costs $25 one-time.
"Above page is written for promotional purpose. We do not damage any copyright. We create apps from the scratch only."
Process We Follow
Being a Top development company, the proficient developers of our teams follow a well-organized development process that includes the following steps.
Requirement Gathering
We help clients to gather and analyze the requirements to understand the functionalities to be integrated into the app. This process enables us to draw a development plan and transform the clients' concepts into an efficient and functional app.



UI/UX Design
Our developers use effective UI trends to design apps that are not only pleasing to the eye but also intuitiveness and consistency. We make sure the applications not only satisfy the needs of our clients but are also simple and convenient for the end-users.
Prototype
We develop a preliminary visualization of how the mobile app would look and function. The prototype of the mobile application will give an idea of the look and feel of the app, and we test the users' reactions to the UI and UX designs.



Development
Our team of app developers has a thorough understanding of different programming languages, frameworks, third-party APIs, and more and will develop logic and codes to make your mobile application browsable for your target audience integrating various features and functionalities.



Quality Assurance
Our developers carefully test every app to ensure that they provide an excellent user experience and meet the requirements of our clients. Apps developed by our development team are bug-free because they go through a series of automated and manual testing before deployment.



Deployment
Our app developers follow strict guidelines and best practices of app stores to make your mobile application good to go. The app deployment phase will make sure your mobile applications can meet all the publishing criteria and reach your target audience.



Support Maintenance
All digital solutions need improvement. The deployment of an app is not the final stage. We work with our clients to offer post-deployment maintenance and support to make sure the mobile application always stays bug-free and trendy.



Get Free
Quote

Now !

Got An Idea? Leave A Message To Us And We Will Reach Out To You Soon.