How Much Does It Cost To Develop A Mobile App Like Instacart For Groceries Delivery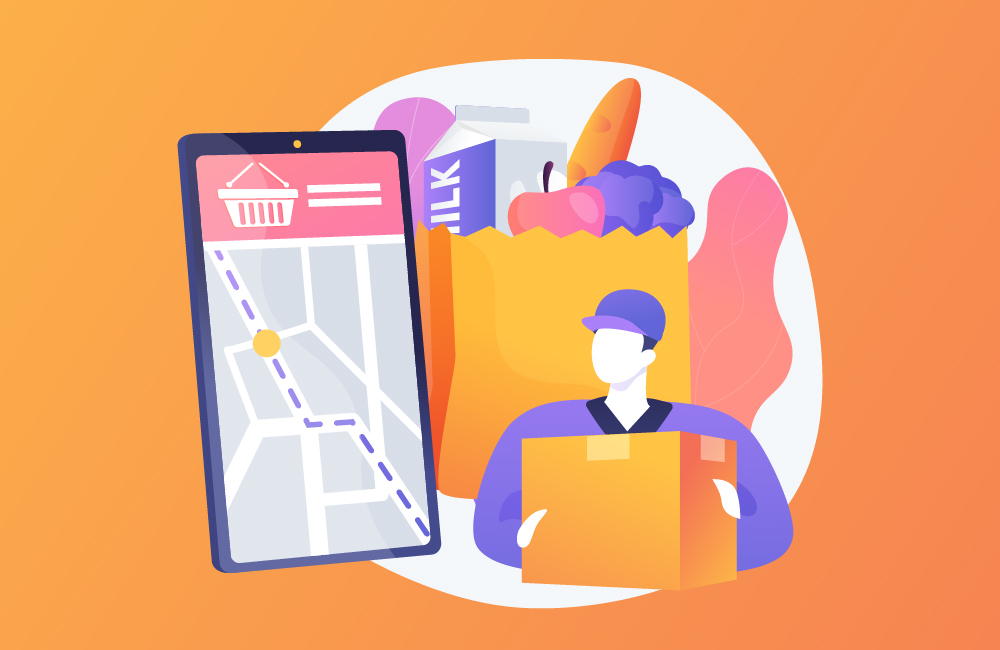 Instacart was born in San Francisco in 2012. It allows customers to fill their shopping cart through various brands with local presence. In this way, with all the product catalogs integrated into the web, you can add your favorite brand of milk or any other food item to your shopping cart.
The idea is attractive for everyone; especially when the order is served few hours after the order. For this, they have people who do the shopping for the customer and move the orders by their own means. They are called "Personal Shopper". Once the customer places an order, they receive it on their smartphones as well as the appropriate instructions to do so: supermarket, aisle, optimal route to get there, to leave, info of the user and many more. The application takes advantage of the fact that it is there to collect the necessary pieces and indicates the optimal point of appointment to merge it with the groceries of other users.
Research Your Target Market
To develop a great delivery app, you need to know your customers or your target audience. It is easy to create an app that ideally meets the needs of your target audience once you understand who will be using your products.
To draw a clear picture of your target audience, use demographic criteria and create a target customer profile. You can follow the following points to achieve this:
Social characteristics, including income, gender, nationality, age, etc.
How your target customers spend their free time.
The potential customer problem can solve your product.
The feeling that your product will elicit from your customers.
Why do your customers use your product, instead of competitors?
By clarifying all these points, you will have a good idea of your target customers.
Choose The Main Features Of Delivery Services Like Instacart
When developing a mobile app for grocery delivery, consider the following features:
Search: Boost your grocery delivery app with search by food item, filters, and category.
Placing Orders: Once users select the grocery they want, they can add it to the shopping cart.
Checkout Order: After users select their food item, they can place their orders. This section of the grocery delivery app like Instacart must include all the selected groceries and the total price that the user must pay.
Payment: When the order is ready, allow your users to pay for it through the built-in payment gateway. Our advice is to integrate various payment systems, such as PayPal, And Stripe: In addition to these payment options, allow your customer to have a Cash on Delivery option.
Notifications: You can notify your customers about the order status through push notifications and SMS.
Track Orders: Power your grocery delivery app like Instacart with real-time order tracking by using the CoreLocation framework for iOS apps and Google Location API for Android Apps: Also, Mapkits and Google Maps will help your messengers to find the best route to the customer's location.
Comments And Ratings: Let your application users share their experience through comments, and rate stores on your platform.
Essential Features Of Delivery Apps
One of the trickiest things about developing delivery applications is that you will have to create multiple products for everyone to get the system working. Just think about it:
On the one hand, it is obvious that you need to create a client application through which all orders will be placed.
You need an Admin Panel (a web application) where you will manage and monitor all requests.
A messaging app is also required, unless your idea is not based on another solution.
You can also develop a similar app for your business and Hyperlink InfoSystem is readily available to assist you throughout the process. The cost of the development of a grocery app is around $7000.
Instacart Business Model
Instacart is one of the most used applications. Their business model has inspired millions of grocery delivery startups to join the game. The Instacart app is both a store aggregator and a delivery agent. Hence, a food delivery app like Instacart performs two different features:
Instacart uses a traditional grocery delivery model, which lists store partners in a single app.
At the same time, Instacart takes care of the delivery of orders. The company uses its own logistics network to deliver orders from stores that do not have a delivery option.
Also, the food delivery app offers users many functions, which makes grocery ordering even more convenient. The most notable features of the grocery delivery app are:
Tailor-made grocery recommendations
Advanced search filters
Order tracking
Customizable delivery details
Although it seems a bit complicated at first glance, this can be a key step to success. Even though the needs of each party are different, it is still extremely important to satisfy everyone:
Users should have quick and easy access to the menus of the closest restaurants with the ability to place delivery orders directly in the application.
Couriers are interested in easy access to available orders and integrated geolocation services that show them the way to pickup and delivery locations.
Grocery managers want to see the order list, assign them to contractors to organize the delivery of the grocery to customers. Additionally, it is important for them to have access to analytical tools, so that they can track overall customer retention.
Benefits of delivery apps:
The opportunity to get what you want when and where you want.
Profit growth coupled with increased customer numbers (great news if you're a supplier).
The possibility of obtaining the maximum information about the company without unnecessary problems.
Network effect: Users voluntarily disseminate information about you, popularize your on-demand service applications without your intervention.
"Above page is written for promotional purpose. We do not damage any copyright. We create apps from the scratch only."
Process We Follow
Being a Top development company, the proficient developers of our teams follow a well-organized development process that includes the following steps.
Requirement Gathering
We help clients to gather and analyze the requirements to understand the functionalities to be integrated into the app. This process enables us to draw a development plan and transform the clients' concepts into an efficient and functional app.



UI/UX Design
Our developers use effective UI trends to design apps that are not only pleasing to the eye but also intuitiveness and consistency. We make sure the applications not only satisfy the needs of our clients but are also simple and convenient for the end-users.
Prototype
We develop a preliminary visualization of how the mobile app would look and function. The prototype of the mobile application will give an idea of the look and feel of the app, and we test the users' reactions to the UI and UX designs.



Development
Our team of app developers has a thorough understanding of different programming languages, frameworks, third-party APIs, and more and will develop logic and codes to make your mobile application browsable for your target audience integrating various features and functionalities.



Quality Assurance
Our developers carefully test every app to ensure that they provide an excellent user experience and meet the requirements of our clients. Apps developed by our development team are bug-free because they go through a series of automated and manual testing before deployment.



Deployment
Our app developers follow strict guidelines and best practices of app stores to make your mobile application good to go. The app deployment phase will make sure your mobile applications can meet all the publishing criteria and reach your target audience.



Support Maintenance
All digital solutions need improvement. The deployment of an app is not the final stage. We work with our clients to offer post-deployment maintenance and support to make sure the mobile application always stays bug-free and trendy.



Get Free
Quote

Now !

Got An Idea? Leave A Message To Us And We Will Reach Out To You Soon.