How Much Does An App Like Quizup Cost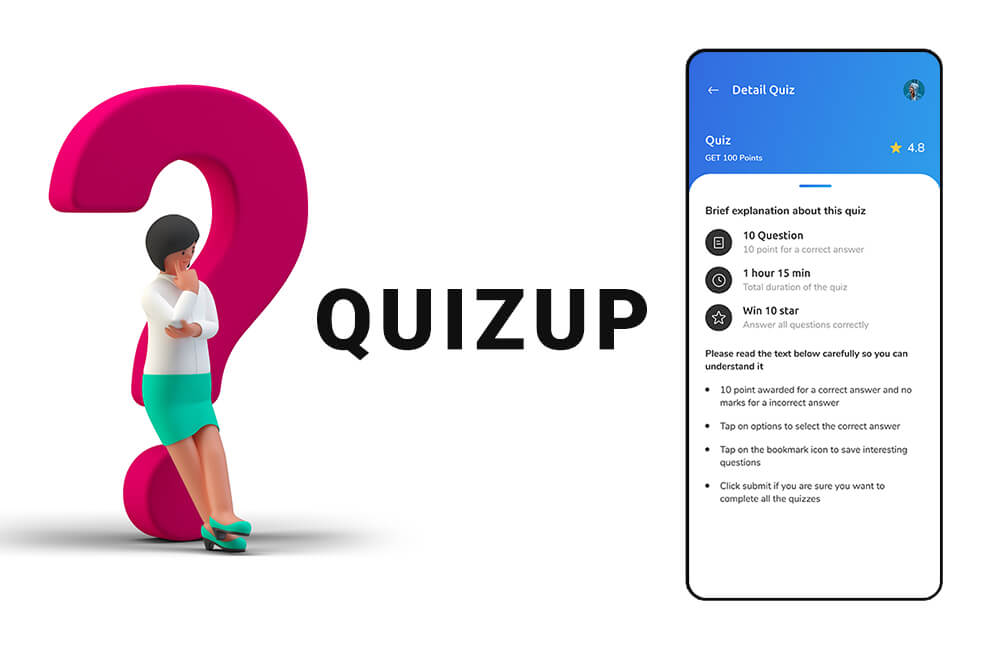 Since its launch in November 2013, users have taken QuizUp beyond a simple game application, making it a place to discover new friends and explore their interests. The QuizUp directly reflects this evolution, and empowers its community to create their own experience. Along with this excitement, it also has a desktop app for users who want to interact and experiment from their desktop computers.
Develop a Quiz Game Like QuizUp
To enjoy a game of questions and demonstrate our knowledge both alone and with others, it is no longer necessary to place a board with several tiles and cards on the table.
Now, all you have to do is have a mobile phone and a few seconds of time to download an application and enjoy a quiz game on your smartphone. This is a real advantage for entrepreneurs who love wisdom and who want to give millions of people the opportunity to learn by playing.
QuizUp is a mobile application that was developed in Iceland and has millions of users. QuizUp is used in multiple countries and it is translated into multiple languages.
Quiz Up is a question-and-answer game in which you can challenge your friends or other players from anywhere in the world in real time. If you are thinking that you have already seen everything in terms of trivia games, you will be amazed by what this unique game offers. With QuizUp, you will have a fast, entertaining and fun game in which you will be the one who chooses to face the more than 100 available topics. The available catalog is impressive and the questions are frequently updated.
The Keys To Its Success
The entrepreneurs and founders of QuizUp have achieved millions of users for several reasons. In addition to launching a fun trivia game, its creators have translated the puzzle into several languages ​​and adapted the content to non-English speaking regions.
In addition, they have allowed players to enjoy the app from iOS and Android and are present in other markets, such as Russian, Chinese, Japanese, Turkish and Korean.
It is an entrepreneurial project that you can look at if you want to create a quiz game as long as you take into account that, to achieve success, it is necessary to give life to an easily accessible tool that, in addition to being fun, is available to the inhabitants of much of the world.
Contact Hyperlink InfoSystem To Develop An App Similar To QuizUp
The costs involved in developing an app can vary widely. Because the time required for a mobile app is decisive for the price. This is made up of three main areas:
• Planning phase
• App design
• programming
In order to get a corresponding consideration for your money, it is important that you find the right development agency for your project. The right IT partner is the key to the success of your project. Hyperlink InfoSystem can assist you in your mobile app development project.
Develop Excellent Your Mobile App
The costs for an excellent mobile app project can be very different. The prices for an app similar to QuizUp is on average of $6000. First, you need to be aware of the role that your app's plays. The development of an internal organization app can be very inexpensive, for example, as it does not require an individual design and a design template can be used. In general, more money has to be invested in the design of an external app than in that of an internal app. You save the most costs with ready-made app designs. But the idea of saving shouldn't be in the foreground in the design. Creating an appealing design plays a big role in the success of your app. The more appealing the user interface (UI) of a mobile app is for the user, the longer and more intensively they use the app. Even if you have basic knowledge of app development, the development should possibly be left to professional app developers such as Hyperlink InfoSystem.
The Planning Phase of Mobile App Development
A consultation will take place in the first phase of your app project. The first non-binding consultations about the programming costs with an app agency usually do not incur any costs. If you decide on an agency to create your mobile app, a workshop for developing a concept should then be held. In this workshop, the current development status of your app project is recorded and the target functions of your app are defined in the form of a project plan. This has the advantage that you can convey your exact ideas and wishes to the app agency. The more mature your app idea is, the lower the price. In order to save money here, you should have already given as much thought to your app and its implementation as possible. You should already be aware of who will be using the app, what functions it will have and when the project should be completed. It is also important to inform the agency which interfaces to other systems such as a database have to be developed. In the initial phase, it is necessary to determine all important aspects.
"Above page is written for promotional purpose. We do not damage any copyright. We create apps from the scratch only."
Process We Follow
Being a Top development company, the proficient developers of our teams follow a well-organized development process that includes the following steps.
Requirement Gathering
We help clients to gather and analyze the requirements to understand the functionalities to be integrated into the app. This process enables us to draw a development plan and transform the clients' concepts into an efficient and functional app.



UI/UX Design
Our developers use effective UI trends to design apps that are not only pleasing to the eye but also intuitiveness and consistency. We make sure the applications not only satisfy the needs of our clients but are also simple and convenient for the end-users.
Prototype
We develop a preliminary visualization of how the mobile app would look and function. The prototype of the mobile application will give an idea of the look and feel of the app, and we test the users' reactions to the UI and UX designs.



Development
Our team of app developers has a thorough understanding of different programming languages, frameworks, third-party APIs, and more and will develop logic and codes to make your mobile application browsable for your target audience integrating various features and functionalities.



Quality Assurance
Our developers carefully test every app to ensure that they provide an excellent user experience and meet the requirements of our clients. Apps developed by our development team are bug-free because they go through a series of automated and manual testing before deployment.



Deployment
Our app developers follow strict guidelines and best practices of app stores to make your mobile application good to go. The app deployment phase will make sure your mobile applications can meet all the publishing criteria and reach your target audience.



Support Maintenance
All digital solutions need improvement. The deployment of an app is not the final stage. We work with our clients to offer post-deployment maintenance and support to make sure the mobile application always stays bug-free and trendy.



Get Free
Quote

Now !

Got An Idea? Leave A Message To Us And We Will Reach Out To You Soon.