How Much Does An App Like Snapchat Cost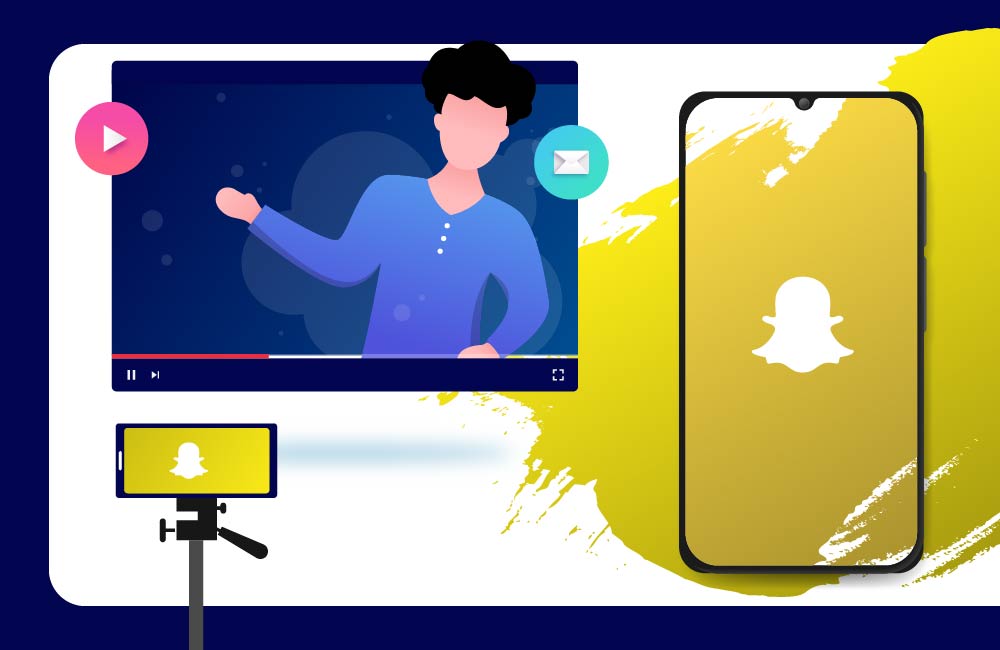 Snapchat has become the favorite application for young people thanks to its multimedia image and video service with augmented reality filters. This social network has gained popularity because it allows its millions of users to share daily moments with other snapchatters.
It has some peculiarities, such as sharing your photos or videos with followers that you previously select, and setting the visibility time of your statuses for a group of followers. In addition, its popular filters for both videos and photos have made it one of the most original social networks that captured the attention of millions of users and brands around the world.
Snapchat Features
Snapchat has been characterized as an entertaining and dynamic platform that has become the favorite of young people between 18 and 23 years old due to its wide variety of filters that makes it unique. In addition, it offers a new platform for brands that help promote their products or services. Here are some of the most outstanding features that Snapchat offer us:
Platform With Ephemeral Content
One of the main features of Snapchat is the short duration of its content. It allows its users to publish their images or videos to a certain number of friends. They can also set the display time. That is, if they set 5 seconds for such an image, it will be seen during those seconds.
Private Communication
Snapchat allows you to set which people you want to see your posts. Compared to other social networks, it allows exclusive and private communication between snapchatters, which differentiates it from other applications.
Graphic And Visual Platform
The app is only enabled to create images and videos that can be edited with its wide variety of filters, stickers, lenses, among others, which allows the app to be more interactive and dynamic.
Interactive Platform
This app has become the favorite of millennials, since it allows users to publish images and videos with different filters with their followers, ensuring that these publications are continuous throughout the day. In addition, you can share content that disappears in 24 hours.
Exclusive Platform
This app allows you to show exclusive or scoop content, since it can be removed within 24 hours, allowing you to create intrigue in cases of a brand intrigue campaign.
Real-time Platform
Snapchat publishes images and videos in 24 hours, and then they disappear without a trace within the app. Therefore, you can find recent and updated content.
Develop Excellent Mobile App Such As Snapchat With Hyperlink InfoSystem
The app was first launched in 2011, and it has generated great expectations among its young audience since then. It has various functions that make it one of the most dynamic social networks in the world. It allows photos, and videos to be shared and you can even have a chat with friends that will automatically disappear in 24 hours.
Snap has exciting functions that it offers its followers. Over time, they have added some that has improved the application:
Upload photos and videos: To share this content, you can select the people you want to see your publications. As for the duration of the video, it should not exceed 10 seconds.
Share Snaps privately or in "My Story": This function allows you to select the people who will show your publications, or place it in a public profile called "My Story" to be shown with all your contacts.
Edit photos: One of the most outstanding functions of this app is to edit your images or videos with filters, stickers, texts, which makes them more striking.
Place Snapchat filters: This app will not limit your creativity, as it has a catalog of filters that will give an original and creative look to your images or videos. You don't just use one because in this app you can use two or three creative filters.
Create geofilters and customize them: If you do not find that a template is to your liking, you can create your own geofilter and select its location, so that other nearby users can see and find your profile.
Edit videos: Editing a video is similar to that of an image, as you will find effects, you can draw freehand, you can add filters and stickers, and text.
Make calls with video and voice: This is a function that few know. Within the app, we can find this service, and talk to your contacts through a video call. When you are in a video call, you can place stickers, and other vignettes, and these can be seen with the other person.
Put stickers on your videos: Well, add figurines to your snaps, and even in the videos you record so that they can accompany the movements.
Put your videos in slow motion or speed them up: If you want to give your videos a special touch, you can use two options: speed up the video or put it in slow motion. So, you can create fun and special content.
Write a text with more than 33 characters: The maximum limit to compose a text and chat with friends is 33 characters. Therefore, you will need Evernote, an app that will allow you to exceed the number of characters on Snapchat.
Classify your contacts: There is a special way to classify your contacts. For this, you can use the emoticons or the option "Friends emojis".
Put your snaps live: You can publish your content of events or events in real time.
Download your own snaps and save them: If you don't want to publish your content, but you don't want to delete it either, Snapchat gives you the option to download and save them on your mobile device.
Hyperlink InfoSystem can help you develop an app similar to Snapchat. Depending on the functionalities, the cost of such app ranges from $5,000 to $15,000.
"Above page is written for promotional purpose. We do not damage any copyright. We create apps from the scratch only."
Process We Follow
Being a Top development company, the proficient developers of our teams follow a well-organized development process that includes the following steps.
Requirement Gathering
We help clients to gather and analyze the requirements to understand the functionalities to be integrated into the app. This process enables us to draw a development plan and transform the clients' concepts into an efficient and functional app.



UI/UX Design
Our developers use effective UI trends to design apps that are not only pleasing to the eye but also intuitiveness and consistency. We make sure the applications not only satisfy the needs of our clients but are also simple and convenient for the end-users.
Prototype
We develop a preliminary visualization of how the mobile app would look and function. The prototype of the mobile application will give an idea of the look and feel of the app, and we test the users' reactions to the UI and UX designs.



Development
Our team of app developers has a thorough understanding of different programming languages, frameworks, third-party APIs, and more and will develop logic and codes to make your mobile application browsable for your target audience integrating various features and functionalities.



Quality Assurance
Our developers carefully test every app to ensure that they provide an excellent user experience and meet the requirements of our clients. Apps developed by our development team are bug-free because they go through a series of automated and manual testing before deployment.



Deployment
Our app developers follow strict guidelines and best practices of app stores to make your mobile application good to go. The app deployment phase will make sure your mobile applications can meet all the publishing criteria and reach your target audience.



Support Maintenance
All digital solutions need improvement. The deployment of an app is not the final stage. We work with our clients to offer post-deployment maintenance and support to make sure the mobile application always stays bug-free and trendy.



Get Free
Quote

Now !

Got An Idea? Leave A Message To Us And We Will Reach Out To You Soon.