How Much Does An App Like Speedtest Cost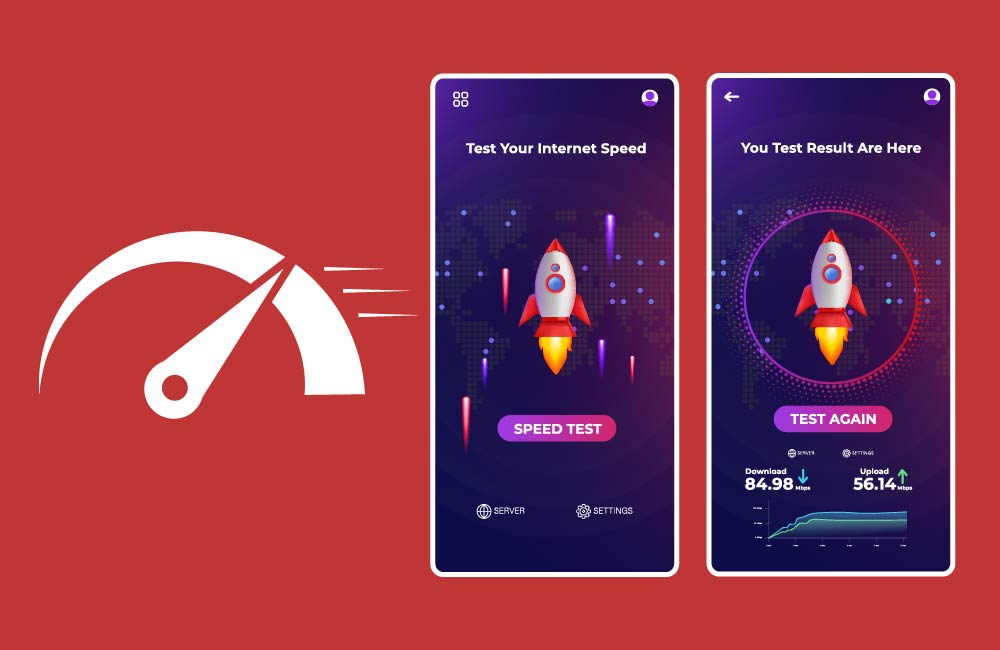 Today, we live in a society where we are continuously connected to the Internet from any type of device, but we do it more and more from mobile elements such as our smartphone or our tablet. Users increasingly require a better connection that is capable of providing us with high speed. Unfortunately, the speed achieved from this type of device is not always the desired one and falls far short of our expectations due to many factors. Knowing the speed that we can reach with our devices at all times can be of great help. Luckily, there are many online tools and installable applications that provide us with this type of information. Hyperlink InfoSystem can assist you with the development of a Speedtest app to measure how fast your internet speed is. The cost of such app is around $6000.
The Application To Measure The Speed of Your Internet Connection
You can check if the speed of your network matches the browsing speed that your contract says with a Speedtest app such as those developed by Hyperlink InfoSystem. Speedtest is a data transmission analysis application that measures the upload and download speed of the network you are connected to, be it Wi-Fi or mobile data.
The download speed is an indicator of the time it takes to transfer data from the Internet to your computer. When you visit a web page, you are basically downloading it. This is the speed that usually appears in the advertising of your company. The bigger the number the better.
Upload speed determines how well data is transferred from your computer to the Internet. When you post photos on Facebook or Instagram, or when you send emails or files in general, you are uploading content. If you feel like your current plan is too slow, a speed test can help you determine your current upload speed and help you determine if you will need a new internet plan.
A Speedtest measures not only the download and upload speed of your internet service but also the latency. Latency measures the immediacy of the connection, that is, the time it takes for our connection to communicate with the IP network. The lower the latency the better.
How Speedtest Work
The application is super intuitive. Once you download it to your mobile phone, tablet or computer, you just have to open it, select what you want to measure and click on "GO".
Once the analysis is finished, Speedtest shows you the speed of uploading and downloading data from the network in megabytes. It also gives you the option to share the result through other applications.
Other Very Useful Functions
Besides the analysis of the speed of the network, Speedtest has other quite interesting and very functional tools.
Coverage Map
If you are thinking of traveling to an area and you doubt the mobile data coverage of your company, Speedtest has this tool that allows you to select the mobile network of your interest (it may be the one you already use or another that operates in the country) to show you the scope of this network in terms of internet transmission through a map.
Real-time App Analysis
It is not uncommon to appear that your internet data got exhausted without using it on your devices. Well, this could be due to apps running in the background and still consuming data. Speedtest has the option "Speedtest Live" that measures in real time the consumption and transmission of data of the active applications in the foreground and in the background on your smartphone.
Features of a Good Speedtest App
Speedtest has versions of the application on different platforms, so that you can check the quality of your connection regardless of the device you are on.
You can download Speedtest for:
Android Smartphones
IOS Smartphones
Tablets
Smart TVs
Google Chrome
Windows computer
iMac Computers
You can see the quality of your connection whether you are at the office, walking on the beach or in your living room watching television.
Reasons To Contact a Top Mobile App Development Agency
Data Protection
We manage the users' data professionally following the guidelines of the different app platforms and the regulations of the government.
Data Backups
We generate a copy of the data taken from our apps and store them elsewhere so that it may be used to restore the original after a data loss event.
Excellent Support
Our clients love us because of the support we offer even after the deployment of our solutions. Our development team support, maintain and improve our solutions.
Dedicated Development Team
Our dedicated development team will work full-time on your project or participate according to your schedule requirements. Our team consists of experts from the areas of project management, front-end and back-end development as well as UI and UX development.
Client-centric Development
We follow a holistic approach towards delivering exceptional services to our clients who seek an excellent web and mobile app development. We develop solutions that are tailored to the needs of each client.
Agile Development
Our Agile methodology is based on a simple principle: planning the entire project down to the smallest detail. Organizing all aspects of our project ensures that we do not just deliver our projects before deadlines, but also, they are well tested.
"Above page is written for promotional purpose. We do not damage any copyright. We create apps from the scratch only."
Process We Follow
Being a Top development company, the proficient developers of our teams follow a well-organized development process that includes the following steps.
Requirement Gathering
We help clients to gather and analyze the requirements to understand the functionalities to be integrated into the app. This process enables us to draw a development plan and transform the clients' concepts into an efficient and functional app.



UI/UX Design
Our developers use effective UI trends to design apps that are not only pleasing to the eye but also intuitiveness and consistency. We make sure the applications not only satisfy the needs of our clients but are also simple and convenient for the end-users.
Prototype
We develop a preliminary visualization of how the mobile app would look and function. The prototype of the mobile application will give an idea of the look and feel of the app, and we test the users' reactions to the UI and UX designs.



Development
Our team of app developers has a thorough understanding of different programming languages, frameworks, third-party APIs, and more and will develop logic and codes to make your mobile application browsable for your target audience integrating various features and functionalities.



Quality Assurance
Our developers carefully test every app to ensure that they provide an excellent user experience and meet the requirements of our clients. Apps developed by our development team are bug-free because they go through a series of automated and manual testing before deployment.



Deployment
Our app developers follow strict guidelines and best practices of app stores to make your mobile application good to go. The app deployment phase will make sure your mobile applications can meet all the publishing criteria and reach your target audience.



Support Maintenance
All digital solutions need improvement. The deployment of an app is not the final stage. We work with our clients to offer post-deployment maintenance and support to make sure the mobile application always stays bug-free and trendy.



Get Free
Quote

Now !

Got An Idea? Leave A Message To Us And We Will Reach Out To You Soon.