How Much Does An App Like Tinder Cost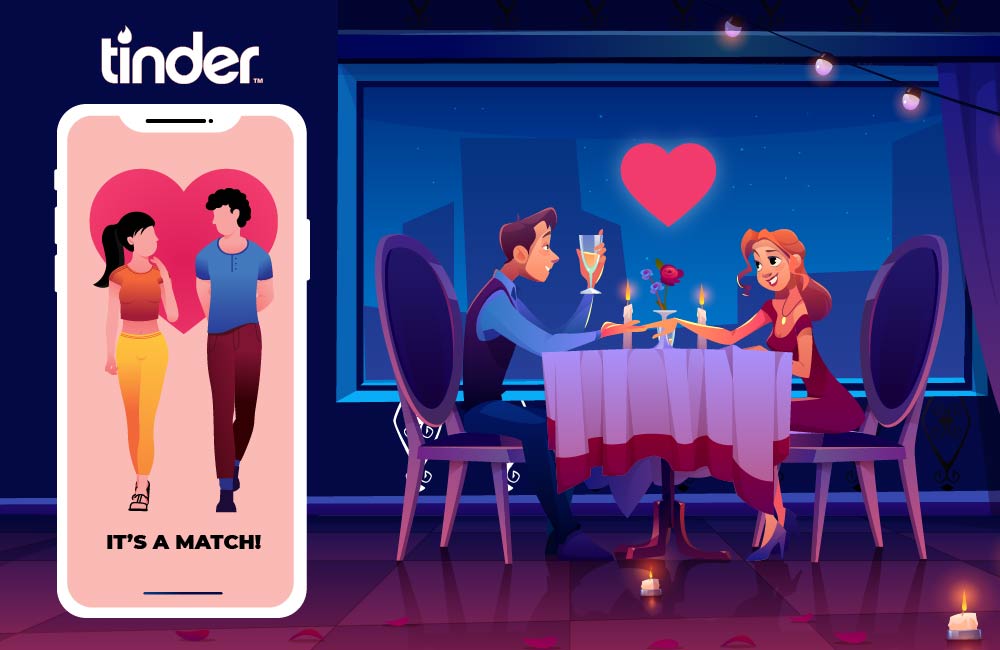 Tinder and Lovoo are the two dating apps that are currently in the first two ranks of the top-selling apps on Android (July 2019). And we're not talking about the most successful dating apps, but about the top-selling apps of all (apart from gaming). In the case of Tinder, that translates into monthly sales of almost $21 million. If that doesn't whet your appetite for the secrets of dating app development, what else can?
Developing an excellent dating app can be achieved by contacting a top mobile app development agency that know what it takes to ensure that such app becomes a success. Mobile app like Tinder costs around $7,000. Here are some of the features that we will integrate into the development of your dating app to make it easier for users to fall in love with it:
Facebook Login
Tinder goes one step further with Facebook login and picks up some relevant data from your Facebook profile in order to feed it into your Tinder profile. The data protection officer is sparking again like a table fireworks display - the user generally finds it very practical not to have to re-enter everything from name to age to the schools visited.
Geolocation
Positioning is one of the easiest finger exercises for any app developer and can be done with little code. The determination of the distance is computationally intensive and a long formula can be easily solved by simply inserting and copying it. From a technical point of view, it is a great benefit provider with comparatively little effort and therefore a must for every serious dating app
Database With Convection
Searching for a partner only works really well if you have many users at the start. Conversely, this also means that you should have the necessary knowledge in the design of databases in order to process large amounts of data and compute-intensive operations. In the case of Tinder, Mongo, DynamoDB and Redis are used here. With these techniques, many thousands of accesses per second can be processed with latency times in the single-digit millisecond range.
Chat
The chat is the next important point when there has been a match. In principle, there are few technical hurdles here. This can be implemented quite efficiently with service workers. The chat also offers good opportunities to get more information about the user. Tinder enables, for example, the "liking" of a post, which again gives a tasty ranking factor.
Push Notifications
There is no dating app without push notifications. It is absolutely essential to use this trigger to keep our hook model running. We want to inform the user of every positive event and thus bring him back into the app. A match is definitely worth a push note. Technically, this can be implemented with Google's Firebase Cloud Messaging (FCM) across operating systems and without great effort.
Reasons For The Digestive Schnapps: Legal And Fake Profiles
It has been a wonderful pleasure so far - now the only thing missing is the schnapps to get the more difficult to digest chunks digested. Here you are:
Fake Profiles
Every dating app has to contend with jokers who set grandmas, private parts or dog as a profile picture. It may be funny to the jokers but not to the other users. You are liable to avoid illegal content as the operator of such a platform. When developing a dating app, it is essential to have a strategy ready on how to deal with such profiles and how to discover them.
Addiction Risk And Dependence
With increasing success, a dating app will come more and more into the focus of various protectors. The privacy advocates come right after the unemployed lawyers who punish imprint "crimes". Shortly afterward you have to deal with heavier guns. Protection of minors is always an issue, which is why dating apps are generally only available from the age of 18.
This might be the reason why Tinder does not explicitly state that more consumption also leads to a better ranking in the app. There are legal dangers lurking here, which only become noticeable if an app is successful.
Pitfall Geolocation
Lovoo recently had some problems because someone came up with the obvious idea that the location of a user can be determined just as accurately by giving a relatively precise distance. All you have to do is change location three times, draw circles around your own location according to the specified distance and you have found the other's location. This is called lateration and is actually old hat. Nevertheless, the dating app has turned it a pretty thick thread. Distance information should therefore be accurate to a maximum of 100m - at least that is the limit with which Lovoo is currently working.
"Above page is written for promotional purpose. We do not damage any copyright. We create apps from the scratch only."
Process We Follow
Being a Top development company, the proficient developers of our teams follow a well-organized development process that includes the following steps.
Requirement Gathering
We help clients to gather and analyze the requirements to understand the functionalities to be integrated into the app. This process enables us to draw a development plan and transform the clients' concepts into an efficient and functional app.



UI/UX Design
Our developers use effective UI trends to design apps that are not only pleasing to the eye but also intuitiveness and consistency. We make sure the applications not only satisfy the needs of our clients but are also simple and convenient for the end-users.
Prototype
We develop a preliminary visualization of how the mobile app would look and function. The prototype of the mobile application will give an idea of the look and feel of the app, and we test the users' reactions to the UI and UX designs.



Development
Our team of app developers has a thorough understanding of different programming languages, frameworks, third-party APIs, and more and will develop logic and codes to make your mobile application browsable for your target audience integrating various features and functionalities.



Quality Assurance
Our developers carefully test every app to ensure that they provide an excellent user experience and meet the requirements of our clients. Apps developed by our development team are bug-free because they go through a series of automated and manual testing before deployment.



Deployment
Our app developers follow strict guidelines and best practices of app stores to make your mobile application good to go. The app deployment phase will make sure your mobile applications can meet all the publishing criteria and reach your target audience.



Support Maintenance
All digital solutions need improvement. The deployment of an app is not the final stage. We work with our clients to offer post-deployment maintenance and support to make sure the mobile application always stays bug-free and trendy.



Get Free
Quote

Now !

Got An Idea? Leave A Message To Us And We Will Reach Out To You Soon.