How Much Does It Cost To Develop An App Like Vigo Video?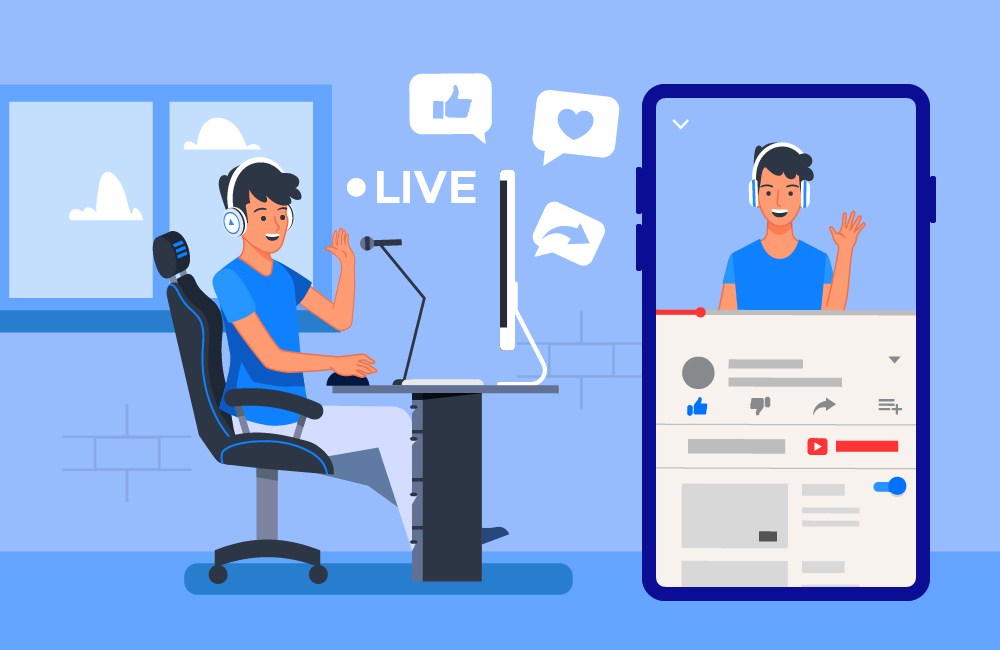 Vigo video is a social networking platform that works in a similar way to TikTok. It has similar interface to TikTok and let its users to post videos on the platform.
The main feature of Vigo Video is the fact that it is focused on music videos, which is why it has video editing tools and filters that can be used by users to create original content.
Vigo Video is an application created for Android and iOS mobile devices, so it allows you to make use of the front and side cameras of the equipment to capture video and upload it directly to the platform.
As a social phenomenon, Vigo Video has become a mass-reach social network that has gained popularity significantly around the world.
What Is It For?
Being a social network focused on users being able to share multimedia content through it. Vigo Video is used to create, edit and share videos of all kinds, with special emphasis on musical and fun video clips.
In the same way, being a platform that allows the interaction of users from all over the world, it works as a tool to meet people, socialize and publicize any type of content, so it can be versatile and useful for countless of things.
Despite all the above, the trend of use and the tools that have been added to the application make it a source of entertainment for users, since it makes it especially easy to create memes from video and audio extracts that they can get within the same platform.
How It Works
Vigo Video works in a similar way to many other current social networks, such as Facebook or Instagram. So, when entering, it offers a main screen or "Home" where it is possible to see the recent publications of the contacts that the user follows, as well as those viral videos that have become a trend. To navigate between all these publications, just scroll (slide) the screen vertically in the same way as in other applications of this type.
Vigo Video offers a search tab, which allows you to explore and find the account of specific users, particular videos or "hashtags" that have become a trend. Likewise, it takes advantage of the typical functions of commenting, reacting and sharing, something that allows interaction and dynamism between users and the videos that are shared on the network.
Regarding the creation of content, Vigo Video works as a fairly complete and intuitive video editor to use, thus having all kinds of filters and special effects that allow you to alter the recorded videos before being shared within the network.
Below Are The Most Significant Vigo Video Features:
It allows you to create short videos of up to 1 minute by adding musical elements, filters and special effects.
It is a social network that allows you to create personal and professional profiles, so that a user can add a personal message to their profile, add personal information and choose a profile photo.
It has an artificial intelligence system that analyzes the personal interests of each user and, consequently, shows them content related to their affinities.
It offers interaction tools, thus providing the possibility to comment on videos created by other users, react to said content and share it.
It has a security configuration panel, where a user is able to block or limit who can access the shared content through their account.
It has an integrated platform to chat with other users.
The way in which the network of contacts is managed works in a similar way to Twitter or Instagram, that is, by means of "Followers" and "Following".
It can be used for both recreational, commercial and advertising purposes.
Vigo Video allows you to create polls and open polls so that followers can participate.
To create an account on Vigo Video you can use a Facebook account, a phone number, email, Twitter, and Instagram.
Advantages
Like any social network, Vigo Video has become a worldwide success due to all the advantages it offers to its users. Here, we detail what they are:
It is a free social network, so anyone can have an account and access all its features by simply downloading the application and creating a profile, something for which it is not necessary to pay.
It has a number of users that exceeds 500 million (2018 figures), making it an ideal platform to interact with other people or launch advertising campaigns.
It has an intuitive, easy-to-use and extremely versatile video editor.
It is supported in more than 150 countries, so it is accessible to almost everyone.
Being one of the most popular platforms of the moment, it receives constant improvements that provide greater security to users, as well as new functionalities.
It has an intuitive and comfortable interface that can be used by all types of users.
It is an advertising-free social network, something that could bother and annoy many users.
It is backed by a large amount of musical content, filters and other audiovisual elements that can be used by users to create their own videos.
Hyperlink InfoSystem can help you with an app similar to Vigo Video app. The cost of such an app is around $10,000 depending on the features to be included.
"Above page is written for promotional purpose. We do not damage any copyright. We create apps from the scratch only."
Process We Follow
Being a Top development company, the proficient developers of our teams follow a well-organized development process that includes the following steps.
Requirement Gathering
We help clients to gather and analyze the requirements to understand the functionalities to be integrated into the app. This process enables us to draw a development plan and transform the clients' concepts into an efficient and functional app.



UI/UX Design
Our developers use effective UI trends to design apps that are not only pleasing to the eye but also intuitiveness and consistency. We make sure the applications not only satisfy the needs of our clients but are also simple and convenient for the end-users.
Prototype
We develop a preliminary visualization of how the mobile app would look and function. The prototype of the mobile application will give an idea of the look and feel of the app, and we test the users' reactions to the UI and UX designs.



Development
Our team of app developers has a thorough understanding of different programming languages, frameworks, third-party APIs, and more and will develop logic and codes to make your mobile application browsable for your target audience integrating various features and functionalities.



Quality Assurance
Our developers carefully test every app to ensure that they provide an excellent user experience and meet the requirements of our clients. Apps developed by our development team are bug-free because they go through a series of automated and manual testing before deployment.



Deployment
Our app developers follow strict guidelines and best practices of app stores to make your mobile application good to go. The app deployment phase will make sure your mobile applications can meet all the publishing criteria and reach your target audience.



Support Maintenance
All digital solutions need improvement. The deployment of an app is not the final stage. We work with our clients to offer post-deployment maintenance and support to make sure the mobile application always stays bug-free and trendy.



Get Free
Quote

Now !

Got An Idea? Leave A Message To Us And We Will Reach Out To You Soon.