How Much Does It Cost To Develop An App Like WeChat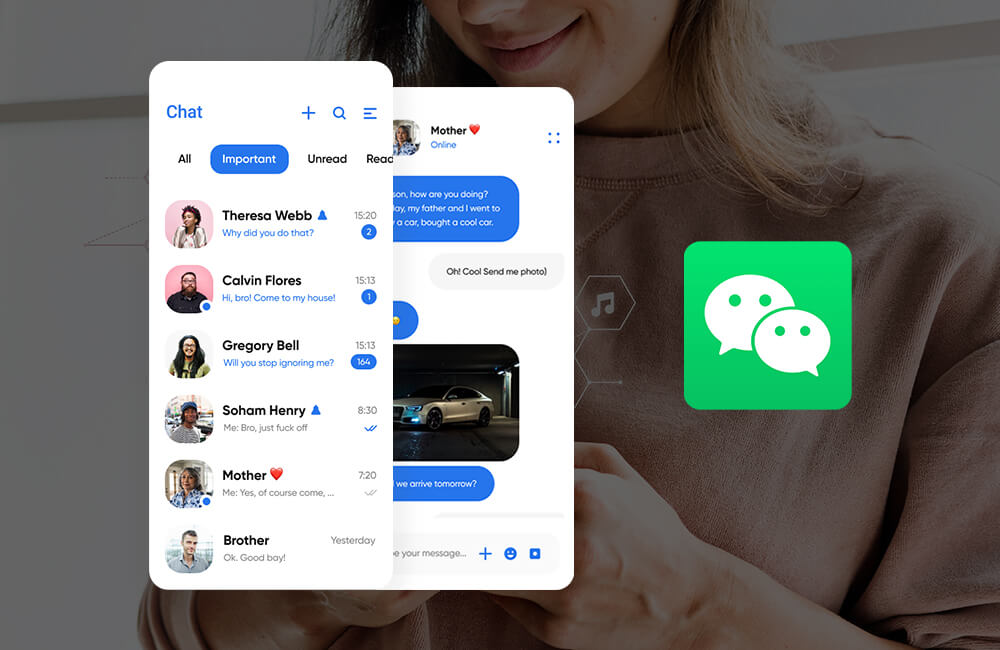 If we want to use WeChat as a productivity and internal organization tool, the first thing we will have to do is create a business account. This type of account requires both the follower and the account to approve each other. Among its functions, we highlight the following:
Task manager to organize work within the company.
Business calendar.
Communication by groups or departments. Content sent by a business account on WeChat cannot be shared with unauthorized users, so they are perfect for internal company newsletters.
WeChat For Marketing
If what we want is to communicate with the public, we will have to use another type of business WeChat account: subscription accounts or service accounts.
The subscription accounts are intended primarily for communication and allow you to send up to 1 day push message to the followers. These messages are grouped in a special folder, which appears next to the messages of friends in the chat.
Service accounts are more visible as they appear directly as friends in the chat section. Additionally, they offer additional features such as WeChat access, WeChat payment, and geolocation. Their big drawback is that they only allow you to send 4 messages a month.
In addition to creating an official account, companies can also make use of the mini programs to offer extra functionalities to users.
Marketplace
Companies located in Chinese territory can create a profile in WeChat Stores to upload and promote their items and services. It is a kind of Amazon integrated within WeChat itself.
The WeChat Marketplace allows secure and professional transactions, as we would in any online store. Companies can manage their products and orders or even answer customer complaints.
In addition to using WeChat's own Marketplace, we also have the option of using this platform to redirect users to our own online store.
Essential WeChat Features
WeChat not only has a lot of users, but they also spend a lot of time on it. The average is 66 minutes a day, and 34% spend more than 4 hours a day, according to a TechNode report. But what are the reasons for this success?
Integration of Multiple Features
WeChat offers the functions of a lot of different applications, so it has many ways to integrate itself into daily routines. In addition, China is a country with a high penetration of smartphones, which manufactures more phones than any other country worldwide and in which about half of the sales are already made through mobile phones.
The Functionalities For Businesses
According to a report by TechNode (Official TechCrunch Partner in Asia), 80% of WeChat users use it for work issues. 90% of small business owners use WeChat for their operations, and 70% of freelancers use it for transactions. Its success reaches such an extent that it is even replacing work emails.
Payment Via Mobile
WeChat Pay is a very well-designed feature that is well received by its users. It allows making transactions through QR codes and in different currencies. In addition, it not only offers the possibility to pay in stores, but also to send the "red envelopes" that are offered as gifts in China on special occasions.
The Mini Programs
The mini-program functionality allows WeChat to become an excellent application which users can customize by adding the functionalities that interest them most.
Verified Accounts For Brands
In China, many startups start their digital presence with WeChat and only later launch their own website or app. The advantage is that WeChat offers a very low cost of entry, makes it possible to grow through word of mouth and also allows you to integrate ecommerce stores.
And better is that WeChat not only triumphs among users, but also among advertisers. Thanks to its high utilization rate and multiple functionalities, it has managed to accumulate a lot of data about its users: what they do, see, read, buy, where they go, who they are with and being able to run ad campaigns that hit the spot.
Reasons To Consider WeChat
WeChat is a very popular instant messaging service today. It has over a billion active users and its direct competition is Line, which already over 400 million people using the service. The company that owns WeChat is Tencent. The main market for WeChat is China whereas Japan, Taiwan and Southeast Asia are for Line. It is one of the best services for the number of positive features it has. It is at the height of competing with WhatsApp, Hangouts, Telegram or BBM. It can even be said that it is a matter of taste to think if it is the best or not. Now, we are going to start talking about the advantages of this instant messaging service, WeChat. It has an overall rating of 4.2 out of 5 points In the Play Store. Lately it is having an excellent impact due to the good functionality that the application is having.
As you can see, there are lots of benefits offered by a well-structured multipurpose app. Our developers at Hyperlink InfoSystem can assist you with the development of an app similar to WeChat. The development cost of such app is around $15,000.
"Above page is written for promotional purpose. We do not damage any copyright. We create apps from the scratch only."
Process We Follow
Being a Top development company, the proficient developers of our teams follow a well-organized development process that includes the following steps.
Requirement Gathering
We help clients to gather and analyze the requirements to understand the functionalities to be integrated into the app. This process enables us to draw a development plan and transform the clients' concepts into an efficient and functional app.



UI/UX Design
Our developers use effective UI trends to design apps that are not only pleasing to the eye but also intuitiveness and consistency. We make sure the applications not only satisfy the needs of our clients but are also simple and convenient for the end-users.
Prototype
We develop a preliminary visualization of how the mobile app would look and function. The prototype of the mobile application will give an idea of the look and feel of the app, and we test the users' reactions to the UI and UX designs.



Development
Our team of app developers has a thorough understanding of different programming languages, frameworks, third-party APIs, and more and will develop logic and codes to make your mobile application browsable for your target audience integrating various features and functionalities.



Quality Assurance
Our developers carefully test every app to ensure that they provide an excellent user experience and meet the requirements of our clients. Apps developed by our development team are bug-free because they go through a series of automated and manual testing before deployment.



Deployment
Our app developers follow strict guidelines and best practices of app stores to make your mobile application good to go. The app deployment phase will make sure your mobile applications can meet all the publishing criteria and reach your target audience.



Support Maintenance
All digital solutions need improvement. The deployment of an app is not the final stage. We work with our clients to offer post-deployment maintenance and support to make sure the mobile application always stays bug-free and trendy.



Get Free
Quote

Now !

Got An Idea? Leave A Message To Us And We Will Reach Out To You Soon.