How Much Does An App Like Yelp Cost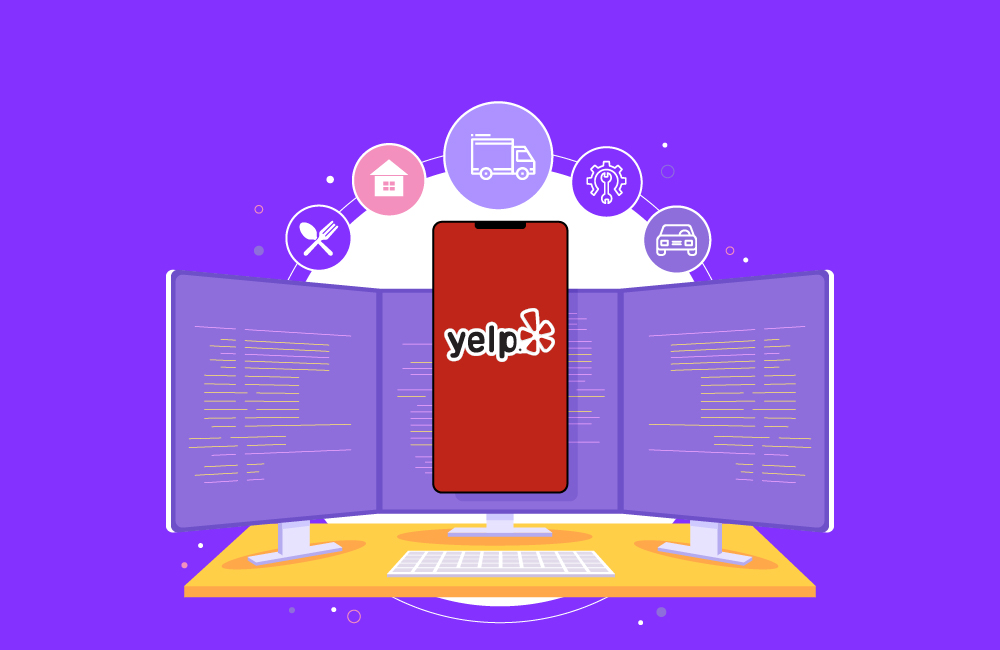 There is nothing more satisfactory than a good opinion from our customers when we sell a product or service. Consumers feed on the reviews of other people who have tried the product or service before to make the decision of whether to choose to buy your product or buy it from the competition.
Platforms such as Yelp are ideal both for users to give their opinion about companies and for the companies to work on the image they want to give their customers.
What is Yelp?
Yelp is a platform, a kind of social network, in which users enter to review and value their experience in any type of store, restaurant, etc. The real value of Yelp is in its reviews and comments, in which anyone who belongs to this community can leave their impressions about an establishment, giving it a rating.
Being able to rate the places we visit allows the application to show the best rated places in the locality where we are or are going to visit. From a bar to a hairdresser can be rated in Yelp whose main value is to promote local commerce and that visitors themselves are in charge of recommending these places according to their experience. It should be noted that Yelp has enormous importance and use.
What is Yelp For?
This platform can be very useful for the user since he himself can help future clients who come to the application in search of a business and their opinions about it.
Find Sites of Interest
Imagine that you are on vacation and you do not know where to go for dinner tonight or that you are in an unknown location and your car has broken down, having to find a repair place.
For all this, the solution is Yelp since you can find all types of businesses in its search engine. We cannot forget that the comments of users who have already been there and have left their review. In this way we can go to a new establishment that we have never been to but with total confidence since perhaps hundreds or thousands of people have written positively about it.
Post Reviews
With your reviews, you will not only be helping other users by recommending a place or not, but you are also adding value to the business. It costs nothing to leave a positive review if you have had a good experience and the treatment from the people who have served you has been good.
It will be positive for other users to enjoy a good experience like yours, and we will help the business to grow and improve, in addition to giving it some visibility.
Advantages of Yelp For Users
Yelp is a platform that will empower users more than companies as they will seek to protect consumer opinion. Any user can include a business in the Yelp archives and then review it. Maybe you have had a very good experience in a place that you want to share but when you are going to do it, that place is not on the list. No problem, because you can include it yourself and then make your assessment.
This review can be accompanied by photos, descriptions and ratings of the experience from 1 to 5 stars. On the other hand, you should know that the same user can value the same business more than once.
This is done to compare the opinions of the same person and of the same place, being able to attend to variables such as festive or summer periods in which the influx of people is large and the attention can be diminished by having more public.
Yelp also sets its own limits and preferences. Proof of this is its rating system, as the Yelp team evaluates user opinions and rates them as relevant or not relevant according to their criteria.
Advantages of Yelp For Companies
If you are a company, it is best to have a presence on Yelp since even if you don't want to, your business may already appear on your website because any user has inserted it to prepare a review.
Since the presence can be given, whether we want to or not, it is best that we are active in this social network to manage the profile of our business and manage criticism and reviews.
Manage Your Business in YELP
Although many of the reviews will be positive, the truth is that nobody like you is going to take care of your business. That is why managing the company profile, adding quality photographs, links to your website or updating information of interest such as hours or location is of vital importance.
Gain Visibility
Take advantage of every showcase you find to advertise your business and get visibility. Appear in Yelp, that users have the possibility to locate you on a map and find you by geolocation.
Connect With Customers
Yelp is also important because it can create feedback between the user and the business owner. You can contact them, learn from their experience and correct errors and mistakes that you may have made at some point with that user.
If you are a client or company, you should consider this kind of social network called Yelp in which its main value is the reviews that users contribute and that can help local businesses to boost the status. Top mobile app development agency such as Hyperlink InfoSystem can assist you in the development of an excellent app such as Yelp. Such app costs around $5000 to $12000.
"Above page is written for promotional purpose. We do not damage any copyright. We create apps from the scratch only."
Process We Follow
Being a Top development company, the proficient developers of our teams follow a well-organized development process that includes the following steps.
Requirement Gathering
We help clients to gather and analyze the requirements to understand the functionalities to be integrated into the app. This process enables us to draw a development plan and transform the clients' concepts into an efficient and functional app.



UI/UX Design
Our developers use effective UI trends to design apps that are not only pleasing to the eye but also intuitiveness and consistency. We make sure the applications not only satisfy the needs of our clients but are also simple and convenient for the end-users.
Prototype
We develop a preliminary visualization of how the mobile app would look and function. The prototype of the mobile application will give an idea of the look and feel of the app, and we test the users' reactions to the UI and UX designs.



Development
Our team of app developers has a thorough understanding of different programming languages, frameworks, third-party APIs, and more and will develop logic and codes to make your mobile application browsable for your target audience integrating various features and functionalities.



Quality Assurance
Our developers carefully test every app to ensure that they provide an excellent user experience and meet the requirements of our clients. Apps developed by our development team are bug-free because they go through a series of automated and manual testing before deployment.



Deployment
Our app developers follow strict guidelines and best practices of app stores to make your mobile application good to go. The app deployment phase will make sure your mobile applications can meet all the publishing criteria and reach your target audience.



Support Maintenance
All digital solutions need improvement. The deployment of an app is not the final stage. We work with our clients to offer post-deployment maintenance and support to make sure the mobile application always stays bug-free and trendy.



Get Free
Quote

Now !

Got An Idea? Leave A Message To Us And We Will Reach Out To You Soon.