How Much Does It Cost To Develop An App Like ZOOM?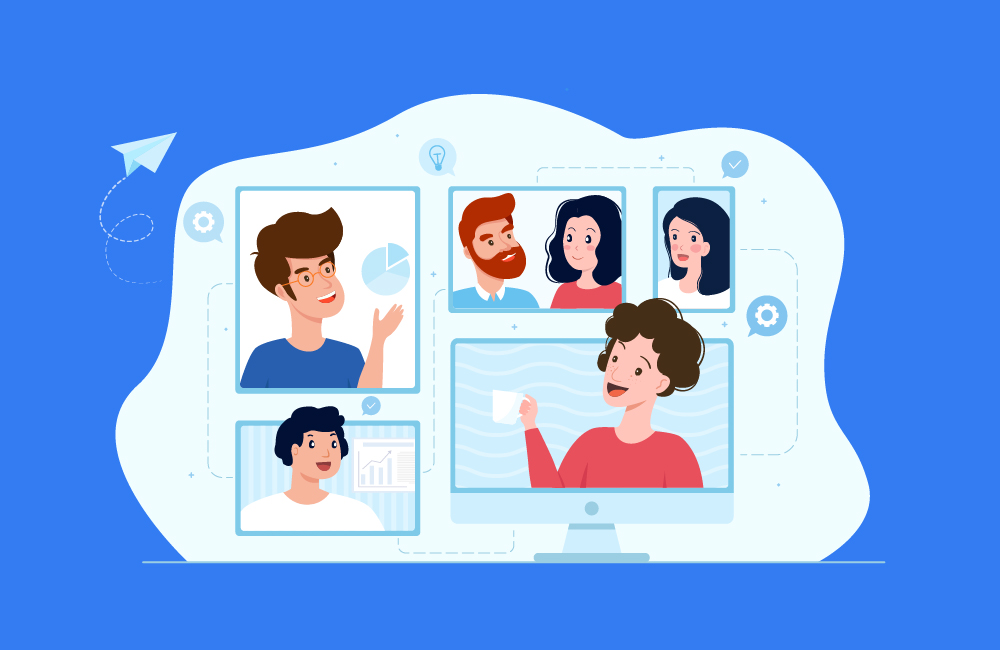 The Zoom solution is the number one videoconferencing and online conferencing service. This uses Google codecs that consume very little bandwidth to ensure fluidity and performance during your meetings with your employees. Among other things, it allows you to set up online meetings, start video webinars, create a conference room and provide instant messaging (IM).
In meetings, it enables 100 participants to be reached by video or 1,000 non-speaker participants.
A Complete Professional Video Conferencing Application
Our professional videoconferencing solution meets the requirements of Unified Communications which have spawned new uses: mobility, fixed and mobile convergence, collaboration, instant messaging and videoconferencing
Thanks to Zoom value proposition, it is highly acclaimed by professionals and did not take long to overtake its competitors, who have been leaders in the market for several years. This very complete professional video conference application includes more than fifteen features thus offering an optimal quality of service which is perfectly suited to the new expectations of the professional world.
The Benefits of Videoconferencing For Businesses
HD: Sharing HD content for a better user experience.
High quality material: benefit from equipment such as HD cameras and monitors network operator.
All network: sharing via all networks including 4G and WIFI.
Low bandwidth: very low bandwidth solution
Simple interface: facilitate adoption with an is interface
Multi-media: available on all mobile devices
Is Zoom Safe?
Zoom collects your contact information, the devices used and metadata, such as the duration of the sessions, the number of participants and the names and emails of those who sign up. Zoom ensures not to sell its databases to third parties.
But the matter is about the video recordings that are stored on Zoom's servers, apparently they are not protected. The platform already had problems with the security and privacy of users. Hackers managed to gain access to users' cameras and several other vulnerabilities.
To enter a session that does not need a password, you risk that anyone who can enter. This is what we call Zoom-Bombing. You break into a meeting and share pornographic or violent materials until you get kicked out.
If you connect with Facebook, the social network will have the data of the participants in sessions and, thanks to a program developed by Facebook for Zoom, you will have access to the data of the users, whether they are connected or not. Zoom promises to erase those lines of code.
All the applications that have access to your video camera are problematic at the security level, but even so, these disadvantages will not prevent us from continuing to use Zoom for a long time.
Develop Excellent Mobile App For Individuals And Businesses
Enterprise App Development For Large Companies
Individual and tailor-made enterprise apps for companies offer the advantage of simple and precise integration into existing systems. The function exactly as envisioned offers maximum user acceptance and ensures a competitive advantage.
Innovative App Development For AI And Machine Learning Projects
Looking for experts in AI and machine learning app development? We were able to prove our innovative know-how in this area in numerous cases and, with the help of app development, carry out the transformation of analog processes through process automation for our customers.
Efficient And Robust App Development For Large Numbers of Users, Peak Loads And Reliability
We have proven that our systems can handle an infinite number of users. During the conception phase, we advise individually on the requirements of the app project and choose the backend system that suits the requirements. Whether single server instances, scalable cloud systems or the use of Amazon web services, we can prove expertise in all areas.
Functionalities And Characteristics of Native Applications At Hyperlink InfoSystem
Access To The Platform
Native applications take advantage of functionality at a level that hybrid applications cannot. Native apps also have the advantage that they allow the use of the advanced functions of each platform and also take advantage of the graphics processors.
Native applications do not usually use plugins, this is beneficial for their development since their creation times are shortened. Usability and flexibility will always be superior in native applications over hybrid applications.
Performance
Native applications provide smooth scrolling, advanced animations, and lists with complex transitions, and they tend to consume less memory than hybrid applications.
Another aspect to bear in mind is that system services are not supported in hybrid applications and background tasks are limited to the network.
Other Advantages of Native Apps
Native applications allow the development for other devices such as television or wearables.
The security level is higher than that of hybrid applications, since the use of JavaScript and plugins in hybrid applications are more likely to be attacked.
The battery life is longer, the code has a higher degree of optimization, the use of the different CPU / GPU cores is better, and fewer layers of software are required for execution.
Native applications allow the use of native accessibility functions.
The development environment of native apps allows the design of the UI through drop and drag tools.
The analytics libraries have SDKs that are optimized for iOS and Android.
When it comes to developing hybrid apps, we have IDEs such as WebStorm (paid) or Visual Studio (depending on versions), as well as "Integrated development environment" tools.
Screen navigations and crash executions can be sent to the cloud in the background, thus hiding complexities from the programmer.
Hyperlink InfoSystem can assist you with the development of mobile app similar to ZOOM. The cost of similar video conferencing app is usually around $12,000.
"Above page is written for promotional purpose. We do not damage any copyright. We create apps from the scratch only."
Process We Follow
Being a Top development company, the proficient developers of our teams follow a well-organized development process that includes the following steps.
Requirement Gathering
We help clients to gather and analyze the requirements to understand the functionalities to be integrated into the app. This process enables us to draw a development plan and transform the clients' concepts into an efficient and functional app.



UI/UX Design
Our developers use effective UI trends to design apps that are not only pleasing to the eye but also intuitiveness and consistency. We make sure the applications not only satisfy the needs of our clients but are also simple and convenient for the end-users.
Prototype
We develop a preliminary visualization of how the mobile app would look and function. The prototype of the mobile application will give an idea of the look and feel of the app, and we test the users' reactions to the UI and UX designs.



Development
Our team of app developers has a thorough understanding of different programming languages, frameworks, third-party APIs, and more and will develop logic and codes to make your mobile application browsable for your target audience integrating various features and functionalities.



Quality Assurance
Our developers carefully test every app to ensure that they provide an excellent user experience and meet the requirements of our clients. Apps developed by our development team are bug-free because they go through a series of automated and manual testing before deployment.



Deployment
Our app developers follow strict guidelines and best practices of app stores to make your mobile application good to go. The app deployment phase will make sure your mobile applications can meet all the publishing criteria and reach your target audience.



Support Maintenance
All digital solutions need improvement. The deployment of an app is not the final stage. We work with our clients to offer post-deployment maintenance and support to make sure the mobile application always stays bug-free and trendy.



Get Free
Quote

Now !

Got An Idea? Leave A Message To Us And We Will Reach Out To You Soon.