How Much Does An E-Commerce App Cost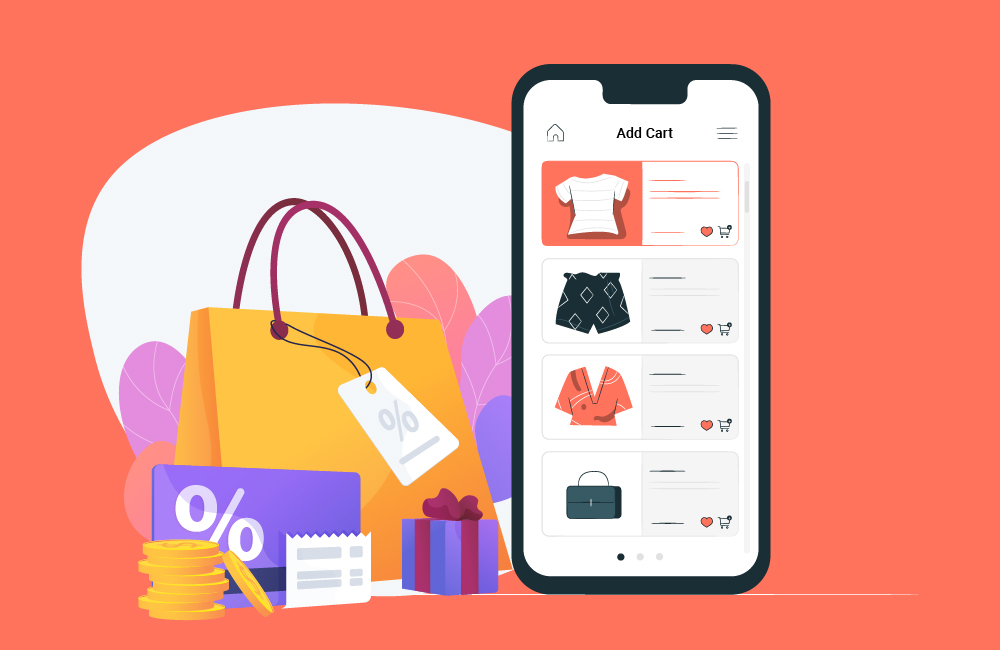 The world of mobile applications continues to gain momentum and more companies are betting on the development of their own app to reach users. The online buyer seeks easy access to product and purchase information through mobile channels, which is an intuitive and simple site or mobile app to get to what they are looking for. In this sense, apps make our life easier. They allow us to optimize our schedule, create shopping lists, offer entertainment or even help at work. Consumers associate apps with productivity and prefer them to websites because they offer a better user experience.
With Hyperlink InfoSystem, you benefit from an advantageous service for creating a mobile application with all the features you want and at a fair price. The agency also supports you during all the stages of your digital communication project through the referencing of your application. The development cost of an ecommerce app is between $10,000 and $15,000.
Advantages That Mobile App Offers
The fact that someone downloads your app and has it saved on his smartphone or tablet provides a degree of loyalty. It means that the next time he has to make a purchase, there is a better chance that he will do so through an app that has already been downloaded.
The apps allow you to take advantage of the features incorporated into the phones. Geolocation allows determining the location of users and showing the closest distributor of your products or your closest physical store, thereby, increasing the possibilities of sale. It also allows you to use the phone's microphone to make it easier to search for items. Don't forget to incorporate this option when developing an app for your online store.
Notifications: apps allow the sending of notifications to smartphones with offers, new releases, etc. These notifications should not be abused, so as not to be invasive, but at certain times it can be a good marketing tool.
Possibility of use without an Internet connection: many applications, once downloaded, allow you to browse them without having to be connected to the Internet. Although the final purchase cannot be made, at least, they do serve as a showcase at any time of the day.
Exclusive functionalities for mobiles: being developed exclusively for these devices, the apps allow exclusive functionalities for the mobile channel, which makes the user experience much more personalized and satisfactory.
Greater speed: once we download the app and install it on our mobile device, the speed of use will be higher, since it will not depend on the Internet connection of the place where we are but on the processor power of our own mobile.
Benefits Of Ecommerce Platform
Complete Mapping Of The Range Of Goods Possible
Another e-commerce advantage results from the quantity of goods that can be presented. A stationary shop usually follows a well-thought-out concept according to which the products are displayed. If the range is expanded, not only does the concept have to be reconsidered, but the capacity of the store must also be taken into account: in other words, how many products can you present in total? This is easy to do in the online shop by adding additional categories. You can also easily create a suitable landing page to advertise new products.
E-commerce Is Measurable
With an online shop, the reach and impact of marketing campaigns for retailers can be measured and recorded. The success of marketing campaigns can be analyzed much better with the data acquired online. With marketing activities across different channels, you can also significantly increase the reach of promotions. You can also make customer satisfaction measurable. For example, customer ratings can be obtained within the framework of orders. These interactions give concrete insights into customer requirements and create a database on which you can make optimizations.
Good Online Shops Are Informative
With an online shop, you can transparently inform customers about the respective item with precise product descriptions. It is not just about the general key data such as size and price, but also about providing additional information such as quality and manufacturing process.
Fast And Independent Of Shop Opening Times
E-commerce primarily addresses today's fast-paced pace and aims to enable customers to make purchases in a timely manner even outside of the store's opening hours. In an online shop, customers can purchase the desired products around the clock and at very short notice. With matching shipping offers, your customers will receive some of the goods delivered to their home within a few days. In this way, you can also reach customers who, due to their own obligations, are not able to shop during normal opening times.
E-commerce Increases Efficiency
Of course, this also means that the sales processes are accelerated. In an online shop, easy user guidance can be implemented with an optimized ordering process. Your customers can make purchases in just a few clicks. If the process is also accompanied by automated processes that independently forward the relevant information to third-party systems such as logistics, the resources required are reduced. This allows your employees to concentrate more specifically on tasks such as customer service. At the same time, your business is able to process more orders overall.
Online Shopping Is Convenient For Customers
From the customer's point of view, online shopping is often associated with increasing convenience. Instead of searching through different stores for comparable offers, an e-commerce offer enables your customers to shop from home undisturbed. In an online shop you can browse your range for the right product without your customers having to travel long distances.
Provide More Offers In Customer Service
An online shop can offer a wide range of customer service, which your customers can use to find prompt solutions to important questions. More general inquiries can be clarified via FAQs, via service pages or directly using a chatbot, and email notification and a 24-hour service hotline can be provided for personal contact as well as individual inquiries. Of course, these measures must be closely adapted to customer needs and are aimed at high customer satisfaction in order to turn one-time buyers into returning customers.
"Above page is written for promotional purpose. We do not damage any copyright. We create apps from the scratch only."
Process We Follow
Being a Top development company, the proficient developers of our teams follow a well-organized development process that includes the following steps.
Requirement Gathering
We help clients to gather and analyze the requirements to understand the functionalities to be integrated into the app. This process enables us to draw a development plan and transform the clients' concepts into an efficient and functional app.



UI/UX Design
Our developers use effective UI trends to design apps that are not only pleasing to the eye but also intuitiveness and consistency. We make sure the applications not only satisfy the needs of our clients but are also simple and convenient for the end-users.
Prototype
We develop a preliminary visualization of how the mobile app would look and function. The prototype of the mobile application will give an idea of the look and feel of the app, and we test the users' reactions to the UI and UX designs.



Development
Our team of app developers has a thorough understanding of different programming languages, frameworks, third-party APIs, and more and will develop logic and codes to make your mobile application browsable for your target audience integrating various features and functionalities.



Quality Assurance
Our developers carefully test every app to ensure that they provide an excellent user experience and meet the requirements of our clients. Apps developed by our development team are bug-free because they go through a series of automated and manual testing before deployment.



Deployment
Our app developers follow strict guidelines and best practices of app stores to make your mobile application good to go. The app deployment phase will make sure your mobile applications can meet all the publishing criteria and reach your target audience.



Support Maintenance
All digital solutions need improvement. The deployment of an app is not the final stage. We work with our clients to offer post-deployment maintenance and support to make sure the mobile application always stays bug-free and trendy.



Get Free
Quote

Now !

Got An Idea? Leave A Message To Us And We Will Reach Out To You Soon.