Tours & Travel Solutions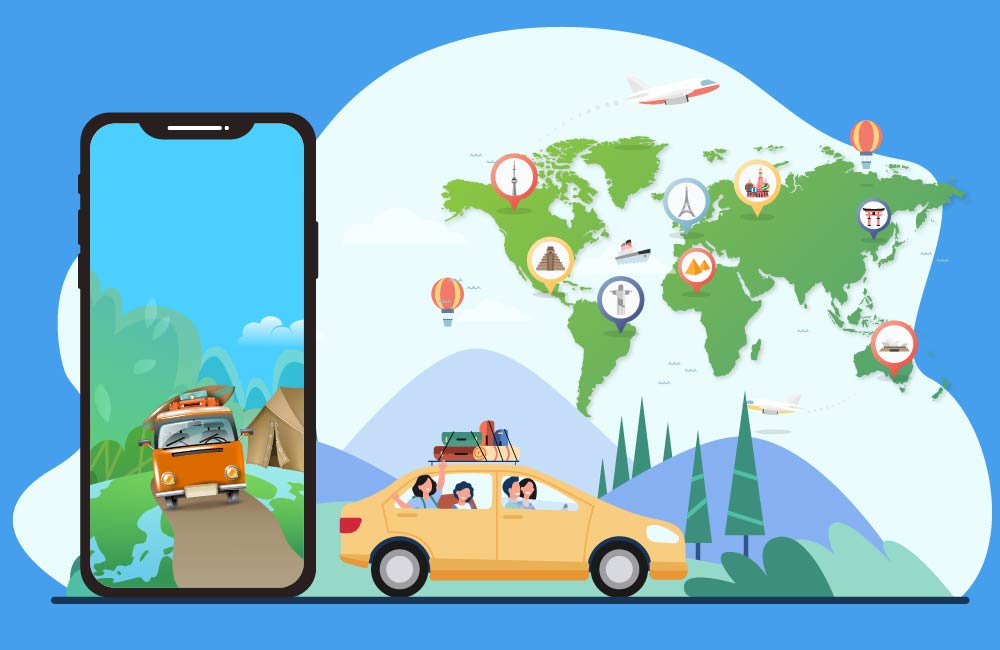 When we talk about mobile applications for the organization of tourist trips, we refer to a support tool that facilitates this management for the user. This must have a series of features to be the ideal tool and a real solution for tours and travel.
Anyone who has downloaded a travel app at some point knows that it is difficult to find one that offers a complete and comprehensive solution in terms of planning. However, the advantages of relying on a travel app are many and it can be an efficient way to plan a trip without mishap and can even get the user out of trouble to organize something "in extremis".
Impact Of Travel Apps On The Tourism Market
A while ago, organizing a trip was a complicated task since there was not much support to solve the questions that usually arise when planning a tourist trip.
These questions range from the place of lodging, flight, prices, tourist attractions, means of transport, restaurants, shops, among others. In view of this need, the Internet began to offer a solution to travelers from all over the world. Different websites began to provide important information to facilitate the management of organizing a trip.
Later, with the constant technological advances focused on giving a hand to the tourist mass, applications for mobile devices of great utility began to be seen. Some better than others, but most represent a great option to manage this complex process quickly and without much protocol.
The best travel app is the one that answers the aforementioned questions and which, in turn, offers interesting data to the user to encourage them to make the best decision. Pros and cons of each place, in a sincere and judicious way, in addition to the essential information that you must provide.
As might be expected, it is not easy to find an app that offers comprehensive solutions for travelers, but it is important to note that one of the pioneering companies in the development of applications focused on tourism is Hyperlink InfoSystem. We have developed excellent tours and travel app that will organize the perfect trip. We continue to evolve to meet the ever-increasing expectations of our app users. So, it is only a matter of time before the most demanding users of the "Tourism" category can enjoy the best app for planning the dream trip, the one that will surely become the best experience of their life.
Benefits of a Good Travel App
Timely Response Irrespective of The User's Location
The main advantage of using an app to organize a trip is that when you download it to a mobile device, you can have it at any time and in any place. Although through a mobile device you can visit travel websites, we know it is a bit cumbersome to visit different web pages on a Smartphone and compare the benefits offered by one or the other.
These websites are very helpful if used on a desktop computer and if you have enough time to take a look at the options offered by the different pages, but if what you are looking for is immediacy and variety in the same tool, the best option is a travel app.
Even when all the details of the trip are already organized and planned, a tourism travel app is an important tool that cannot be missing from a mobile device, since it could provide relevant information on the place where the user is in case of emergency.
Free and Fully Functional
From the moment that Android took control of the world of mobile applications, those that were characterized by being paid lost a bit of shine. And is that free applications can offer the same quality at no cost.
It is a very interesting feature that many of these tours and travel tools have. The fact that it can be downloaded completely free of charge and that you can get the necessary information through it to organize an excellent trip is one of the greatest advantages.
Valuable Results In Each Search
We refer to this specific point when we talk about quality. The quality in the world of travel apps is determined by the usefulness of the information or results, as well as the loading speed.
The information requested by the user must be as comprehensive as possible, and it must offer a true solution to be truly successful. A good app always seeks to have a differential touch to the rest of its competitors in this saturated market and when it comes to tourism travel mobile applications. If you want to achieve loyalty by users, different aspects such as curious data or a greater number of options must be offered, this is what will decide the preference of users. Hyperlink InfoSystem will integrate the necessary features to ensure that the app is a success.
There is no doubt that if a travel app offers this feature, it will be a success and logically represent an advantage when planning a trip.
Loading Speed
The quality of a travel app is determined by two fundamental aspects, one is undoubtedly the value of the search results and the other is the loading speed.
If the application has a very complete and attractive content, but its functionality is not optimal or if the speed is not good, the app is doomed to fail because today's users are not there to wait too long. They are very demanding and must be offered haste in every movement.
If the loading speed is optimal, there is no reason for users to be tired of the app and it would be impossible not to consider it an advantage when planning a trip.
Enjoy The Trip To The Fullest
This is the main idea of ​​a trip, but it is also the goal of a good tourism trip planning app. It is not only about saving time and money with its use, but also obtaining valuable information regarding the best places to visit in a certain city in the world.
Often, problems can arise with the planned agenda and in case any of the scheduled activities falls, it is important to have the support of an app that offers a wide range of options in which nightclubs, restaurants, fairs are shown , museums or other attractions that allow the traveler to enjoy the benefits of the place.
"Above page is written for promotional purpose. We do not damage any copyright. We create apps from the scratch only."
Process We Follow
Being a Top development company, the proficient developers of our teams follow a well-organized development process that includes the following steps.
Requirement Gathering
We help clients to gather and analyze the requirements to understand the functionalities to be integrated into the app. This process enables us to draw a development plan and transform the clients' concepts into an efficient and functional app.



UI/UX Design
Our developers use effective UI trends to design apps that are not only pleasing to the eye but also intuitiveness and consistency. We make sure the applications not only satisfy the needs of our clients but are also simple and convenient for the end-users.
Prototype
We develop a preliminary visualization of how the mobile app would look and function. The prototype of the mobile application will give an idea of the look and feel of the app, and we test the users' reactions to the UI and UX designs.



Development
Our team of app developers has a thorough understanding of different programming languages, frameworks, third-party APIs, and more and will develop logic and codes to make your mobile application browsable for your target audience integrating various features and functionalities.



Quality Assurance
Our developers carefully test every app to ensure that they provide an excellent user experience and meet the requirements of our clients. Apps developed by our development team are bug-free because they go through a series of automated and manual testing before deployment.



Deployment
Our app developers follow strict guidelines and best practices of app stores to make your mobile application good to go. The app deployment phase will make sure your mobile applications can meet all the publishing criteria and reach your target audience.



Support Maintenance
All digital solutions need improvement. The deployment of an app is not the final stage. We work with our clients to offer post-deployment maintenance and support to make sure the mobile application always stays bug-free and trendy.



Get Free
Quote

Now !

Got An Idea? Leave A Message To Us And We Will Reach Out To You Soon.