A Food Delivery App Development Like Dominos, Taco Bell And Subway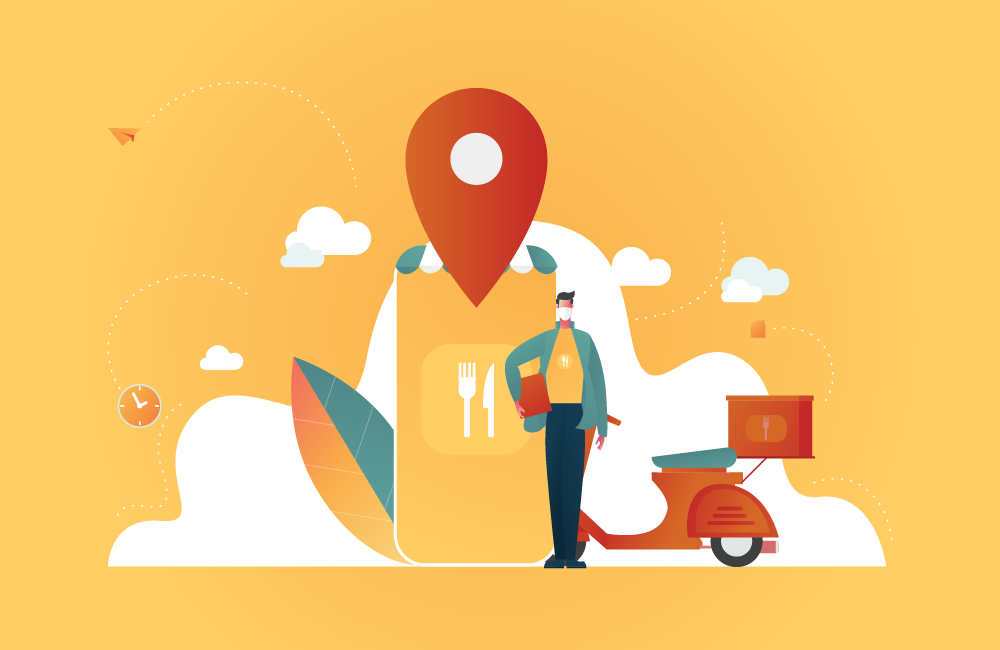 The characteristics of modern life have influenced the remarkable growth of the delivery industry. People don't have time to do things that were common in the past, so the market has adapted to meet the real needs of consumers. So, home delivery of all kinds of products is an essential modality for any business.
Today, we are experiencing a great commercial battle between large and small firms, where the essential objective is to obtain greater market shares in online sales. Users want to buy a product by clicking on their mobile device or computer and receive it at home as soon as possible.
Companies have had to invest heavily in their mobile applications and expand their number of delivery employees in order to ensure effective delivery. Dozens of companies that offer home deliveries on behalf of affiliated establishments have been established in order to respond to the boom in demand, without increasing the waiting time of customers.
Hyperlink InfoSystem can assist you with a mobile app that will help to increase the choice of consumers. The app offers home delivery service, the opportunity to list, by category, and reach the user on a single platform.
Delivery is undoubtedly the future for large or small businesses, although some restaurants or other types of commercial establishments claim that they do not allow delivery or online requests because they want diners to come to their site. These traditionalist positions will fall under their own weight, because if they fail to adapt quickly to changes in the market, they will fail.
Features For The Restaurant Mobile App
In today's digital marketing scenario, where more online activities are processed via smartphones and tablets, old marketing methods turn out to be irrelevant. Now, many food industries have realized the importance of having a restaurant app.
If you want to stay in the market for a long time, you need to develop an application for your food business. Using food ordering apps, orders can be placed online and food can be delivered to the customer's door. There are many features that you can include in your restaurant/food ordering app, but it depends on what you want to offer your customers.
Why You Should Consider Delivery Services
Increased Sales
In many cases, setting up a delivery service means increasing sales for the respective business. In addition to a full restaurant, orders from outside the home are also "served". This pays off especially on weekends and in the winter months, as meals tend to be ordered home more often at these times.
This also gives customers the feeling of more spontaneity and freedom - a visit to a restaurant is no longer necessary if you want to enjoy good food in the evening.
New Target Group
If your restaurant offers a delivery service, this can lead to the development of new target groups. In this way, you can reach a young, spontaneous target group who does not want to be tied to appointments in advance by making reservations, or single people who want to enjoy good food but do not have the time or the desire to visit a restaurant. If your dishes are convincing in terms of taste, you can be sure that you have won new customers.
In addition, a delivery service ensures better customer loyalty. Guests who already like to eat at your place can now have their favorite dishes spontaneously and conveniently delivered to their home at any time. One more reason to remain loyal to your restaurant.
Check Capacities
Before you start setting up a delivery service, you should first check whether your restaurant has enough capacity for it. The addition of a delivery service creates a double burden for your restaurant, because normal restaurant operations and delivery service must be able to run in parallel without any problems and without influencing each other. If this is not the case, you risk the satisfaction of your guests - both the restaurant visitors and the customers. In addition, there are costs for the vehicle and the employees who deliver the orders. Setting up a delivery service is therefore often associated with high costs.
Benefits Of Mobile App Development
One of the main advantages is that many applications do not request access data, or the registration is done only once when downloading. This allows you to quickly and easily access the app. This is very important because we seek access to information quickly and at all times. It is characteristic of millennials to abandon, stop using or uninstalling any app that does not work according to their expectations and with the expected speed.
Another advantage is that they allow us to make all kinds of purchases from anywhere. From buying food, air flights, clothes and everything we can imagine. For the benefit of users, we do not have to download all the applications on the market. There are already applications that group many brands and companies, and it is here where we can buy with the same variety as if we were almost in a shopping center, supermarket or mall.
Another interesting advantage is the secure storage of our personal data. Strict security policies that consider geolocation, digital keys, messages with security codes and even fingerprints are considered before a transaction can be finalized.
There are many users who consume recreational and entertainment applications. For our benefit and fun, we find an endless number of game apps, most of them free.
The evolution of applications continues to develop in all sectors. Few years ago, it was almost impossible to imagine that mobile devices could be used to manage business transactions or inventories. Now. Mobile apps make it possible, with a complete web software that facilitates the administration of a company from any device with internet.
"Above page is written for promotional purpose. We do not damage any copyright. We create apps from the scratch only."
Process We Follow
Being a Top development company, the proficient developers of our teams follow a well-organized development process that includes the following steps.
Requirement Gathering
We help clients to gather and analyze the requirements to understand the functionalities to be integrated into the app. This process enables us to draw a development plan and transform the clients' concepts into an efficient and functional app.



UI/UX Design
Our developers use effective UI trends to design apps that are not only pleasing to the eye but also intuitiveness and consistency. We make sure the applications not only satisfy the needs of our clients but are also simple and convenient for the end-users.
Prototype
We develop a preliminary visualization of how the mobile app would look and function. The prototype of the mobile application will give an idea of the look and feel of the app, and we test the users' reactions to the UI and UX designs.



Development
Our team of app developers has a thorough understanding of different programming languages, frameworks, third-party APIs, and more and will develop logic and codes to make your mobile application browsable for your target audience integrating various features and functionalities.



Quality Assurance
Our developers carefully test every app to ensure that they provide an excellent user experience and meet the requirements of our clients. Apps developed by our development team are bug-free because they go through a series of automated and manual testing before deployment.



Deployment
Our app developers follow strict guidelines and best practices of app stores to make your mobile application good to go. The app deployment phase will make sure your mobile applications can meet all the publishing criteria and reach your target audience.



Support Maintenance
All digital solutions need improvement. The deployment of an app is not the final stage. We work with our clients to offer post-deployment maintenance and support to make sure the mobile application always stays bug-free and trendy.



Get Free
Quote

Now !

Got An Idea? Leave A Message To Us And We Will Reach Out To You Soon.