How Much Does A Hotel Booking App Cost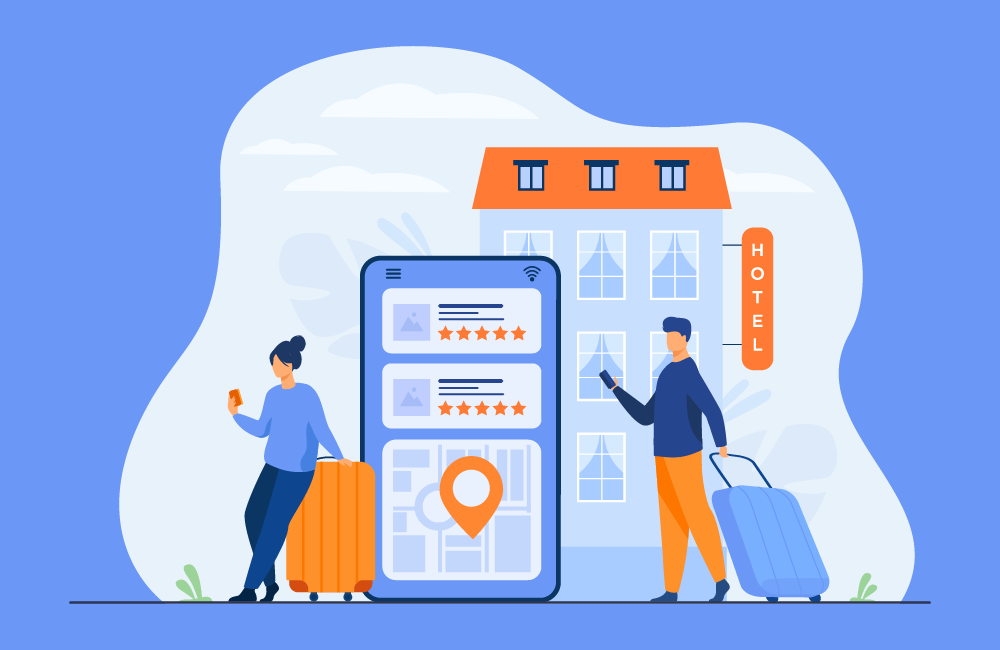 An app is necessary for any business that exists or wants to exist online. Only a website is no longer enough. Your website must have a great design and features and you must also develop an application which is better aimed for mobile devices, because its influence and its use by users and consumers today is more than proven.
The benefits that you can get with an app will be worth the investment. There are popular wrong beliefs that an app is too expensive or only works with a certain type of entrepreneurship or business, or that they are only for large companies. The results from the use of apps by different businesses show that you can take advantage of an app, as long as it adapts to certain parameters.
This is an era in which smartphones are already an indispensable tool. Development of mobile apps for businesses have become a great ally for the management and organization of any company.
Today technology is essential for the tourism sector, both for companies and for travelers themselves, because data such as the ones we will see below support this fact:
73.6% of users consult how to the hotel or even how to communicate with its staff through mobile applications.
A percentage of 91% in a study carried out by Hotel Manager shows that tourists or visitors always travel without separating from their mobile phone, considering the smartphone as essential when practicing tourism.
94% of travelers find it very interesting that the hotel where they are going to stay during their vacations has its own mobile application.
At Hyperlink InfoSystem, we observe how to include an app as part of the presence, management and operation of your hotel. Mobile app is established as a method or tool that helps the growth of your company or brand, providing an efficient and quality service, all in the palm users.
If you are still wondering about the benefits that a mobile app would offer your hotel, the list below will clear your doubt:
Commitment To Your Customers
Although the first impression is that it sounds like a benefit for your client and not for your business, but the fundamentals of an excellent digital marketing is to make your client the center of your strategy. They are the people who acquires your services. It is an excellent idea to develop a mobile app that gives you the possibility of interacting with customers in real time with valuable information on location and other demographic data.
You will establish a great relationship with your clients if you commit to them. This is a very significant to a way to retain them, and this is really very beneficial for your business.
Your clients' loyalty will help you promote your services through the good comments, words of mouth that has always been very effective and profitable for any business.
Raise And Enhance ROI (Return on investment)
On the other hand, this is a more direct perceived benefit to the profitability of your hosting business, despite the fact that the average expense of building an application is less than one percent of the business income.
However, to see a return on investment through an app, you need to know that you have two types of app.
Brand App
That seeks beyond an economic or material ROI, instead it seeks to enhance our brand and generate a greater online reputation. The ROI will be obtained in a not so short term and through the perception of the brand and the intention of customer purchase.
Payment Applications
In this case, if the ROI is immediate, economic or material, and many of them apply the pay-per-download business model, there are also hybrids within this typology, and these are those where the download is free but with payments in -app for example.
Produce Detailed Analyzes
The development of an app for your company brings with it the benefits of obtaining of fairly precise data analysis, facilitating decision-making for the best of the app itself as well as your digital marketing strategy and services.
You can achieve this with a one-click option for reporting, and thus understand and know what customers want, where they need to improve, their peak seasons and other relevant details.
Increase In Reserves
Take advantage of the notifications system to send them news, offers or events and thus encourage the client or traveler to reserve a room through online reservations (through the same app).
The idea is that you encourage the guest to buy on impulse thanks to promotions or discounts on services or products, which is very practical to be able to generate profits and create new needs in them. The booking engine of your application should not be missing, optimize it and make it friendly
Adjust To The Language
A mobile hotel application that is available in a language preferred by your guest creates a positive impact. On many occasions, the visitors come from outside the country and encountering the language barrier may makes the stay uncomfortable. You can provide the option to make the experience more pleasant and remove that barrier.
Strengthening Of The Brand
What is known in digital marketing as branding, is nothing more than the management of a brand and consists of achieving many things at the same time, including positioning, maintenance, remembrance and recognition. An application has great potential to increase the visibility of your hotel among mobile users and create a new avenue of interest to both new and returning visitors.
When a person identifies a brand, they are identifying a set of attributes and values ​​that they find in it. Consequently, when they think about accommodation, they will think of you as the first option if your branding strategy is well planned and developed.
In the digital realm there are different options adjusted to the needs of the business. Development of an excellent hotel booking app will cost around $8000. Contact us to develop an app through which users can visit your hotel and the city with much more enjoyment and productivity. This is a win-win and collaborative option by making your town a tourist powerhouse, where your hotel is the protagonist.
"Above page is written for promotional purpose. We do not damage any copyright. We create apps from the scratch only."
Process We Follow
Being a Top development company, the proficient developers of our teams follow a well-organized development process that includes the following steps.
Requirement Gathering
We help clients to gather and analyze the requirements to understand the functionalities to be integrated into the app. This process enables us to draw a development plan and transform the clients' concepts into an efficient and functional app.



UI/UX Design
Our developers use effective UI trends to design apps that are not only pleasing to the eye but also intuitiveness and consistency. We make sure the applications not only satisfy the needs of our clients but are also simple and convenient for the end-users.
Prototype
We develop a preliminary visualization of how the mobile app would look and function. The prototype of the mobile application will give an idea of the look and feel of the app, and we test the users' reactions to the UI and UX designs.



Development
Our team of app developers has a thorough understanding of different programming languages, frameworks, third-party APIs, and more and will develop logic and codes to make your mobile application browsable for your target audience integrating various features and functionalities.



Quality Assurance
Our developers carefully test every app to ensure that they provide an excellent user experience and meet the requirements of our clients. Apps developed by our development team are bug-free because they go through a series of automated and manual testing before deployment.



Deployment
Our app developers follow strict guidelines and best practices of app stores to make your mobile application good to go. The app deployment phase will make sure your mobile applications can meet all the publishing criteria and reach your target audience.



Support Maintenance
All digital solutions need improvement. The deployment of an app is not the final stage. We work with our clients to offer post-deployment maintenance and support to make sure the mobile application always stays bug-free and trendy.



Get Free
Quote

Now !

Got An Idea? Leave A Message To Us And We Will Reach Out To You Soon.