How Much Does It Cost To Develop Mobile Wallet Application For iOS And Android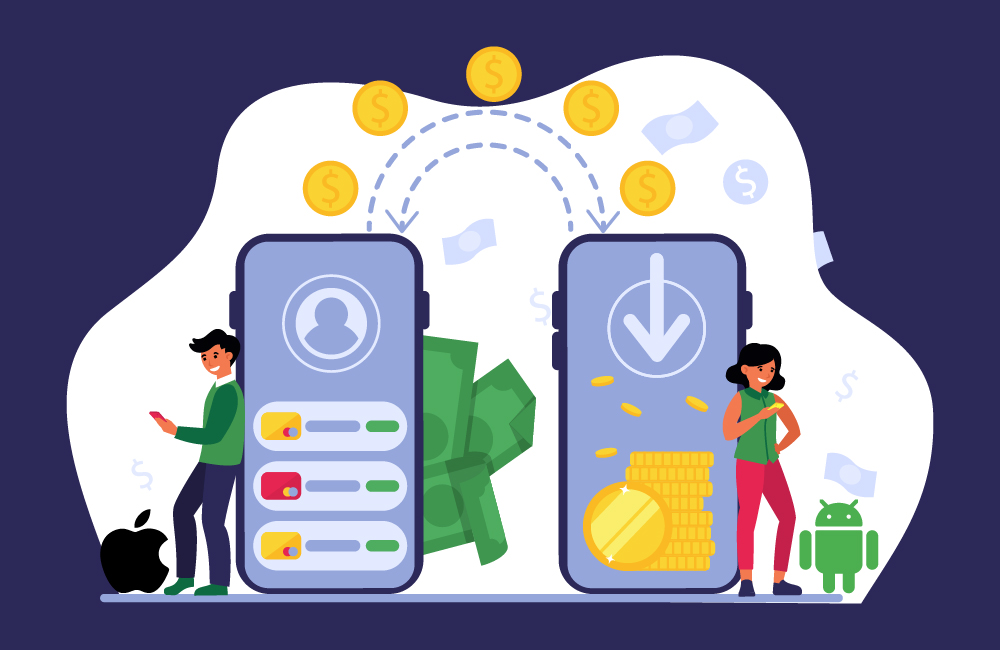 Mobile wallets are intended to help forget the habit of carrying the traditional wallet everywhere, as well as trying not to lose, much less forget any of our cards at the cashier or in the supermarket. Specifically, you can have everything on your cell phone with mobile wallets.
Having a mobile wallet will allow you to streamline your procedures and transactions. Above all, because you will avoid contact, you will maintain social distancing, protecting your health and that of others.
Mobile wallets allow you to pay in a simple and secure way from your smartphone. It is ideal for a world that is moving faster and faster. You just have to download the app for free from the App Store or Google Play and enter all the credit cards you want from any bank and thus start using it to transfer or pay at participating businesses without contact. And today, the contribution to zero contact payment is key in times of health crisis.
Advantages of Mobile Wallet:
Add All Your Credit Cards And Forget About Them
As mentioned earlier, you don't have to go out with your traditional wallet anymore. Now, you only have to manipulate an object, your cell phone, to carry out the transactions you want. Best of all, you only have to add your cards once and they are automatically registered for when you need them. And it doesn't matter which bank it is. In this way, you will use a contactless payment method, which is also easy, fast and secure.
Say Bye To Requesting For The Bank Details To Make a Transfer
The phrase "send me your bank account details for transfer" came to an end and also the errors committed when inputting them and the excuses. Now, you can transfer directly to any of the contacts you have on your cell phone. You just choose the person, enter the amount, your password and that's it. And if the person does not have the app, you can send them an invitation by WhatsApp to download it and thus they can receive the transfer. And you can also charge anyone, just show or send the QR and that's it.
Did You Lose or Break Your Card Once Again? Forget About Going To The Bank
The recommendation to avoid the spread of coronavirus has been to respect quarantines and avoid crowds or lines. With your mobile wallet, everything is easier and, best of all: you will no longer have to go to the bank because you lost or broke your card. Although it sounds obvious, everything is digital with your new wallet and everything is set when you create your account and you choose your preferred password. You will enter it every time you need to send money or make payments and you choose the credit card that you prefer to use, and you always maintain the security levels.
You Can Send Money To Your Relative Who Is Far Away In Seconds
During the last few months, technology has been essential to feel close to our loved ones. Mobile wallets are no exception, and they help you carry out transactions remotely, through simple steps and for free regardless of your bank.
Say Goodbye To Cash And ATMs
Going in search of an ATM that is loaded with money is history. Less and less people are opting for cash and this has been the custom in recent times, because it is recommended to use contactless means of payment to avoid contagion. Your mobile wallet will allow you to carry out your transactions without the need for cash, let alone an ATM.
Support Local Entrepreneurship
Behind every venture, there is a group of friends who were the first clients. Continue supporting that unique and identity-filled local business, paying easily and quickly with your credit card from your cell phone. You will no longer be able to say: "I can't buy because I don't have cash" or How many people have touched that little machine? Because I don't want to touch anything. Your mobile wallet solves it and it is an excellent contagion prevention measure.
The Protection Of Person Data In Mobile Payment
In addition to the digital attack, many fear that mobile wallet could turn them into transparent customers. That depends entirely on the mobile wallet app that is used. Google Pay reserves the right to collect a range of information about the user, such as the place, time and subject of the purchase. Apple Pay, on the other hand, only stores approximate information about recent payments, which, according to the company, cannot be assigned to anyone.
However, metadata often already allow more precise conclusions to be drawn about the customer profile and personal purchasing behavior, especially if the system operator collects data on other smartphone usage.
However, the same concerns under data protection law also apply to payment by credit card - the customer therefore only weighs up whether he would prefer to entrust his data to a credit card company or an Internet company.
Hyperlink InfoSystem can help you with a mobile e-wallet app. The cost of such an app is around $15000.
"Above page is written for promotional purpose. We do not damage any copyright. We create apps from the scratch only."
Process We Follow
Being a Top development company, the proficient developers of our teams follow a well-organized development process that includes the following steps.
Requirement Gathering
We help clients to gather and analyze the requirements to understand the functionalities to be integrated into the app. This process enables us to draw a development plan and transform the clients' concepts into an efficient and functional app.



UI/UX Design
Our developers use effective UI trends to design apps that are not only pleasing to the eye but also intuitiveness and consistency. We make sure the applications not only satisfy the needs of our clients but are also simple and convenient for the end-users.
Prototype
We develop a preliminary visualization of how the mobile app would look and function. The prototype of the mobile application will give an idea of the look and feel of the app, and we test the users' reactions to the UI and UX designs.



Development
Our team of app developers has a thorough understanding of different programming languages, frameworks, third-party APIs, and more and will develop logic and codes to make your mobile application browsable for your target audience integrating various features and functionalities.



Quality Assurance
Our developers carefully test every app to ensure that they provide an excellent user experience and meet the requirements of our clients. Apps developed by our development team are bug-free because they go through a series of automated and manual testing before deployment.



Deployment
Our app developers follow strict guidelines and best practices of app stores to make your mobile application good to go. The app deployment phase will make sure your mobile applications can meet all the publishing criteria and reach your target audience.



Support Maintenance
All digital solutions need improvement. The deployment of an app is not the final stage. We work with our clients to offer post-deployment maintenance and support to make sure the mobile application always stays bug-free and trendy.



Get Free
Quote

Now !

Got An Idea? Leave A Message To Us And We Will Reach Out To You Soon.