Develop Your Own On-Demand Car Wash, Cleaning Mobile App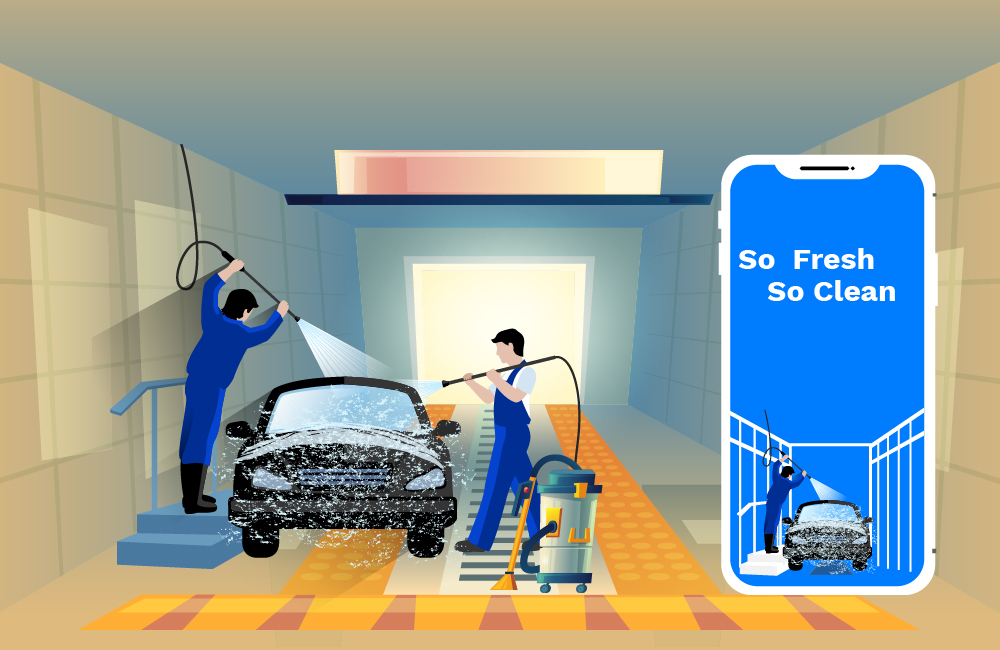 Cars have several uses, whether for business, work or personal use, it is also considered the second heritage asset. Among the main benefits offered by this means of transport is the possibility of moving with less effort and in a more comfortable way over short and long distances. Another benefit is the ability to transport whatever you want as long as the car has the capacity to store it. Even beyond its functionality and comfort, it is a symbol of social status for some.
For all this, the internal and external cleaning of your car is as important as that carried out at home and any help is welcome. There are establishments that for a certain price can do a complete cleaning of your car. Some offer special packages with specific treatments for certain areas of the vehicle such as: fenders, floor mats, seats, etc., in order to keep it in good aesthetic condition.
The Car Wash Service
Vehicle washing establishments were created to satisfy two needs: cleaning the vehicle and maintaining it through three modalities:
Manual service. The car wash, in a fixed space, is responsible for cleaning with the help of rags, buckets, shampoo, basins with treated water, among other products. The service may include exterior and interior cleaning. It can also be offered in shopping centers, on the street and at home.
Automatic washing system works through a mechanical system programmed for cleaning without the intervention of personnel. The user can enter his car and remain inside it while it is being washed by a displacement system and rollers do the cleaning.
Semi-automatic system, the service is offered through an automatic system and another manual part through the service center staff.
Car Washes Also Offer Other Services For Washing The Vehicle Or Providing The Service Such As:
Wax
Polished
Body decontamination
Porcelain bodywork
Crystallized bodywork
Engine wash
Washing cloth or leather garments
Teflon in garments
Home service
Special sales
And that is not everything. Some service providers are concerned about the waiting moment and offer their clients the possibility of having a drink, a snack or a full breakfast, while the children who accompany their parents can be entertained with children's games.
They may also offer you a loyalty or frequent customer program with which you can get free or lower priced washes.
Benefits of Having a Mobile Carwash
The high investment costs when starting a business and the need of people to minimize the time they waste waiting for their vehicle to leave a car wash have forced the creation of a new business model: on-demand car wash mobile app.
Often times, common carwash have a high demand for vehicles to attend to, which implies a greater or lesser waiting time for the user, coupled with the cost to pay for the service, whether in a tunnel wash or an automated car wash. For entrepreneurs, a carwash mobile app is also much more practical since it minimizes rental costs, paperwork and large machinery.
Develop Car Wash Mobile App
As a business model, a mobile carwash is an innovative proposal, thought about customers and with a high-quality service. This is a service that is offered at home or company to facilitate the transfer of the vehicle to a specific place and guarantee the cleanliness that the user wants for his car.
Being a more dedicated service, it is characterized by being more economical for the client based on their needs. They will pay more or less for extras such as: the application of foam baths, a simple or salon wash, application of polishes or some type of special polishing, washing of leather or cloth garments, Teflon in garments; decontamination, crystallization or porcelain coating of the bodywork, and of course, if the washing will be carried out on a car, truck or cargo truck.
At the same time, it has great advantages for the entrepreneur, because you can serve a large number of clients based on the time available, without having to pay rental costs or bills for services and you do not need a large team.
In fact, if you wish, you can have an assistant or a small group of people with whom you agree on a minimum salary, commissions, among other aspects according to the laws of each country.
Develop An On-demand Car Wash Application by Hyperlink InfoSystem
Make your services known on flyers and social networks. Mobile application and digital marketing are vital for others to know your work. But, in addition, you must agree with the client concerning the services you will perform. Remember that you must attend to their needs and requirements and ensure the protection of their objects. With the application developed by our developers at Hyperlink InfoSystem, you can efficiently manage your car wash operation processes.
Good service and guaranteeing the care and respect of your belongings, will give you the necessary credibility, so that many people recognize your company through word of mouth and your online presence. A good exercise is that after you work, interact with your client and find out if he is satisfied with your work, if he wants any additional service or if he wants to make any kind of suggestion. As an entrepreneur, you should know what your clients want and guarantee their satisfaction.
"Above page is written for promotional purpose. We do not damage any copyright. We create apps from the scratch only."
Process We Follow
Being a Top development company, the proficient developers of our teams follow a well-organized development process that includes the following steps.
Requirement Gathering
We help clients to gather and analyze the requirements to understand the functionalities to be integrated into the app. This process enables us to draw a development plan and transform the clients' concepts into an efficient and functional app.



UI/UX Design
Our developers use effective UI trends to design apps that are not only pleasing to the eye but also intuitiveness and consistency. We make sure the applications not only satisfy the needs of our clients but are also simple and convenient for the end-users.
Prototype
We develop a preliminary visualization of how the mobile app would look and function. The prototype of the mobile application will give an idea of the look and feel of the app, and we test the users' reactions to the UI and UX designs.



Development
Our team of app developers has a thorough understanding of different programming languages, frameworks, third-party APIs, and more and will develop logic and codes to make your mobile application browsable for your target audience integrating various features and functionalities.



Quality Assurance
Our developers carefully test every app to ensure that they provide an excellent user experience and meet the requirements of our clients. Apps developed by our development team are bug-free because they go through a series of automated and manual testing before deployment.



Deployment
Our app developers follow strict guidelines and best practices of app stores to make your mobile application good to go. The app deployment phase will make sure your mobile applications can meet all the publishing criteria and reach your target audience.



Support Maintenance
All digital solutions need improvement. The deployment of an app is not the final stage. We work with our clients to offer post-deployment maintenance and support to make sure the mobile application always stays bug-free and trendy.



Get Free
Quote

Now !

Got An Idea? Leave A Message To Us And We Will Reach Out To You Soon.