Plumbers On-demand App Development, Uber For Plumbers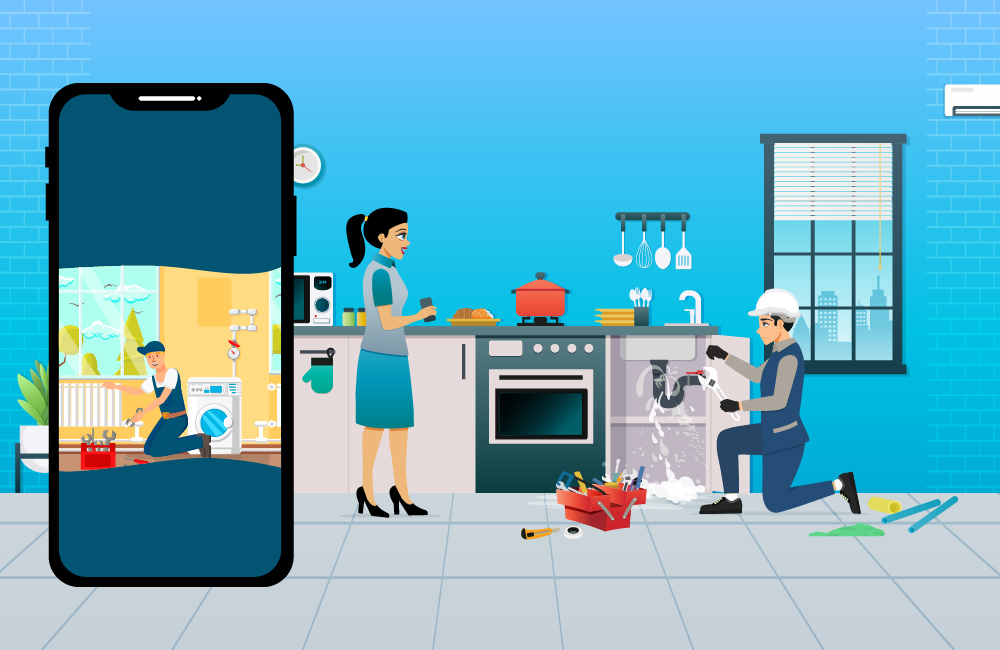 Developing an on-demand solution is essential for professionals such as plumbers. With an on-demand app, it will be easy to connect people who needs the services of a professional plumber to a list of those who could potentially be their potential service providers. Hyperlink InfoSystem can assist you in regard to the development of such app.
Benefits You Stand to Gain With The Services Of a Professional Plumber:
Professional plumbers can provide efficient services in no time. When it comes to an emergency, you need someone who can handle your problem quickly to prevent cases like flooding in the house that could lead to other major problems and losses in the house. Leaking pipes or taps could lead to huge bills and other problems within concessions. A professional will be able to handle your problem quickly and effectively.

Professional plumbing service providers are trained to handle problems of varying magnitudes and therefore come highly recommended. While DIY can help handle small, non-threatening problems, professionals can handle installations and large and small repairs while reproducing quality results. Trained and qualified plumbers also possess the quality and tools necessary to handle different types of plumbing jobs and this is important for your project.

Hiring a skilled plumber means you can benefit from their knowledge of your system and the parts necessary to make the system itself efficient. Whether doing the initial installation or doing some repairs, a professional will be able to advise on the correct parts required to complete the project in a way that ensures longevity and efficiency.

Trained plumbers can handle their work with certainty as they seek to establish a long-term relationship with their clients. Since this is their line of work, you cannot expect anything less than quality as they handle your work as they would want to establish trust with you. A professional plumber will handle your project in a better way than an unqualified plumber or even yourself.

Another notable benefit of hiring a professional plumber is that they will not only offer you the obvious services, but will go the extra mile to provide you with a diagnostic report. Some plumbing problems are generally caused by other hidden factors that may not be obvious to the untrained eye and involving a professional could help save the day by preventing a recurrence. The professional can check your entire system to determine if changes are required during repairs to avoid future breakdowns.

The importance of professional plumbing services cannot be overemphasized today.
The Benefits Of Hiring a Professional Plumber
When faced with a minor plumbing problem like a clogged sink or toilet, our first instinct is usually to grab a bottle opener and pump. Sometimes it works, but often this only makes the problem worse. A plumber will know immediately what is causing the problem and how to fix it for good.
A professional plumber not only comes with a lot of experience and knowledge in handling different cases, but he is also equipped with the right tools that you may never have thought of using to fix your problem.
Another benefit of hiring a licensed plumber is that they can offer you warranties on any type of home repairs. If something goes wrong during the plumbing repairs, the Plumber will fix all the damages for you for free. Also, in most states, home plumbing repairs are only allowed if they are performed by a licensed professional.
Lastly, a plumber is trained not only to fix plumbing emergencies, but to do maintenance work and to prevent future disasters that could cost thousands of dollars and even loss of property. Why wait for a pipe to break (which will flood the basement or other part of the house and could damage carpets and furniture) or black grime will come out of the tube in the bathtub, when you can avoid these inconveniences by having your plumbing system regularly checked by a professional. Development of an on-demand plumbing mobile app can bring professional plumbers and potential clients a step closer. Top mobile app development agencies such as Hyperlink InfoSystem can assist you in this regard.
When To Call a Professional Plumber
Save yourself the time, trouble, and money by calling in a professional for the following types of plumbing projects.
Main sanitary line: When the water in the toilet begins to drain slowly as well as in bathtubs and showers, the problem is more likely to be in the main line.
Replacement of valves and mixers as in Shower: A Licensed Plumber can help you select the proper valve for your shower and change the valve without damaging your wall.
Water heaters: Many things can go wrong when trying to repair a water heater yourself. A simple adjustment can end up making a worse exhaust or causing more damage so this task is best left to the professionals.
Whirlpool Replacement: This type of project is a great job, even for the professional Plumber. Even the most practical homeowners shouldn't try to replace their tubs themselves.
Major and costly home improvements, such as bathroom remodeling, usually involve moving existing plumbing, which requires a permit. A professional Plumber will know the process and building codes to make sure the inspections pass state requirements.
It can sometimes be helpful to call a professional even for small repairs. Although doing home plumbing repairs yourself can be inexpensive and satisfying, this could result in a great deal of wasted money if you don't know what you're doing.
The next time you are faced with a plumbing problem, call a professional plumber and ask for a detailed estimate. We can help you developed an on-demand plumbing app that will help you find a professional plumbing with track in your desired location.
"Above page is written for promotional purpose. We do not damage any copyright. We create apps from the scratch only."
Process We Follow
Being a Top development company, the proficient developers of our teams follow a well-organized development process that includes the following steps.
Requirement Gathering
We help clients to gather and analyze the requirements to understand the functionalities to be integrated into the app. This process enables us to draw a development plan and transform the clients' concepts into an efficient and functional app.



UI/UX Design
Our developers use effective UI trends to design apps that are not only pleasing to the eye but also intuitiveness and consistency. We make sure the applications not only satisfy the needs of our clients but are also simple and convenient for the end-users.
Prototype
We develop a preliminary visualization of how the mobile app would look and function. The prototype of the mobile application will give an idea of the look and feel of the app, and we test the users' reactions to the UI and UX designs.



Development
Our team of app developers has a thorough understanding of different programming languages, frameworks, third-party APIs, and more and will develop logic and codes to make your mobile application browsable for your target audience integrating various features and functionalities.



Quality Assurance
Our developers carefully test every app to ensure that they provide an excellent user experience and meet the requirements of our clients. Apps developed by our development team are bug-free because they go through a series of automated and manual testing before deployment.



Deployment
Our app developers follow strict guidelines and best practices of app stores to make your mobile application good to go. The app deployment phase will make sure your mobile applications can meet all the publishing criteria and reach your target audience.



Support Maintenance
All digital solutions need improvement. The deployment of an app is not the final stage. We work with our clients to offer post-deployment maintenance and support to make sure the mobile application always stays bug-free and trendy.



Get Free
Quote

Now !

Got An Idea? Leave A Message To Us And We Will Reach Out To You Soon.