Develop Taxi Booking Mobile App For Your Business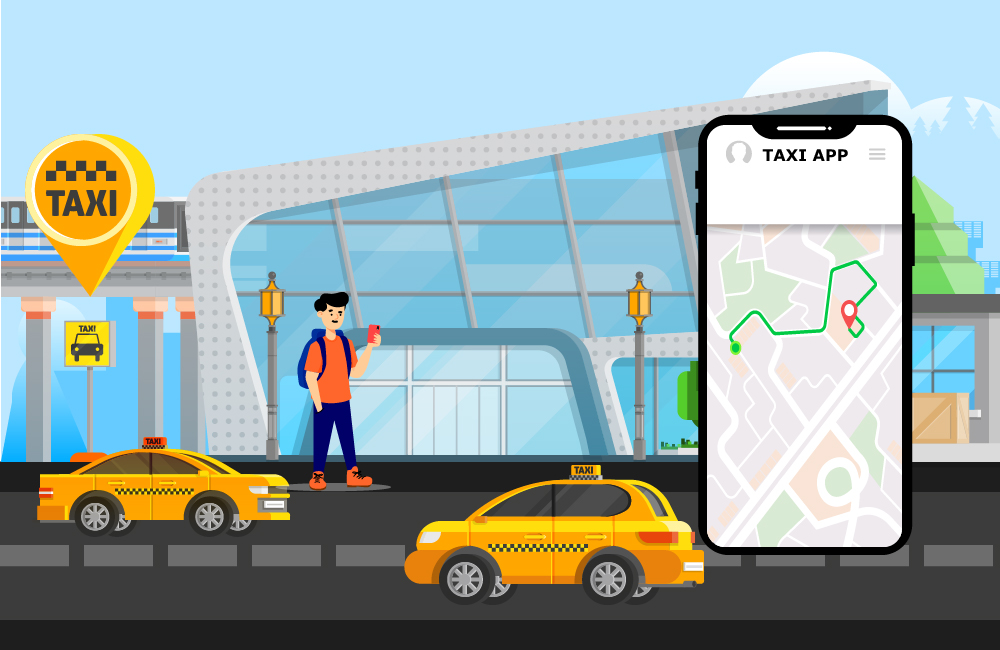 In order to use taxi apps on your smartphone or tablet, you have to meet a few requirements. In addition to your iOS or Android device, you need an internet connection to order the taxi. For this purpose, a one-time registration with the respective provider is usually required. You usually give your name, your mobile phone number and your e-mail address.
If you want to pay for your trips conveniently by credit card, you must also provide the relevant data. However, you can also pay the fare in cash to the taxi driver as usual. The installation and use of the apps is free.
Also note: not all apps offer their services in all cities. Especially if you live in the country or in a very small town, you may have to rely on the regional taxi provider, which you can often only reach in the conventional way by phone.
Advantages of Taxi Apps
Every taxi app has its own special features, but there are a number of advantages that each app brings with it:
You can save yourself the call to the taxi office.
You don't have to put up with waiting loops.
You are not dependent on cash payments.
You can see where your taxi is and when it is expected to arrive.
You can benefit from discount campaigns such as "half price rides".
However, taxi apps provide an added value not only for you as a customer - even the taxi drivers can benefit from the smartphone apps. You are no longer dependent on the mediation of the classic taxi offices, but can now also find new customers via the taxi apps. The fee due for this is usually well below that which the central office calls.
Benefits of Taxi Geolocation Systems
These economic benefits are far from being the only advantages of taxi geolocation systems, which above all represent advanced taxi fleet management and customer satisfaction tools.
A fleet management tool for the operator
These systems represent powerful fleet management solutions. Thanks to an efficient geolocation system, centralizing customer management and optimizing vehicle journeys, taxi companies can optimize each trip:
The driver receives his mission order and his navigation itinerary directly, and easily sends his end of mission report.
Efficient geolocation takes into account many parameters (kilometers traveled, working time, overtime, break time, etc.) and makes it possible to optimize the management of the entire fleet by finding all the "blind spots" of the service.
The actual working time is carefully calculated and analyzed in order to be optimized to ensure maximum efficiency: the number of customers transported is therefore optimum and profitability is increased.
It eliminates wasting time because they make it possible to find a taxi near a customer at any moment. These systems considerably improve the productivity. Hyperlink InfoSystem can help your taxi business with a booking mobile application.
A Driver of Customer Satisfaction
Finally, taxi geolocation systems represent a powerful factor in customer satisfaction, and therefore in loyalty and additional turnover. The geolocation device thus allows:
Reduce waiting time,
Informing customers in real time: they thus know which vehicle will transport them and in how long it will be able to take care of them,
Inform the customer in the event of an incident (traffic problem, accident, etc.) and offer him a solution as soon as possible,
Respond to specific customer requests: quickly find a vehicle equipped with a bank card payment terminal or a taxi that accepts transporting pets, etc.
Depending on the options of the geolocation solutions, companies can also inform the customer about the price of the trip in advance: a real asset for customers, who thus avoid unpleasant surprises.
This feature even allows customers to pay with their mobile devices directly online, thereby prevents the users from wasting time concerning paying the driver for the journey.
Taxi Apps Have Become Indispensable
Especially in larger cities, taxi apps are a good addition to the classic switching centers and have become an integral part of the overall mix of transport service providers. Especially at times like New Year's Eve, the taxi apps that are always available have clear advantages over traditional calls to headquarters. And the various payment options also speak in favor of the taxi apps. Only in rural regions are you often better advised with your local taxi provider.
The first reason to create an app for your taxis business is that your competition already does it. You don't want to be left behind. Also, this ordering system is faster, easier and more efficient for customers.
There are also all those details that are made available to the client to make the reservation more personal and specific, such as:
Ask that the vehicle incorporate baby seats.
Request that transporting your pet is allowed.
Choose the driver.
Pay in advance with a secure connection managing everything from the app
"Above page is written for promotional purpose. We do not damage any copyright. We create apps from the scratch only."
Process We Follow
Being a Top development company, the proficient developers of our teams follow a well-organized development process that includes the following steps.
Requirement Gathering
We help clients to gather and analyze the requirements to understand the functionalities to be integrated into the app. This process enables us to draw a development plan and transform the clients' concepts into an efficient and functional app.



UI/UX Design
Our developers use effective UI trends to design apps that are not only pleasing to the eye but also intuitiveness and consistency. We make sure the applications not only satisfy the needs of our clients but are also simple and convenient for the end-users.
Prototype
We develop a preliminary visualization of how the mobile app would look and function. The prototype of the mobile application will give an idea of the look and feel of the app, and we test the users' reactions to the UI and UX designs.



Development
Our team of app developers has a thorough understanding of different programming languages, frameworks, third-party APIs, and more and will develop logic and codes to make your mobile application browsable for your target audience integrating various features and functionalities.



Quality Assurance
Our developers carefully test every app to ensure that they provide an excellent user experience and meet the requirements of our clients. Apps developed by our development team are bug-free because they go through a series of automated and manual testing before deployment.



Deployment
Our app developers follow strict guidelines and best practices of app stores to make your mobile application good to go. The app deployment phase will make sure your mobile applications can meet all the publishing criteria and reach your target audience.



Support Maintenance
All digital solutions need improvement. The deployment of an app is not the final stage. We work with our clients to offer post-deployment maintenance and support to make sure the mobile application always stays bug-free and trendy.



Get Free
Quote

Now !

Got An Idea? Leave A Message To Us And We Will Reach Out To You Soon.